June 26, 2019
/
/
Comments Off

on Good Times, Good Food, Good People at Eat Drink Vegan
Good Times, Good Food, Good People at Eat Drink Vegan


Based on the number of people visiting and the number of vendors at last Saturday's Eat Drink Vegan (EDV) event in Pasadena, CA, I would definitely say the world is changing. It was exciting to see so many interested in trying vegan food, wine, beer and more. The crazy long food lines reveal just how popular veganism has become.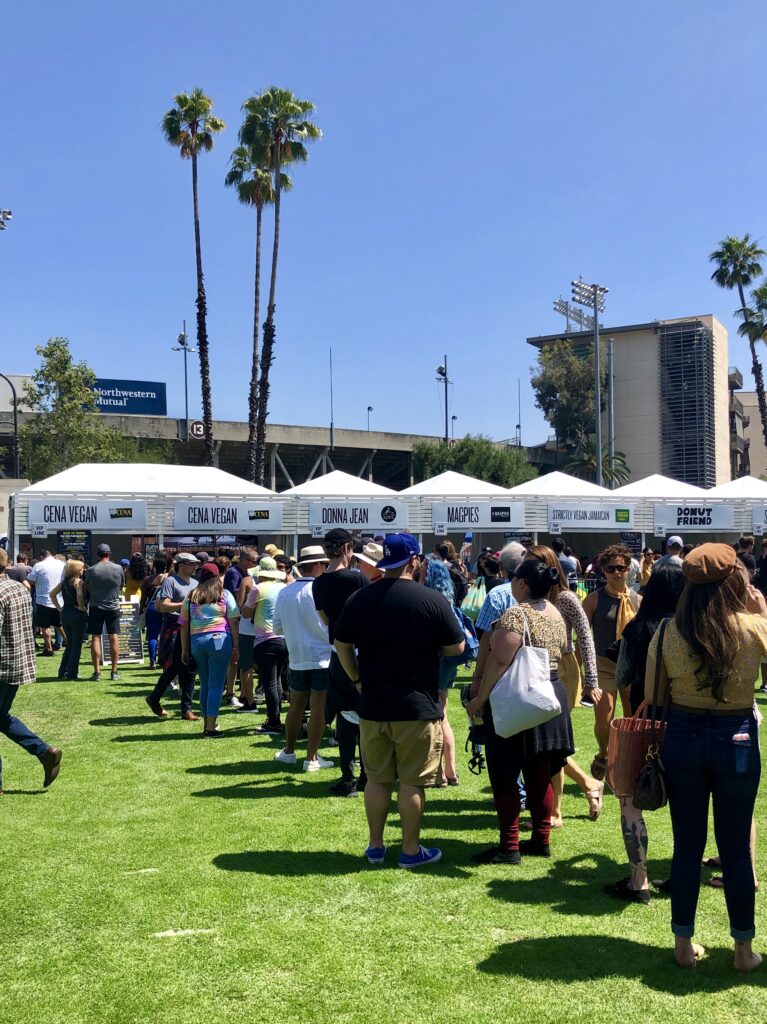 I heard a few people declare "It's cool to be vegan." And I met two young moms who drove 10 hours one way from Utah to come to the one day festival. As I like to say, the future is definitely vegan! 🙂
It was a gorgeous day for the festival, which was celebrating its 10th anniversary.* Held at the Brookside golf course next to the Rose Bowl in Pasadena, CA, it was quite the event to behold. With hundreds of vegan food trucks, restaurants, wine and beer vendors, and other vendors selling art, fashion, beauty, etc, there were upwards of 10,000+ visitors enjoying themselves.
It was my first time at this particular venue, and it didn't disappoint. The festival featured unlimited pours of vegan wine, beer, cider and more.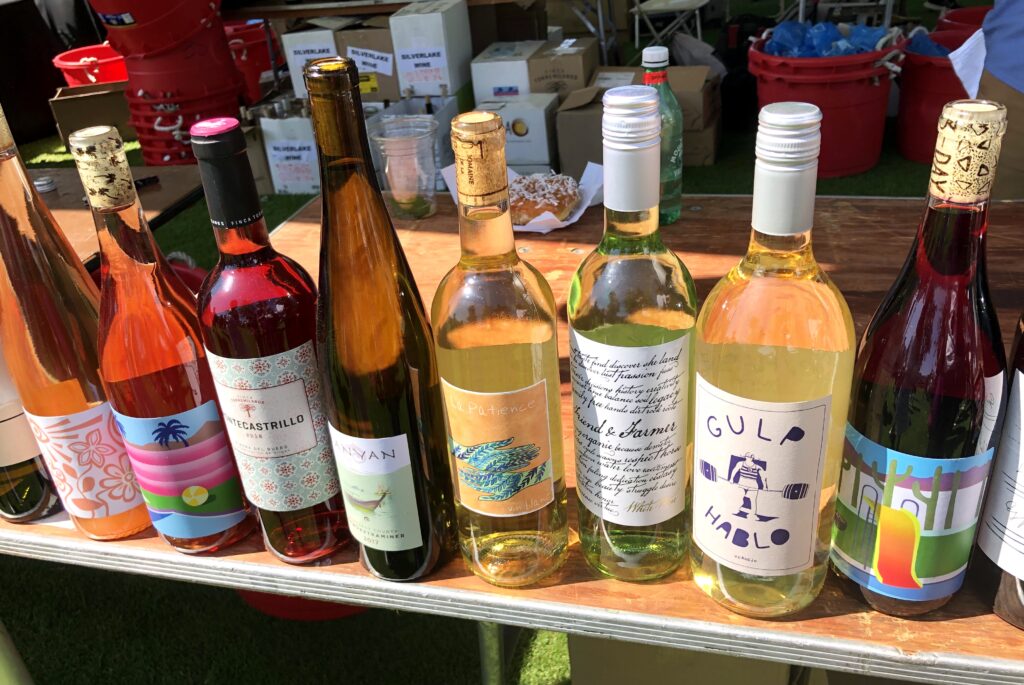 It felt like one big outdoor party. Everyone was feeling pretty good, including my friend, Alex and me!
A few of the highlights from the day….
There was a culinary stage where we caught Roi Choi (of Kogi food truck fame) giving a food demo.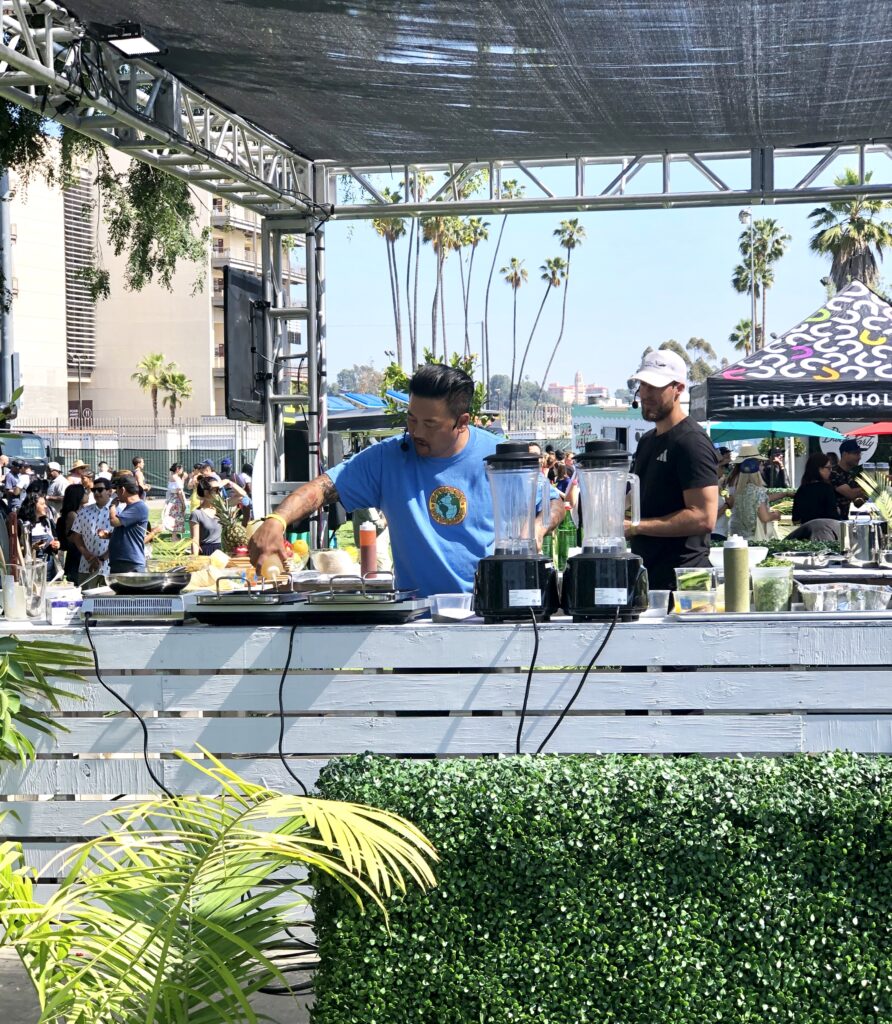 And I was excited to see all vegan options at the Kogi food truck.
New vegan restaurant, Nic's on Beverly had a nice set up serving margaritas and micheladas. Alex sampling the michelada (a bloody mary mixed with beer.)
Sampling treats at one of my favorite vegan companies, Follow Your Heart, makers of Vegenaise, yogurt, cheese and more.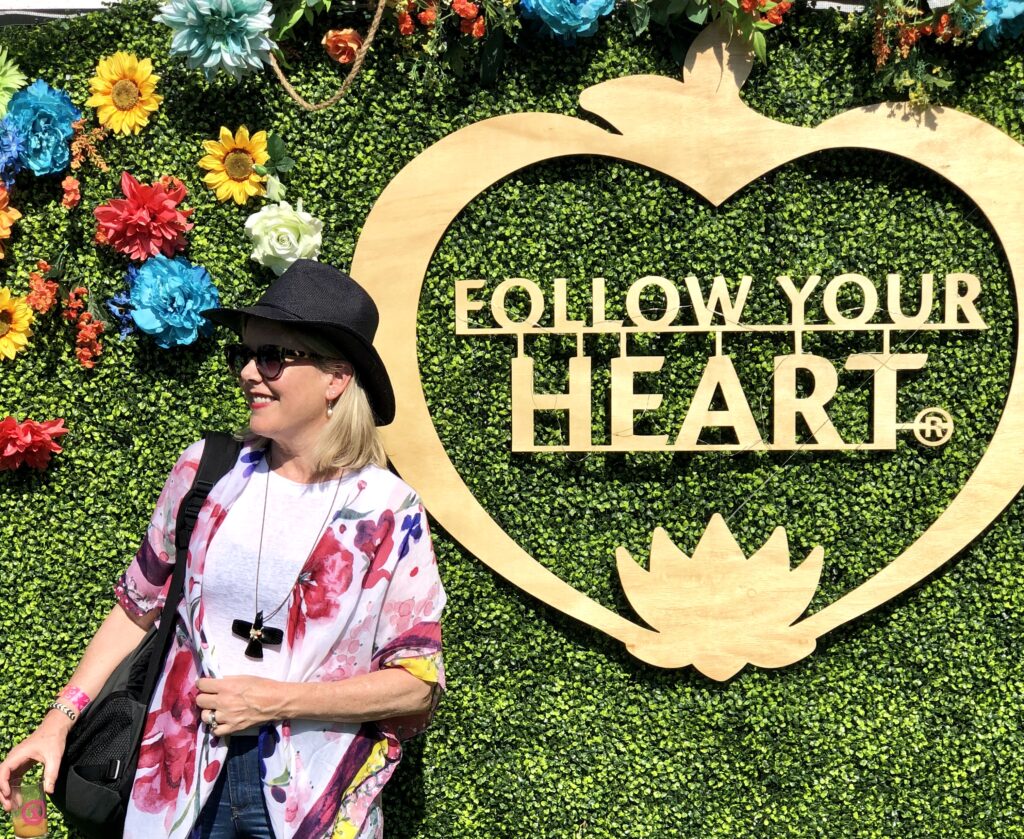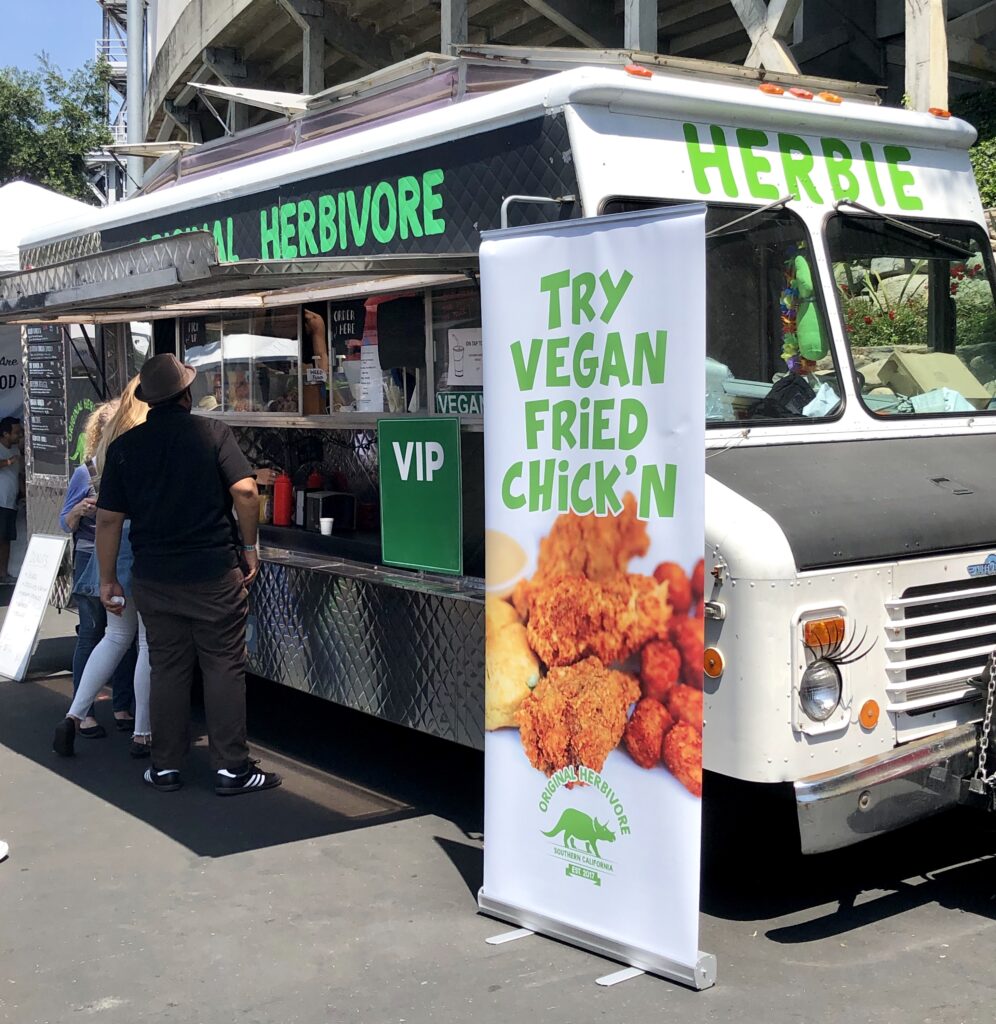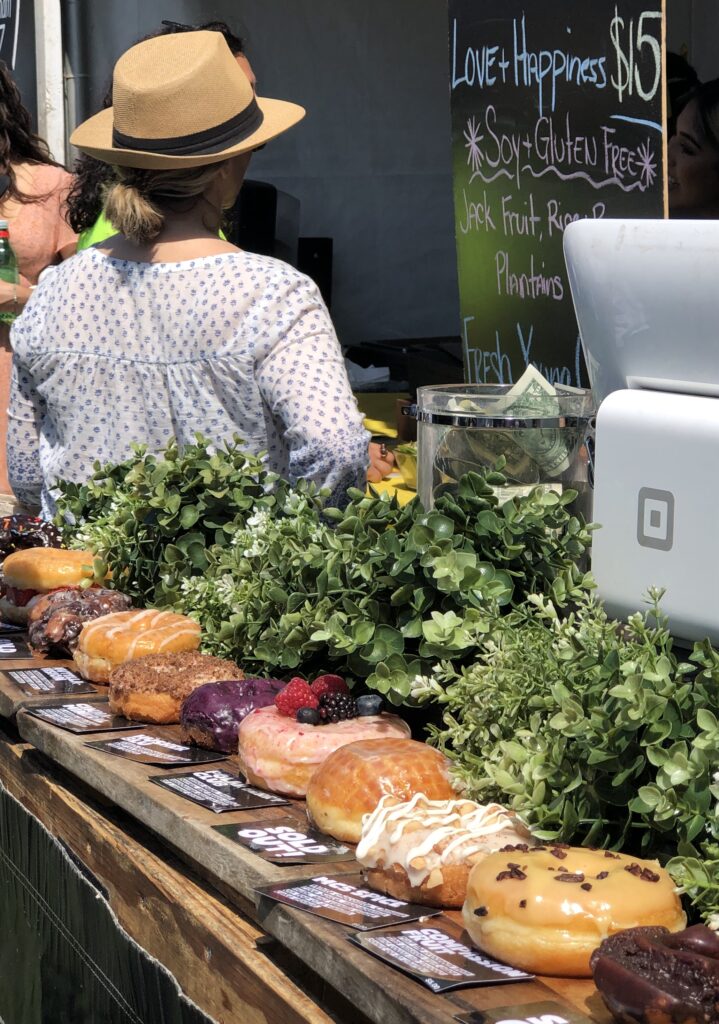 Delicious, totally decadent and very popular – Fried softserve pie at Magpies Softserve
Tried all the flavors of PigOut "Pigless" Bacon Chips – they taste just like bacon but are completely guilt-free and cruelty free. These delicious snacks are made from mushrooms and are packed with health benefits.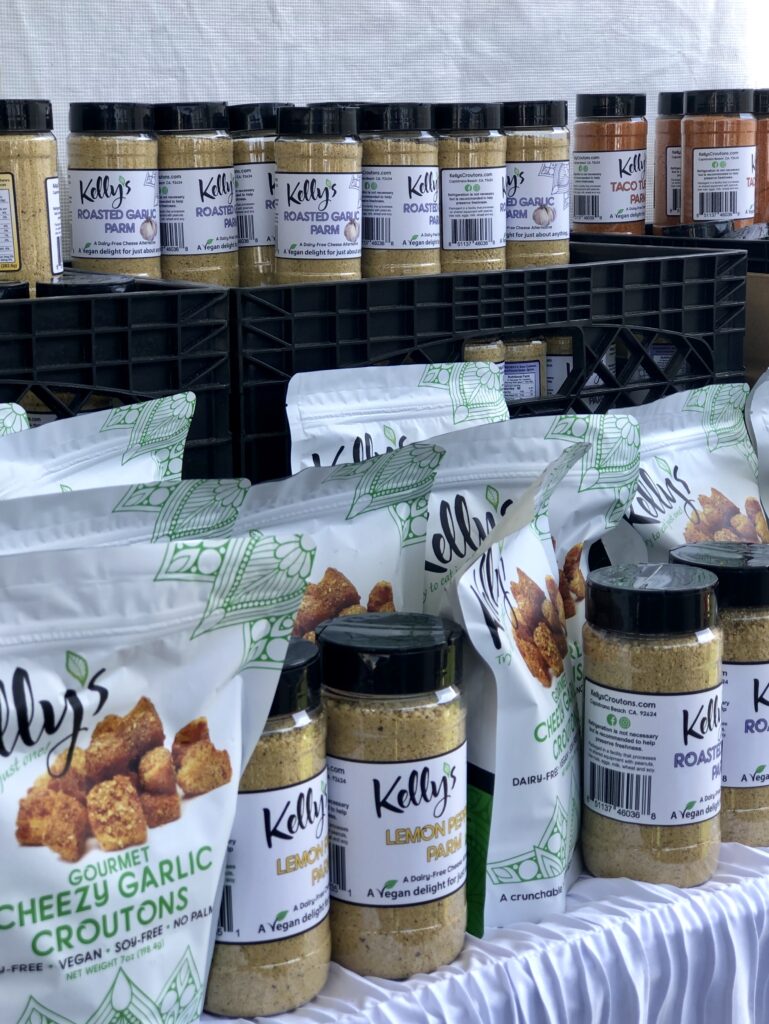 Daiya's new dairy-free chocolate-covered ice cream bars – sooooo good!
So much delicious food to eat…hard to choose. We chose the loaded nachos from Cena Vegan and the purple potato taquitos from Seabirds Kitchen.
Best tee shirt of the day!
It was a great time at Eat Drink Vegan, and I just love seeing the rise in interest in all things vegan.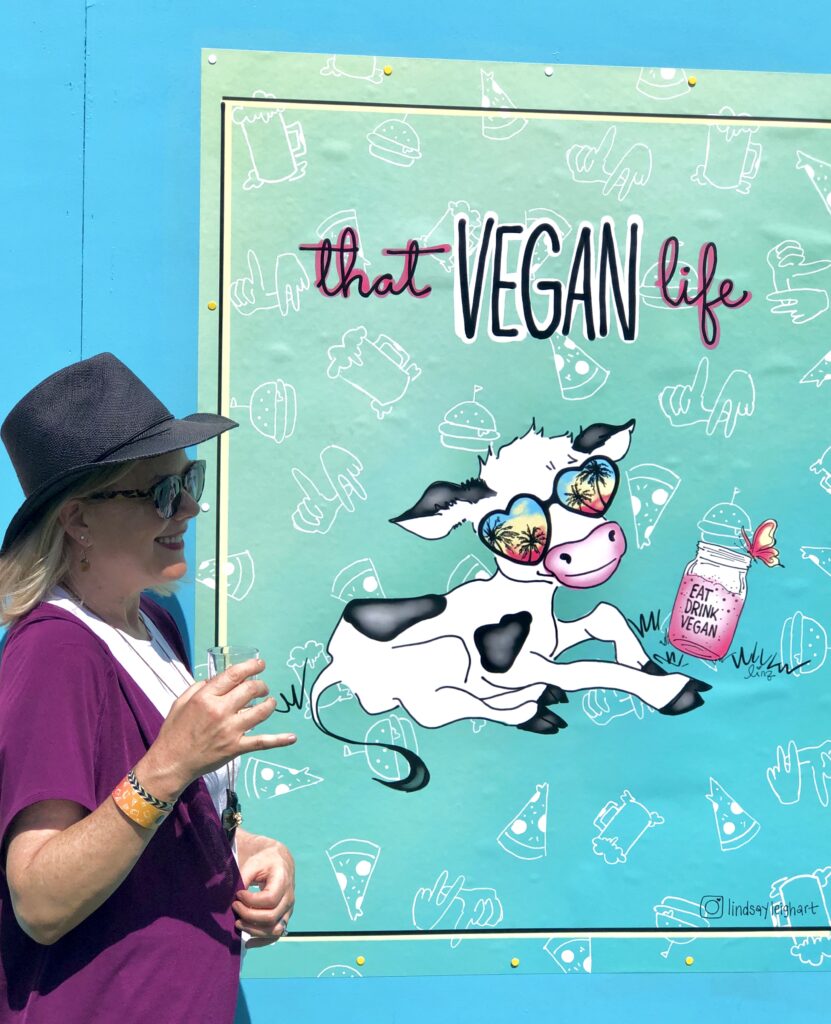 *Sadly, this is the last year for Eat Drink Vegan (as we know it) which was founded by Nic Adler, who also co-founded Monty's Good Burger and the new Nic's on Beverly, both LA-based vegan establishments. We'll see what's next in store. The vegan movement is only growing larger each year! And that is something to celebrate!!
"No animals need to die in order for me to live. And that makes me feel good." ~ Howard Lyman