10 Questions for a Vegan – Rafael Ruiz
When I began this Q&A series (10 Questions for a Vegan) as part of my blog, I had no idea how much I would personally be inspired by other's stories. Each person brings something new to the equation, and I learn something new from each and every one. Plus, it's rewarding for me to get to know each person a little better and to share his or her wisdom and truth.
I find new vegans to be especially excited about the subject as it's a whole new world when one makes this lifestyle change. Which brings me to my newest q&a with Rafael Ruiz, the very dedicated and passionate person behind the @vegan_dad_bod_killer account on Instagram. Based in Texas, Rafael is relatively new to veganism, having eaten meat for the last time 10 months ago – August 12, 2018 – to be precise.
Rafael has many interests including plant based, vegan cooking, running, health and fitness and volunteering at animal sanctuaries when he's not working or on dad duty.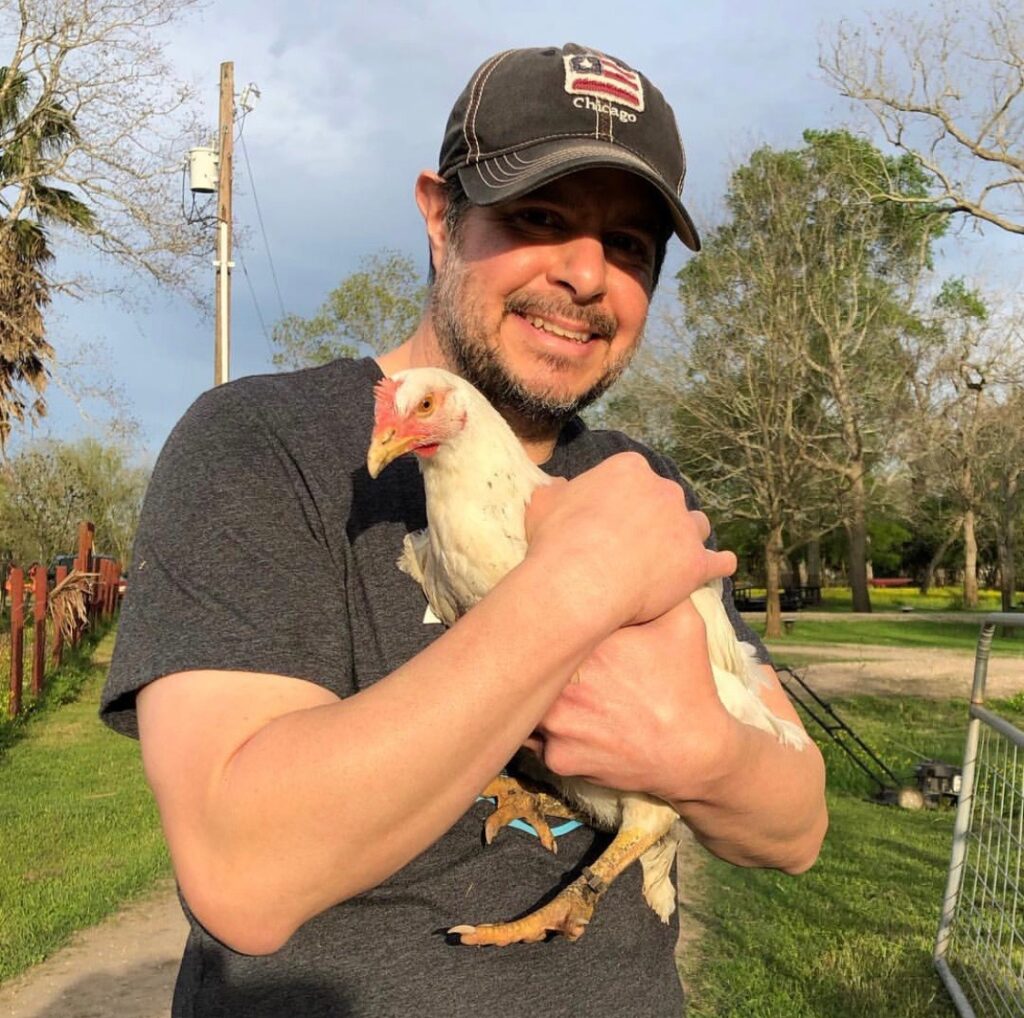 Rafael's journey into veganism began with a text from his brother telling him about a documentary called Food Choices. Little did he know at the time that changing the food he eats would completely change his life! Rafael began eating plant based foods which eventually led him to a vegan way of life, becoming more caring and compassionate towards animals.
By going vegan, Rafael was inspired to try food that he'd never eaten before and to create new combinations of food that he was already eating. He has become very passionate about making vegan food and sharing his creations with others. In fact, Rafael loves taking pictures of his food creations so much so that his son thinks he takes too many pictures of his food :). Rafael's response to his son is that he takes pictures to share on Instagram because of his passion for living a vegan lifestyle. He wants to share and inspire others to go vegan.
Rafael first began Instagramming under the profile Rawfael_pb because he was eating a lot of raw, plant based foods when he first gave up meat, dairy, and eggs. He eventually changed his IG name to @vegan_dad_bod_killer because that's what he's doing through living a vegan lifestyle, killing his 'dad bod'. In fact, Rafael has lost at least 30 pounds since going vegan last August, an unexpected side effect and benefit of his new lifestyle.
Rafael wants to be an example for other guys his age and show them that anyone can make a difference in their physique again, even at 46 as Rafael points out is his age. Rafael says he is healthier and stronger than he's ever been, and he has more energy now. He says he gets plenty of protein too!
Rafael is thankful every single day for making the decision to go vegan. He is also very thankful for all of the connections he has made with so many amazing people through Instagram, something that is also relatively new for him.
It is Instagram that guided him to an animal sanctuary where he got stuck in the mud with three very large pigs for at least 30 minutes. Now that's a story I want to hear more about!
Rafael has two children, an 18-year-old daughter in college and a 12 year-old son going into 8th grade. They are not vegan, but he makes vegan food for them when they are with him and he tries to be the best example he can be for them. His hope of course is that they will go vegan some time in the near future.
What inspired you to become a Vegan?
Originally it was for my health. My brother told me about the documentary Food Choices so I decided to watch it. The documentary explores the impact that food choice has on people's health, the health of our planet, and on the lives of other species sharing our world and talks about the benefits of eating a plant based diet. After I watched the documentary, I decided I was done with meat, dairy, and eggs because I wanted to be healthier.
I often say that my transition was like jumping off a cliff because I gave up these foods very quickly. When I first started my journey, I would tell people I eat plant based, that I am plant based, but over time I progressed into calling myself vegan because of what it means to me. So now I am 'vegan for the animals' above all else.
How has Veganism impacted your life?
One of the biggest ways veganism has impacted my life (which is the thing I noticed first) is with running. I've always loved running but I was never able to run very far without having to run consistently for a few days to run at least a mile. Now, I can go weeks without running and go for a 3 or 4 mile run relatively easily.
The other way it has impacted my life is becoming more aware, compassionate, and conscious of decisions I make. I have started to incorporate this new awareness into my life by making everyday changes like using silverware provided at work (instead of plastic utensils) and carrying a reusable water bottle. I have also started using small reusable canvas bags for bulk seeds.
Of course the biggest impact is my connection to the animals. If someone had told me about making this connection (to the animals) before it happened to me, I wouldn't have known what they were talking about. I am so very thankful every day for making this connection.
Another benefit of course is that I have lost at least 30 pounds since going vegan, which is something I did not expect. I feel amazing and I am wearing new clothes because my old clothes are too big now. Buying and wearing new clothes and colors (and not all black) is such a great feeling!
What does a typical day look like – breakfast, lunch, dinner, dessert?
When I do eat breakfast, my favorite meal is oatmeal. I don't always eat breakfast because I like to incorporate intermittent fasting into my weekly routine. But I go crazy with my oatmeal, adding in chia seeds, hemp seeds, ground flaxseed, natural peanut butter, maple syrup, then topping it off with fresh fruit, pumpkin seeds, coconut granola, and of course more peanut butter!
Pictured above – oatmeal and smoothie bowls with all the toppings
Lunch is more often than not a salad that I will throw together with all kinds of veggies over kale.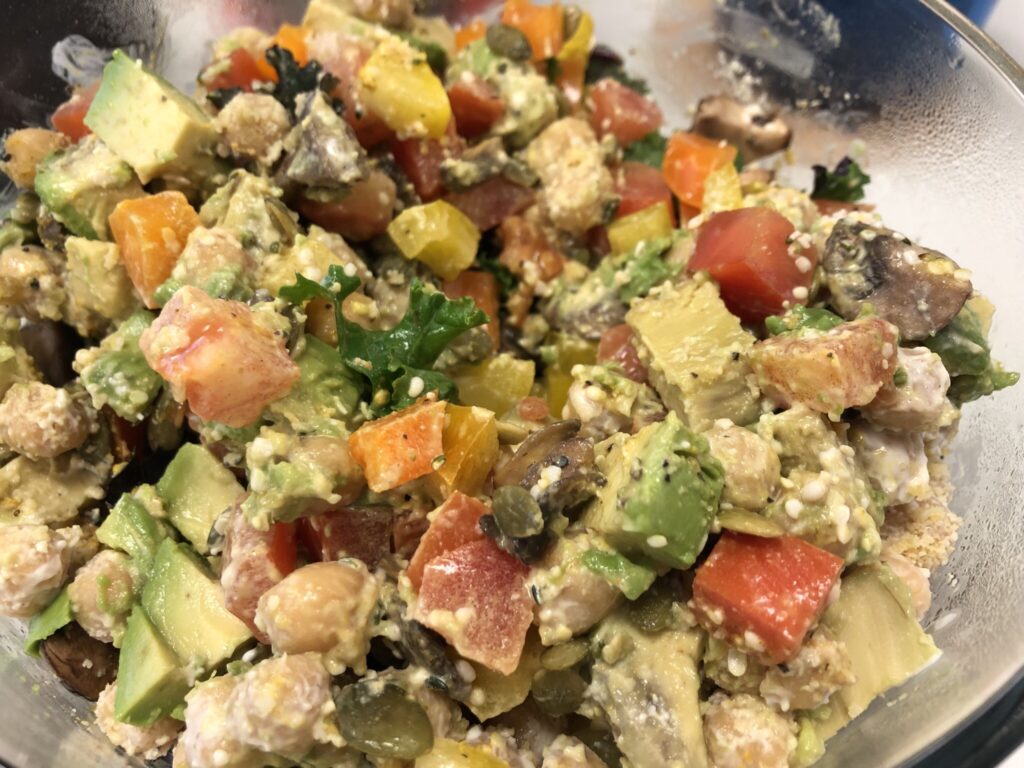 Dinner is where it gets tricky. I will have a variety of different things for dinner and don't usually have anything planned before I get home, in most cases. But one of my favorite dinners is black refried beans, baked diced sweet potatoes, and cilantro tacos. I will sometimes use different toppings such as tomatoes or some of my queso if I made some recently, and maybe even spread some of my favorite condiments on the taco shell, like Follow Your Heart Vegenaise!!!
Dessert may be some cashew or coconut ice cream with peanut butter and coconut granola, or sometimes a bowl of Grape Nuts with maple syrup.
One of my favorite things to make now, as a snack food, is my Vegan queso dip (see recipe at bottom of post). I found a recipe online for a cheese sauce and combined that with an ingredient from another recipe and then added in some spices to turn it into a queso. I have had quite a few non-vegans try it and absolutely love it!!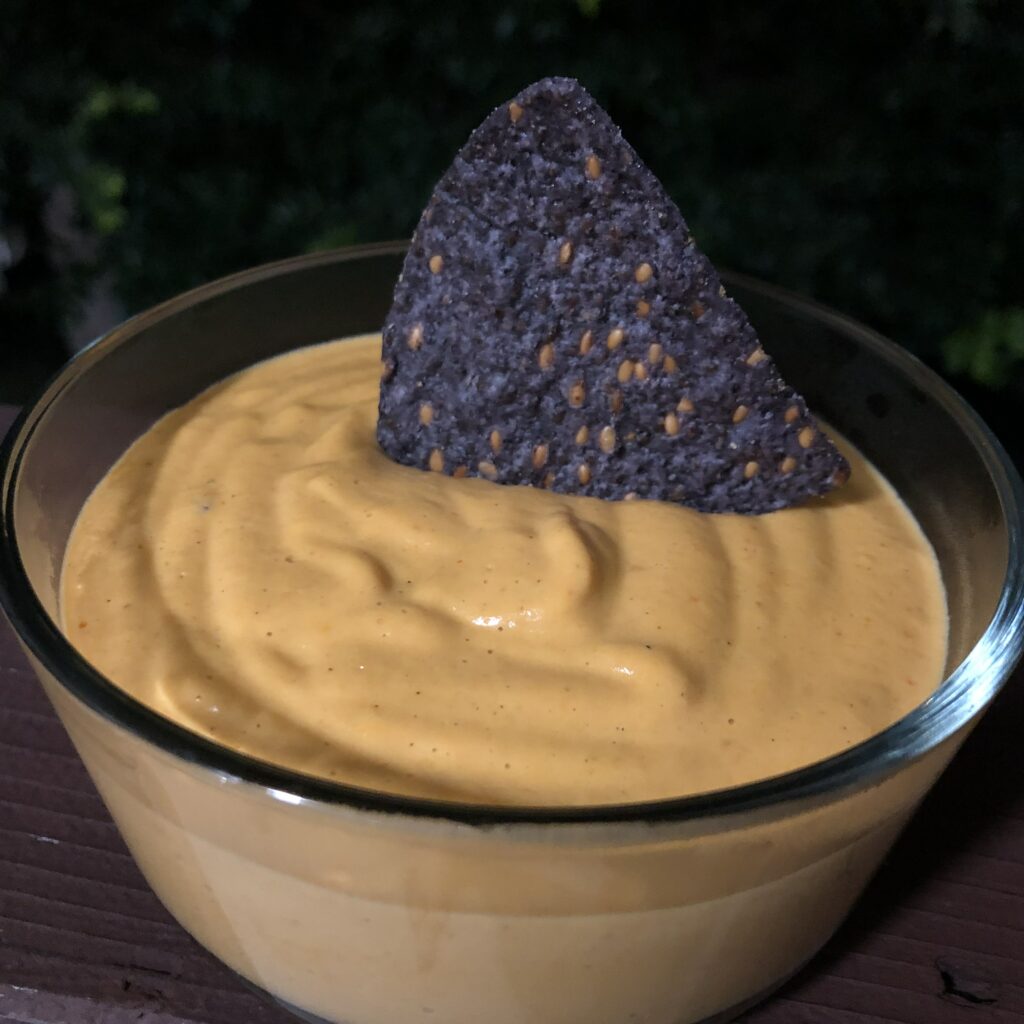 What do you typically eat when you're on the go or traveling?
When on the go, I may bring a LARA Bar with me, but I usually try to eat something before I head out. When traveling, which is usually for work, I try to find a restaurant that is either all vegan or has vegan options. However, I am not always that fortunate when I'm traveling with other people… as in one of my most recent trips where we ended up at an Outback Steakhouse twice. I thought it was going to be more difficult, but I ended up ordering a baked sweet potato, steamed broccoli, and sauteed mushrooms. I am doing the best I can to be an example to others by what I eat.
I was on a trip recently with a co-worker and we met up with an IG friend at an all vegan restaurant in D.C. called Fare Well.  My co-worker loved the vegan food.  I have also gone to the store to buy organic fruits, a nut milk, some Grape Nuts, hummus and pita chips, and other items if I am out of town for at least a week.  This way I know I can eat the things I love and enjoy despite being out of town.
Can you recommend any favorite Vegan (food /fashion /grooming) brands?
Funny you should ask about my favorite vegan food. It's actually a condiment. I love Follow Your Heart Vegenaise (as mentioned earlier). I have been using Vegenaise for about 15 years, long before I became Vegan and didn't even realize it was Vegan. I use it for so many different dishes because I absolutely love the taste it adds to each dish!
I also love the organic tofu from Sprouts which I use in a variety of meals….such as tofu scramble, tofu fingers, and as taco filling, etc.
I have not yet gotten into fashion as I am still a relatively new vegan, but I did buy a belt and shoes from Amazon that were a leather alternative, so that's the extent of my fashion knowledge.
For use at home I have been using Mrs Meyer's Clean Day products in the kitchen and for hand soap, and just recently bought a shampoo/body wash by Everyone for Everybody brand.
Favorite stores to shop Vegan (online / brick & mortar)?
I recently purchased a Vegan Muscle "Killing Workouts, Not Animals" t-shirt from the Conscious Muscle website by Jordan David. I'm also thinking of getting a "Rethink Protein" shirt from their website – RethinkProtein.com.
I frequent Sprouts a couple of times a week on average. It is very convenient yet dangerous having it so close to where I live. I also make it into Trader Joes on occasion to get some vegan food from there as well.
Do you have a favorite Vegan restaurant?
I have two favorite vegan restaurants. Loving Hut and Veegos. I first went to Loving Hut with my daughter and son and again on my 10 month anniversary without meat.
And Veegos is a one of a kind, Houston owned and operated, all Vegan Mexican restaurant. I took my daughter to Veegos as we both love Mexican food. I'm so excited to be able to enjoy cruelty free, meat free, and dairy free Mexican food!
What gives you inspiration? (documentaries, books, websites, cookbooks, etc?)
I was first inspired by watching documentaries, but what really gives me inspiration is hearing other people's stories. I have become a podcast junkie – they are such a great resource for information and for hearing other people's stories. Podcasts can be useful when you have questions or are unsure about different situations in life. It's helpful to hear many different perspectives from others. I have also reached out to other people on Instagram for advice when I'm unsure of something. So I'd say people and their stories are what inspire me the most.
Favorite animal sanctuaries or animal rights / environmental organizations?
My favorite animal sanctuary is Rowdy Girl Sanctuary – it was the first sanctuary I had ever been to. I had first gone to a Vegan Activism and Vegan Food Demo event that they hosted and really liked the people and fell in love with the animals. I ended up going back with both of my kids for a public tour of the sanctuary and signed up to become a member and volunteer.
I have volunteered every weekend at Rowdy Girl Sanctuary for about two and half months straight, sometimes with my son. I really enjoy being around the animals and having my son there with me so he can better understand the animal's plight and show compassion for these living beings.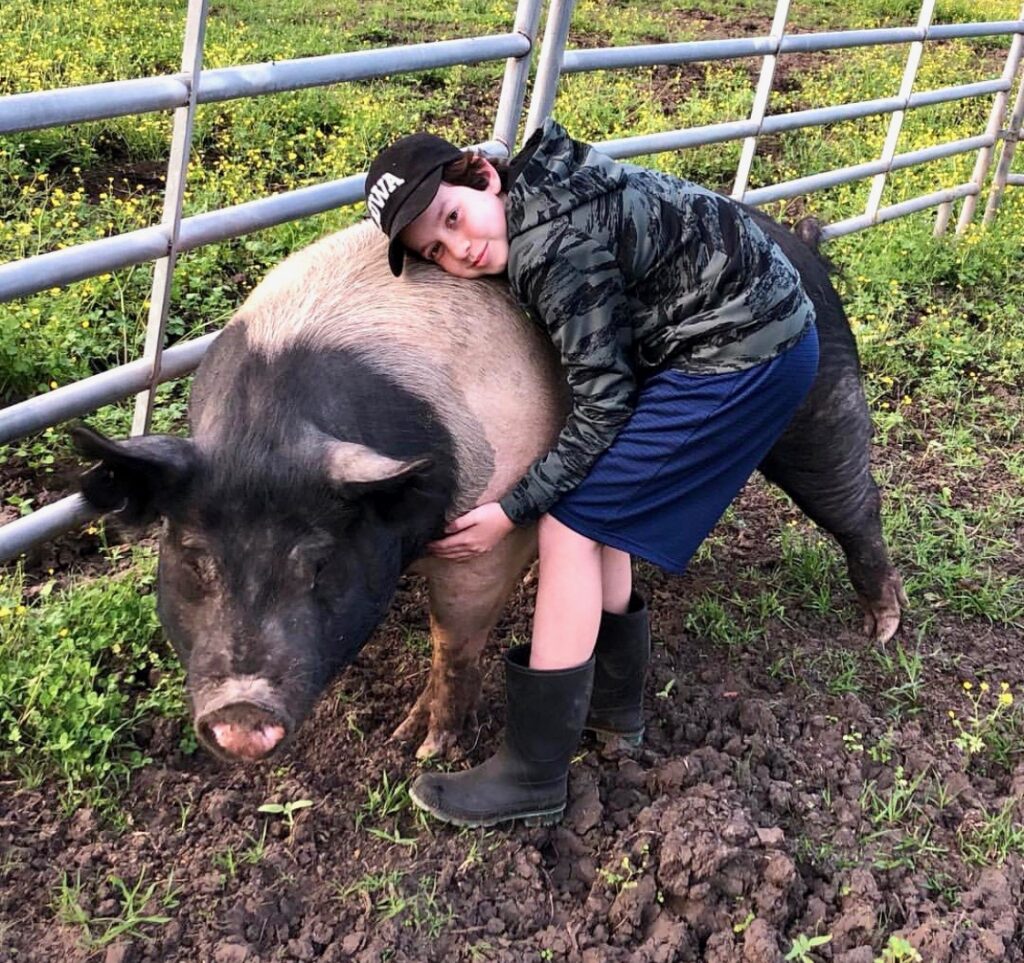 My son and I have also volunteered at the Houston Mini Pig Rescue and will go back there again sometime soon.
A big dream of mine is to volunteer at different animal sanctuaries around the country. I know there are quite a few and I follow several on Instagram, so I think it would be very gratifying to be able to go and help out.
What is your best advice for those thinking about going Vegan?
My advice would be to watch documentaries, listen to podcasts that talk about veganism, and talk to people and ask questions. There are so many resources now for living a vegan lifestyle. I think it is also very important to figure out why you want to go vegan. So many people have different reasons for going vegan…. and all reasons make a difference.
Rafael's Vegan Queso Recipe –
A Vitamix or other high powered blender is recommended for this recipe.
Ingredients:
1 cup peeled and diced yellow potato
1/4 cup peeled and diced carrrots
1/3 cup chopped onion (I use yellow)
(Put all the above ingredients in a pot of water to boil for 10 minutes. Scoop out veggies with a slotted spoon and place in blender.)
1/2 cup liquid from boiled veggies
1/2 cup either raw cashews (or sunflower seeds if there is a nut allergy concern) – Note: the taste is the same with either, and sunflower seeds are less expensive 😉
1 whole roasted red bell pepper (can be oven roasted or in a skillet)
1/4 cup coconut milk (original seems to be best, as opposed to unsweetened)
2 tablespoons nutritional yeast flakes
1 tablespoon lemon juice
1 tablespoon Pink Himalayan Sea Salt
1 tablespoon garlic powder
1 tablespoon chili powder
1/2 teaspoon red pepper flakes

Blend all ingredients in blender until smooth.
Serve and enjoy.
Also, my favorite chips in the entire world to eat with ANY kind of dip are the Simply Balanced Organic Blue Corn Chips with Flaxseed from Target (photo attached).
For added texture, you can add Trader Joes Beefless Ground Beef and salsa to the mix once poured into a container.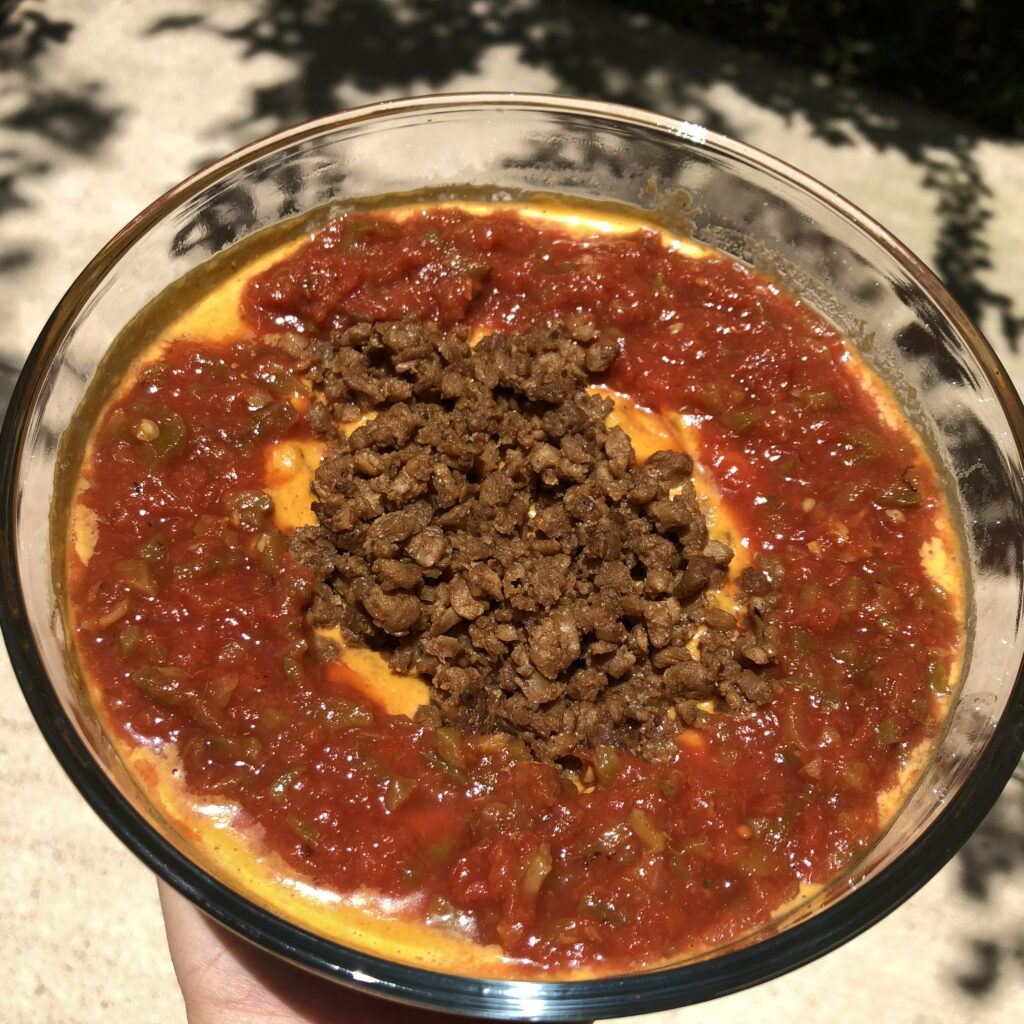 Hint – brown the Beefless Ground Beef in a skillet with very little oil. It tends to stick to any skillet I have used that has a "non-stick" surface.
I made the dip for a graduation party I attended recently and my cousin's fiance was telling EVERYONE about my queso dip and was getting people to try it. He kept saying, "I can't believe it's made mostly from veggies! It's so good!" Everyone that tried it absolutely loved it and were asking for the recipe. I'm so humbled and so thrilled to be able to share something I am so passionate about.
Take the opportunity to show people that vegan food CAN be and IS very delicious!! It was such an awesome experience to have so much attention drawn to my vegan queso. 🙂