Sustainable Fashion Is In! Six of My Favorite Brands
'Sustainable', 'ethically-made', 'cruelty-free', 'vegan' ….these are all important words to describe the direction fashion is going in – that fashion MUST go in for the future of our planet!
Consumers value 'fashion with a conscience' more than ever. With an ever-growing concern for the future of our planet, people are demanding more transparency in their products….how a product is made, where it comes from, if it was ethically produced, if it's cruelty free and so on. People are interested in making informed decisions, favoring brands that are sustainable, cruelty-free and ethically produced.
Shifting demand away from fast fashion and towards buying fewer, higher quality products is key. As Vivienne Westwood has often been quoted – "Buy less. Choose well. Make it last."
There are a number of sustainable brands doing a great job in making a difference….brands that are cutting carbon emissions and water usage, and reducing their reliance on hazardous chemicals and dyes. And brands that are upcycling, recycling and creating classic and higher quality fabrics and products that increase a garment's lifecycle.
Following are six of the brands that are getting a lot of things right (in my opinion)….these are all brands that I personally shop and that I believe in.
Please read below –
Reformation –
Reformation store in West Hollywood

Inside Reformation's West Hollywood store
For great, feminine styles, one of my favorite sustainable brands is LA-based Reformation. They create gorgeous pieces using sustainable fabrics as well as repurposing vintage and deadstock fabrics (meaning fabric that's destined for the landfill gets a second life.)
Sustainability is at the core of everything Reformation does. They have very high standards, using low impact dyes and natural fibers that are rapidly renewable, plant-based and can be recycled. Some of the fabrics found in their garments are Tencel Lyocell (made from renewable Eucalyptus trees), linen (made from flax), recycled and organic cotton, as well as deadstock and vintage fabrics.
Reformation even tracks their environmental footprint by calculating the carbon emissions and water used and the amount of waste generated in creating their clothes from start to finish. They share this information on their website and in their stores, helping consumers to better understand the total cost of fashion on the environment.
Movement Global –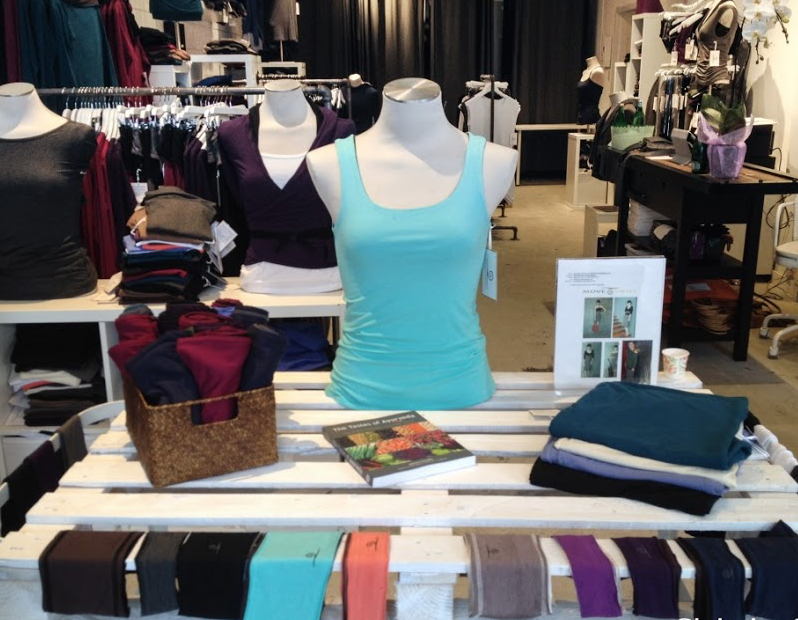 While I was living in Vancouver, BC, I discovered this small but amazing boutique filled with locally made, sustainable clothing made from soft, (naturally regenerative) bamboo and organic cotton.
What makes Movement Global stand out beside the comfort, sustainability and one of a kind designs is their MODULAR concept, meaning that items can be mixed and matched with each other to create different outfits. Similar to the idea of a capsule wardrobe, each item is versatile (many are reversible) and can be worn many different ways, creating endless looks with fewer items. So you can do more with less!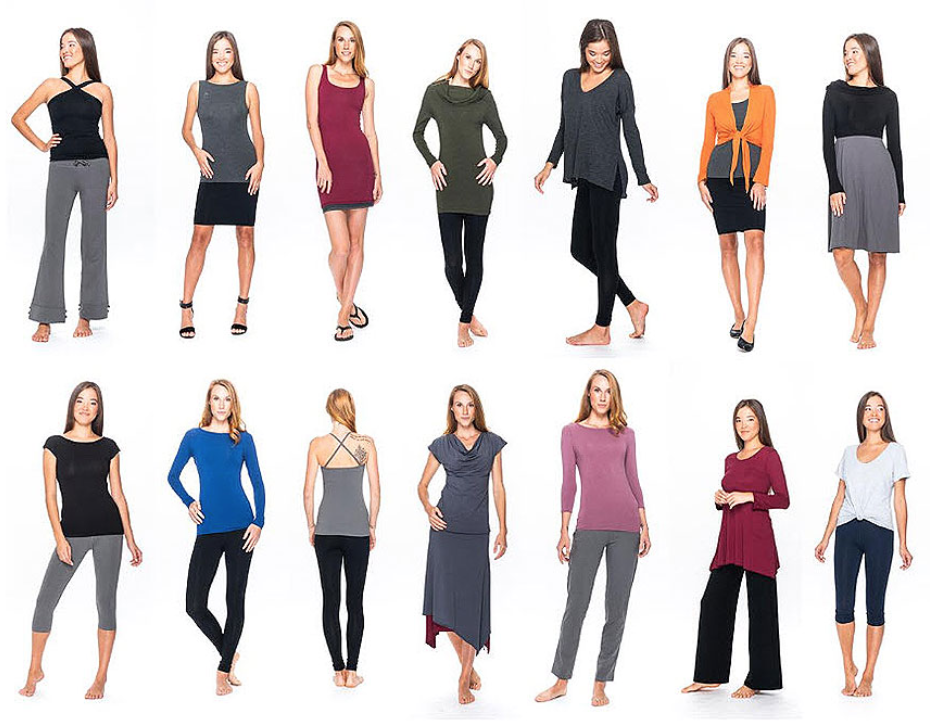 Movement Global is high quality, timeless and season-less…. and will take you from the yoga mat to a night out as well as being ideal for travel. The whole idea is to streamline your wardrobe, buy less and add pieces only as you need.
The founder, Amrita Sondhi, is an avid yogi and yoga instructor and was a founding member of Lululemon Athletica. Part of Movement Global's proceeds go towards the Pamoja Foundation, created by Amrita to support grass roots entrepreneurs in Kenyan villages.
Movement Global is sold online – movementglobal.com and sold in their two stores – one in Vancouver, BC and one on Bowen Island, BC – as well as sold wholesale.
Movement Global sells mostly women's and some men's wear.
Bsbee –
Perhaps lesser known, this brand harks back to a simpler time when only natural materials were worn, clothing that's built to last. Understated, earthy, cool and sustainable, Bsbee makes organic clothing with non-toxic materials, helping to preserve Mother Earth. Fitting in with the Slow Fashion movement, this line is sold in smaller, more local boutique stores. Bsbee pieces are made from premium quality materials, with many of them handmade, such as their 'khadi' hand woven, homespun fabric. The clothing is simple, classic, uncomplicated yet beautiful and can be worn for years to come.
People Tree –
I first discovered UK and Tokyo-based People Tree years ago in a store in Japan where I bought one of my favorite dresses – that I still wear to this day.  I was instantly struck by the good design and their important mission of creating ethically made, eco-friendly fashion.  They were ahead of their time in their commitment to partner with Fair Trade producers, artisans and farmers in the developing world.  
All their clothes use mostly natural materials (such as organic cotton and TENCEL™ Lyocell) and are dyed using low impact dyes, free from harmful azo chemicals. Every product is made to the highest ethical and environmental standards, with many traditional skills such as hand weaving, hand knitting, embroidery and hand block printing employed.
Alternative Apparel –

For a more laidback, casual look, I love Alternative Apparel. They create soft, eco-friendly basics for both men and women, primarily known for their great t-shirts.  Their clothing is crafted with sustainable materials and processes, including organic and recycled materials, low impact dyes and water conserving washes.  More than 80% of their garments are made with sustainable materials and processes.  Their t-shirts and clothing have an almost vintage aesthetic with a lived-in, relaxed and comfortable look and feel.
Patagonia –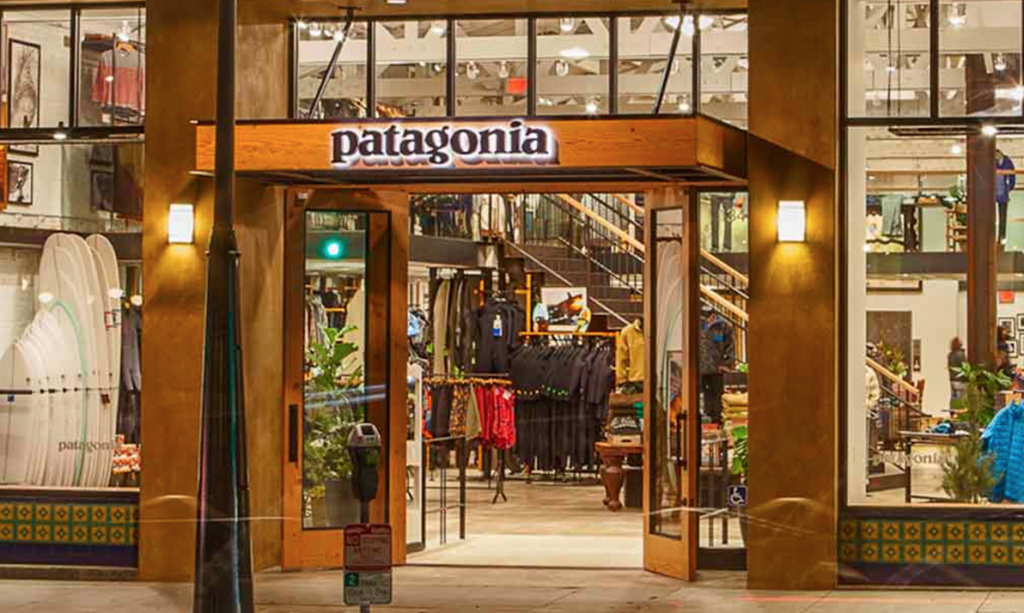 Long known for their commitment to the environment and social responsibility, outdoor clothing company Patagonia rejects fast fashion by creating high-quality, long-lasting products and even offers a 'repair and reuse' program.  They guarantee everything they make and if a customer isn't satisfied with their purchase, Patagonia will repair, replace or refund the product.  
A high proportion of their materials are made from recycled fabrics.  With single-use plastic overwhelming our landfills and oceans,  Patagonia was the first outdoor clothing manufacturer to "transform trash into fleece".  Since 1993, Patagonia has been making fleece from recycled plastic bottles.  Today, they offer recycled polyester in a lot of their other garments, including their Capilene® baselayers, shell jackets and board shorts.
Designed for longevity, Patagonia's products are built to last a lifetime, items that can be worn over and over again, reducing the need for more stuff.
"Cause no unnecessary harm and do more good" is one of Patagonia's mottos.
I predict that in the not too distant future, we will see the majority of fashion brands (large and small) offering more sustainable (and cruelty-free) options!
The Future is Vegan!
The Future is Cruelty-free!
The Future is Sustainable!
The Future is Ethical!
"The more you know, the less you need." ~ Yvon Chouinard, founder Patagonia