October 20, 2020
/
/
Comments Off

on Savory & Spicy Jamaican Jerk Tofu
Savory & Spicy Jamaican Jerk Tofu
In my pre-vegan days, there was one dish that I absolutely loved, and that was Jamaican Jerk chicken. I was obsessed with all the flavors of the marinade…. a little savory, a little sweet, a little spice, and a little salt. A good jerk recipe is like one big party in your mouth!
Since I no longer eat chicken, I realized that I could still enjoy the flavors of this jerk marinade using tofu instead. The recipe below is from a Jamaican friend who used to make this for me often. I have adapted the recipe using firm tofu instead of chicken, and it's delicious!
For the tofu, I used Wildwood Organic Extra Firm Tofu.  It's important when buying tofu to choose only organic, non-GMO tofu as non-organic is usually genetically modified and sprayed with chemicals. And there is not a large cost difference in buying the organic version.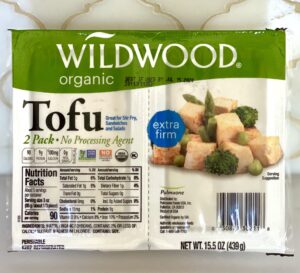 The tofu soaks up all the flavors of the jerk marinade beautifully. And it is far healthier, providing an excellent source of protein, iron and calcium along with other vitamins and minerals — without the cholesterol and saturated fat found in meat.
See below for the recipe.
Ingredients:
1 package organic extra firm tofu (15.5 ounces)
2 tablespoons dark rum (or red wine vinegar)
3 – 4 jalapeno peppers, seeded and coursely chopped (or use 3 Scotch bonnet peppers if you can find)*
4 scallions, chopped
3 – 4 garlic cloves, chopped
2 tablespoons pure maple syrup
1 tablespoon dried thyme leaves
1/2 teaspoon paprika
1 teaspoon ground allspice
1/2 teaspoon grated nutmeg
1/2 teaspoon ground cinnamon
1 teaspoon sea salt (I use Maldon salt)
fresh ground pepper, to taste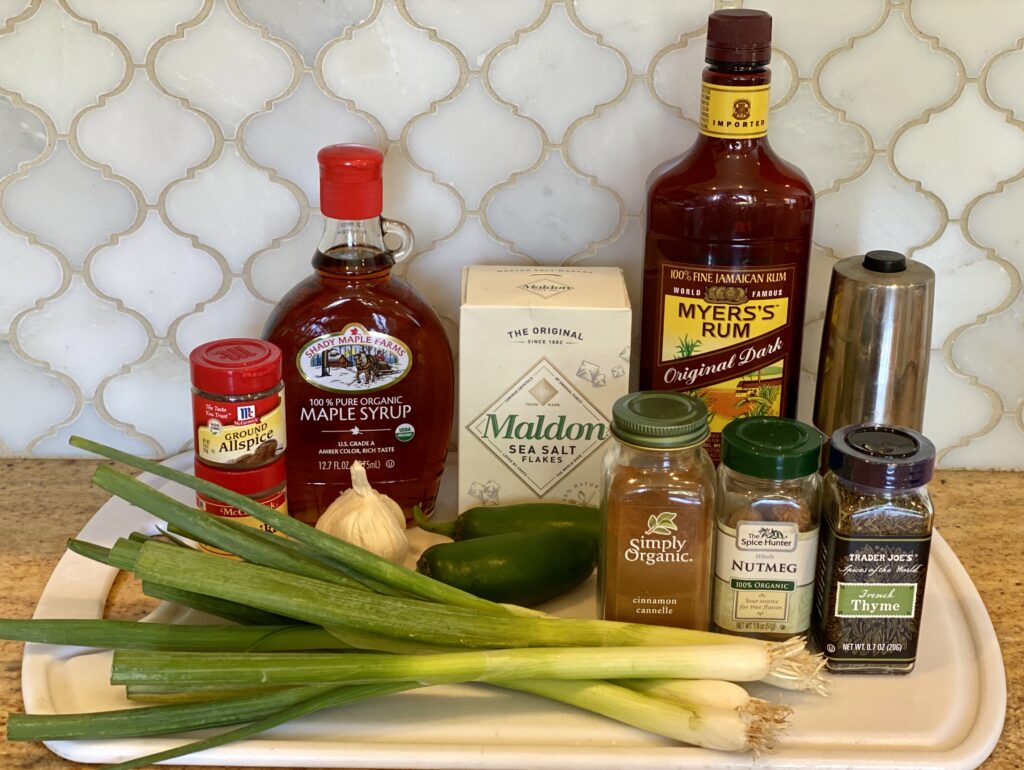 *A note about the spice: Traditional Jamaican jerk marinades are made with scotch bonnet peppers. These can be hard to find, so you can use jalapeño or habanero peppers instead. This marinade is definitely spicy! You may need to adjust the amount of peppers used according to taste. And a warning – do not touch your eyes when chopping these peppers.
Directions:
Tofu:
First things first, drain the tofu. Even the extra firm tofu contains a lot of extra water.
To press tofu, remove from the water pack and cut tofu into two equal sized slabs (lengthwise). Place the tofu on a flat surface like a cutting board, lined with paper towels. Cover with more paper towels, another cutting board on top of the paper towels, and then place something fairly heavy on top of the cutting board, like a cast iron skillet or a large, heavy bowl.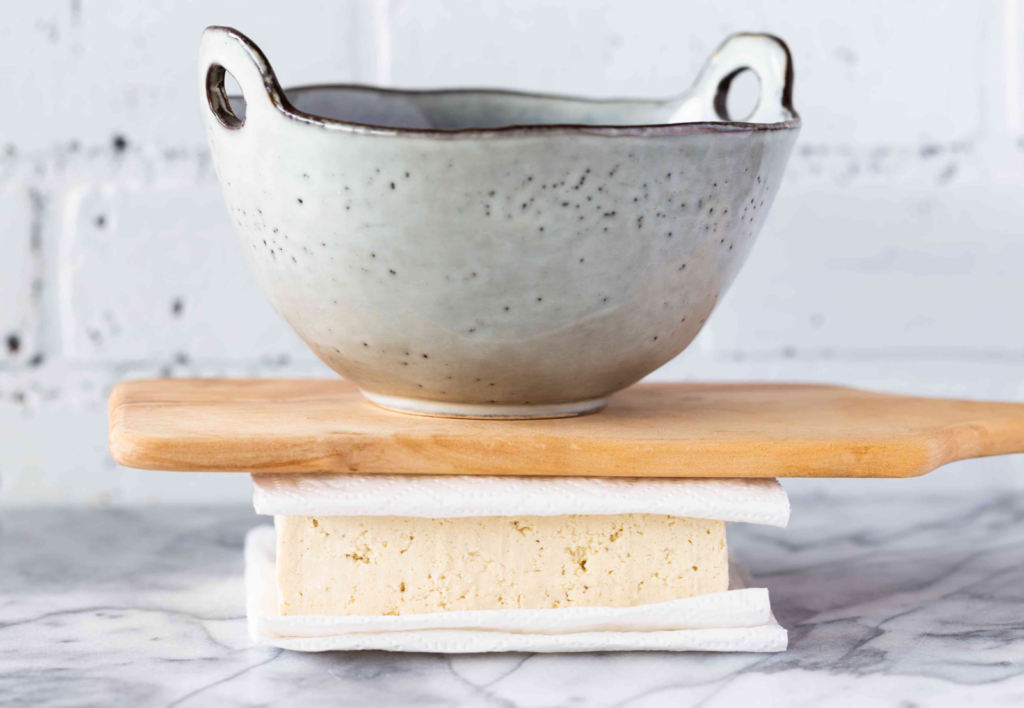 You will need to change out the paper towels as they become soaked with water. The idea is to put a good amount of pressure/weight on the tofu, so that excess water is pressed out onto the paper towels.
You can go ahead and make the marinade while the tofu is being pressed (press tofu for up to 20-30 minutes).
Marinade:
While tofu is drying, combine all the other ingredients to make a marinade. Puree all ingredients using a food processor to form a paste.
Once tofu is sufficiently drained, cut the tofu slabs into cubes. Place the cubes in a medium bowl and add the marinade paste from the food processor. Toss gently until the tofu is evenly coated.
Marinate tofu in the refrigerator for 2 – 3 hours.
Bake:
Once marinated, bake tofu until crispy.
Preheat oven to 400°F. Bake marinated tofu on a silicone mat or parchment paper lined baking sheet for 15 minutes. Then remove the baking sheet from the oven, and flip each of the tofu bites so that they can cook evenly on the other side. Return to the oven for 15 more minutes, or until the tofu reaches your desired level of crispiness.
Option: For added flavor, you can set aside some of the marinade before baking. Once out of the oven, you can quickly sauté the baked tofu in a pan with the extra marinade.
Serve tofu warm over a bowl of rice and stir fry veggies. You can add some lime and cilantro or a pineapple salsa for added flavor. Your tastebuds will thank you!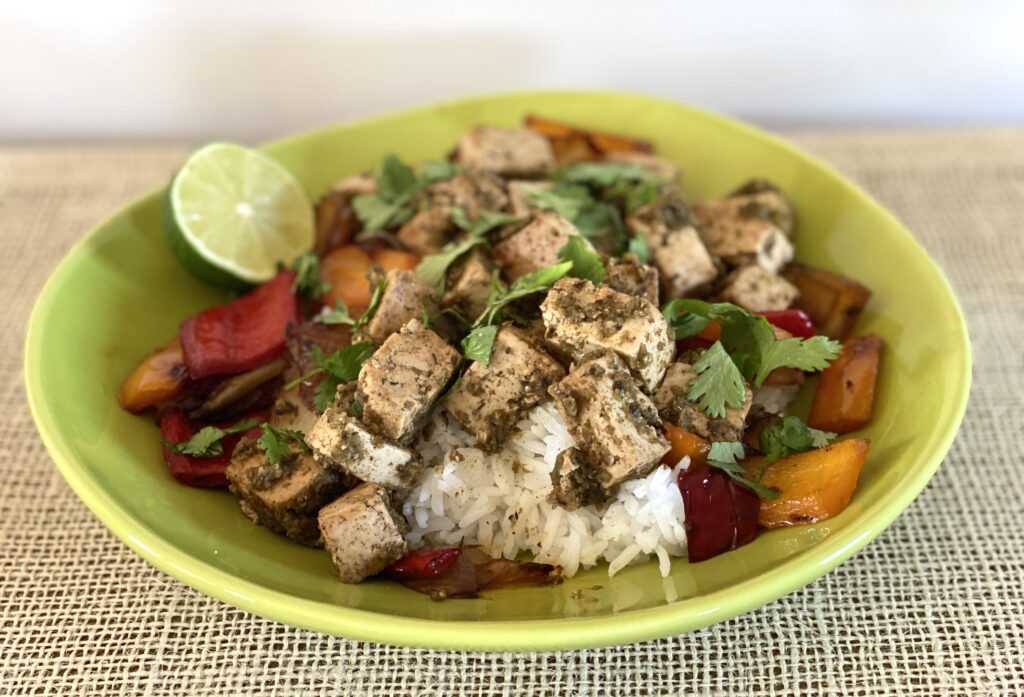 Enjoy!!