10 Questions for a Vegan – Constantin Philippou aka "Le Fou"
My latest Q&A is with the very creative, energetic and enterprising Constantin Philippou, better known as "Le Fou", the LA-based street artist and founder of the popular Vegan Club. His artwork has been shown in many art galleries and his fashion well known in LA circles and beyond.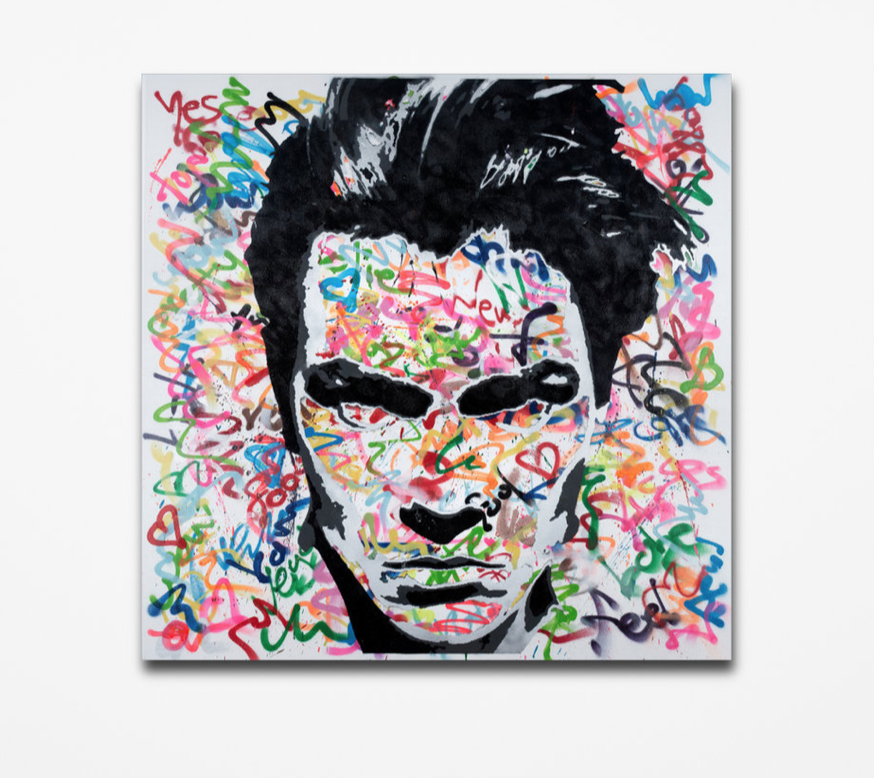 More original art by Le Fou with strong vegan messages
Originally from Greece, Constantin spent much of his youth between Greece and France, and eventually moved to Los Angeles, CA in his 20's. Per Constantin, it's his European roots that have given him three tenets that he lives by – simplicity, class and longevity. These three guiding principles coupled with his love for American pop culture have informed his life and his artwork.
Constantin is a born artist, painting since he was a young boy. After he went vegan, he realized he wanted to do more, to help spread the vegan message in a subliminal way, without being too preachy or obvious. So he went back to his art, to what he knows best. He created Vegan Club, taking inspiration for the name from the movie Fight Club starring Brad Pitt (who was vegan).
Constantin features images of famous and iconic people with vegan messages in his pop art and fashion. River Phoenix is Le Fou's "James Dean" and Brigitte Bardot is his "Marilyn Monroe" – both Phoenix and Bardot have done much for animal rights, past and present.
It is through his art that Constantin communicates many of his ideas, with most of his messaging focused on veganism and the injustices to animals. Vegan musicians and celebrities – Prince, Morrissey, Moby, Miley Cyrus, Kat Von D, Tony Kanal, Davey Havok and others – have all been featured in Le Fou's iconic artwork.
Another passion for the multi-talented Constantin is composing and recording music. His sound is very calm, ethereal and space-like, and he has been involved with projects such as composing the intro music for "Inside the Making of Blade Runner 2049".
In addition to attending vigils, animal rights marches, doing pop up events and the like, Constantin has long been involved with fostering dogs and finding them good homes. He currently shares his home with three adorable rescue pit bulls – Rocky, Buddha and Sheba. Rocky (pictured below) was found wandering on the streets of LA.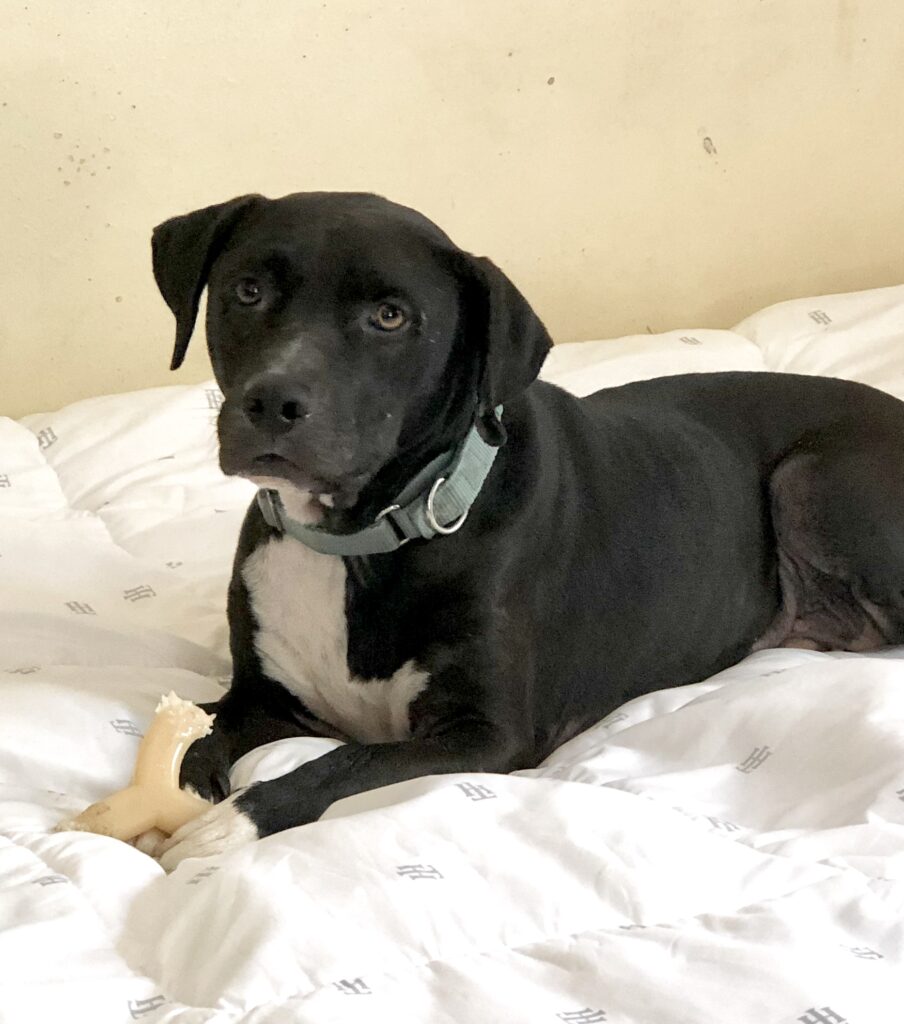 What inspired you to become a Vegan?
The simple answer – I became vegan for the animals. I think people make connections through their own life stories. For me, there was a defining moment that first triggered a connection. I was driving from Vegas with my dogs in the car. It was extremely hot outside. There was an accident and we were stuck in the car for over an hour. With the hot desert heat, my dogs began panting really heavily. I fortunately had air conditioning in the car and water that I could give my dogs. I then noticed a truck filled with pigs (on their way to slaughter). It hit me that these pigs were suffering in the heat just as much as my dogs were, but it was far worse for the pigs who were crammed tightly together with no air conditioning and no one to give them water.
It was an epiphany moment for me…. I realized the pigs were no different than my dogs in their capacity to feel pain and suffering. When I got home, I decided to no longer feed my dogs meat. And I thought why should I be giving my dogs pigs ears when pigs are far smarter than dogs? It didn't make sense to me. Soon after, I realized I need to stop eating meat too (if my dogs could do it, so could I!) So I became vegetarian….this was about 17 years ago.
It wasn't until about 10 years after going vegetarian that I went full vegan. I realized that the cows being continuously impregnated and milked for the dairy industry must feel incredible pain. My own mother used to tell me that she felt pain when nursing me as a baby. I eventually connected the pain my mother felt to what the animals go through. These animals are sensitive beings just like we are, and I didn't want to contribute to their pain and suffering any longer. So I gave up dairy and all animal products. I figured I had already quit smoking, and if I could give up smoking, I could do anything.
How has Veganism impacted your life?
I feel so much healthier and at least 10 years younger since going vegan. I feel cleaner inside, and eating this way keeps me, ahem "regular". This lifestyle has made me change other habits too. I experiment more with different foods, and I really enjoy the taste of simple foods such as a radish. Things taste better to me now that I eat cleaner. I exercise a lot more and take better care of myself. It's made me go deeper within myself and brought me more clarity. I not only feel the best I've ever felt, but veganism has brought me to a much better place in my life!
What does a typical day look like – breakfast, lunch, dinner, dessert?
I eat pretty simply. For breakfast, I usually make a smoothie with banana, berries, almond or oat milk or sometimes chocolate pea milk, and vegan protein powder that's full of probiotics and enzymes.
Lunch is usually salad (greens) with organic quinoa (which is a staple for me) mixed with potatoes, tomatoes, spices and whatever vegetables I have on hand. It takes just a few minutes to prepare and I cook it all in my combined rice cooker and veggie steamer (Aroma is the brand I use). I usually add a little organic oil, vinegar, turmeric and other spices. It's super quick and simple and only costs about $2 to make. The maximum I spend on my lunch is $5. Everything I make is organic, easy and inexpensive.
Dinner is usually more of the same, leftovers from lunch or I sometimes make pasta (made from peas) mixed with whatever I have left in the refrigerator. I always use up what's in my fridge.
The key for me is that my meal prep is always very quick and easy. And inexpensive! I buy my quinoa in bulk from Amazon….it doesn't cost much to be vegan. I also avoid soy in my diet.
For dessert, again I'm very simple. I'll have cashews, dark chocolate and some fruit, always fruit, like an apple. 'Keep it simple' is my motto.
What do you typically eat when you're on the go or traveling?
When I'm out or hiking, I'll bring with me organic protein bars – anything with nuts and fruits. If I'm traveling, I can always find a banana or a salad at a local Starbucks. The key for me is I try to avoid plastic packaging whenever possible. There is too much plastic in too many things we buy, and it's completely unnecessary. All the plastic packaging is destroying our planet. This needs to change.
Can you recommend any favorite Vegan (fashion /grooming /food) brands?
Fashion –
Well for fashion, I wear my own brand, Vegan Club every day. I try to spread awareness of veganism through my artwork and tee shirts. As I like to say, "The first rule of Vegan Club is to talk about Vegan Club." 😉 I don't really buy much by way of clothing. If I do, I typically buy from 'last chance' clearance stores.
For shoes, I buy for comfort, like my Salomon hiking shoes or my Asics running shoes. Not all Salomon or Asics shoes are vegan, so you have to do your research. For dress shoes, I have a pair of Novacas shoes that I bought from MooShoes in LA.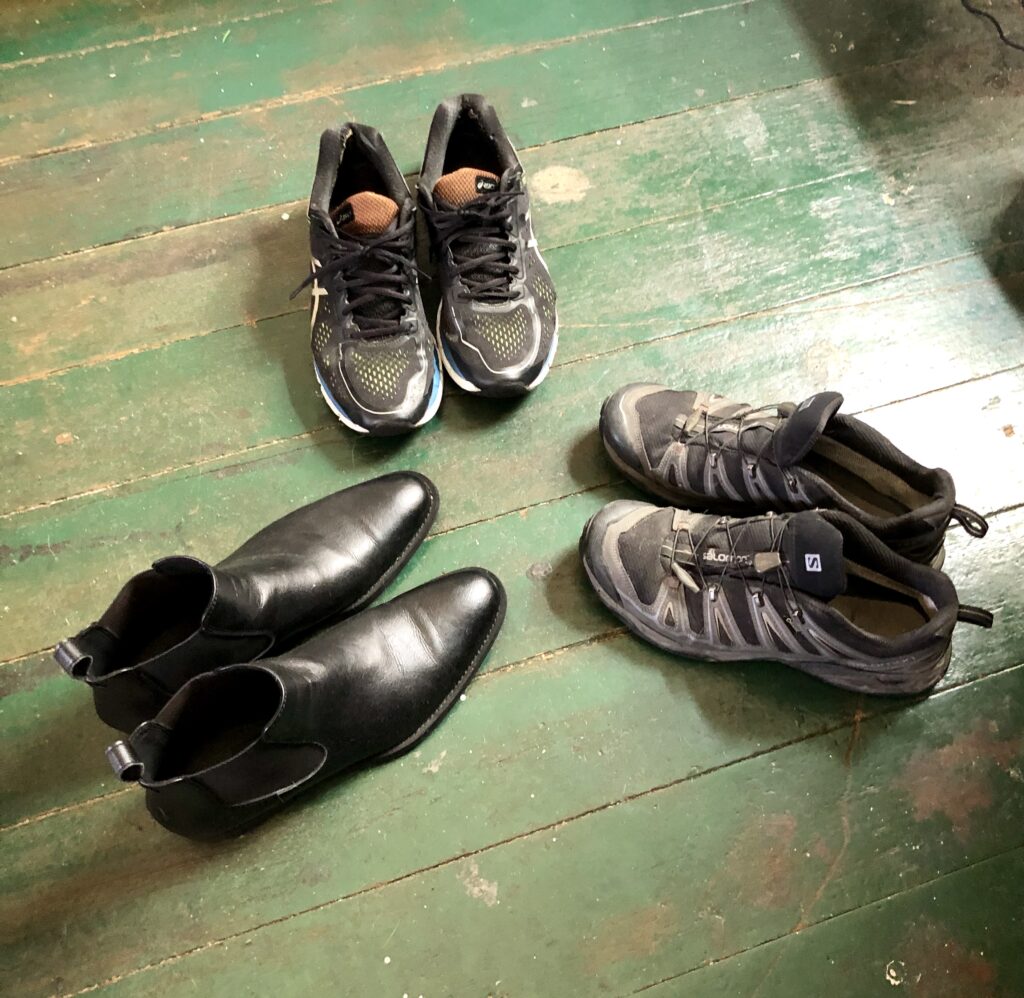 Grooming –
Aveda products – for hair
Tom's – toothpaste (I use a bamboo toothbrush)
Thai Crystal Deodorant Mist – natural deodorant spray
Molly's Suds Laundry powder – natural laundry detergent
Food –
I mostly buy vegetables and fruits, and for other products like the quinoa, I get this in bulk quantity (cheaper this way) from Amazon – Cereausly Organic White Quinoa in 25 lb bag (lasts a month or two). I really like Garden of Life – I use their raw organic plant protein in my smoothies.
Favorite stores to shop Vegan (online / brick & mortar)?
I buy mostly from Amazon as I can track my history of purchases. For my art supplies, I like Blick Art supplies – many of their products are environmentally friendly. I really like MooShoes for their vegan selection of shoes and accessories. And I sometimes shop places like the Nordstrom Rack, where I can find 'last chance' items.
Do you have a favorite Vegan restaurant?
I have a few restaurants that I really like. In LA, I love Moby's Little Pine in Silverlake, especially the ambiance of the restaurant. I also really love Crossroads Kitchen in West Hollywood.… and the Real Food Daily is another great place. Their West Hollywood location is one of my favorites.
In Paris, I love Paradis Marguerite which has a great happy hour menu. And also Le Grenier de Notre Dame is very good.
What gives you inspiration? (documentaries, books, websites, cookbooks, etc?)
Documentaries:
Books:
Eating Animals by Jonathan Safran Foer had a profound impact on me. Reading this book inspired my 'QR Code' artwork. At first sight, my art resembles a QR code or some kind of Pac-Man maze, but what it represents is the "actual size of a pig crate".
Original Artwork by Le Fou – PacMan – QR Code
Websites:
I like Peta's website – they have some very good information.
There is a lot of information out there. You just need to see what speaks to you and do your own research.
Favorite animal sanctuaries or animal rights / environmental organizations?
Sanctuaries:
Animal Rights Organizations:
What is your best advice for those thinking about going Vegan?
Going vegan has been the best decision for me, other than quitting smoking. It was very easy for me to make the changes. There are so many great options today that are easily accessible and inexpensive. Try all the vegan meat options like the Beyond Meat and Impossible burgers. Check out different foods at local vegan restaurants, places like Veggie Grill. Try different vegan cheeses.…there will be some that you like and others maybe not. Read labels to know what's in the food you're buying.
Read books and watch documentaries. I also think it's important to have animals, like dogs. It's much easier to make connections when you have animals that you take care of on a daily basis.
Being vegan does not have to be expensive or difficult! I recommend taking simple steps towards a healthier life. Most people are already vegan as we already eat many plant based foods. It's about cutting out foods that aren't good for us. Have fun with it and explore new horizons.
I also believe that we all have talents that we can use to make a difference in the world, a better (vegan) world.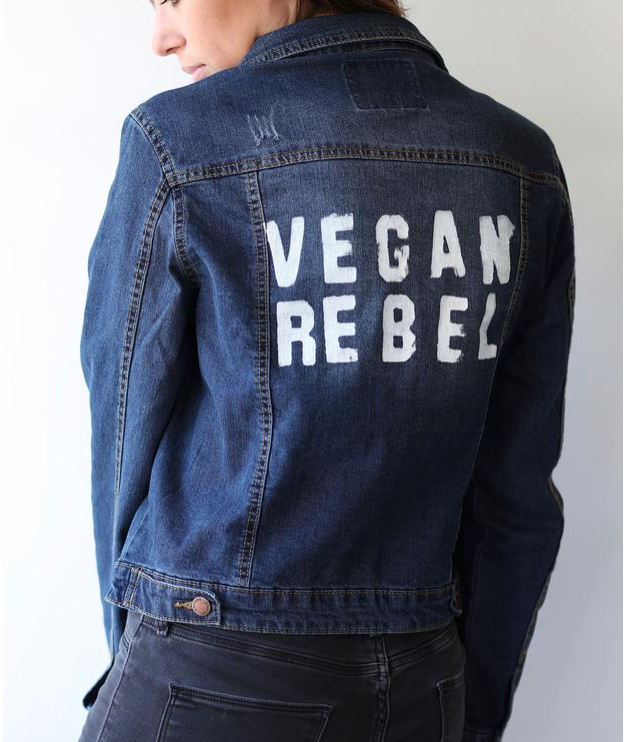 Some of Vegan Club's products for men and women
To find out more about Constantin "Le Fou" and his artwork, please check out the following links:
"Going vegan is the best decision I've ever made – it not only makes me feel younger and healthier but I save one animal's life every day by being vegan, plus it's the quickest and easiest way to have a major impact against climate change." ~ Constantin "Le Fou" Philippou