Raising Awareness – The Annual National Animal Rights Day Evokes Many Emotions
It was such an honor to be amongst so many compassionate and aware individuals, all in one place. This was the case this past Sunday – June 2, 2019. The 9th annual National Animal Rights Day (NARD) @nard_nationalanimalrightsday took place in over 30 cities around the world, in countries as far reaching as India, China & Australia.
In Los Angeles, hundreds of animal rights activists came together to march and memorialize the billions of innocent animals who are mercilessly slaughtered each year for the meat, dairy, egg, fashion, cosmetic, animal testing, (etc) industries. In solidarity, we marched down Beverly Boulevard in West Hollywood, holding the lifeless bodies of dead animals, symbols of all the animals who have needlessly died at the hands of humankind….innocent animals that do not need to die for us.
The purpose of this day is to lend a voice to the voiceless victims and to shine a light on the heartbreaking and mostly unseen plight of the animals who have no say in what humans do to them. It is a time to mourn and remember these innocent, vulnerable animals and to let the world know that we can each make a difference by standing up for the innocent animals and by adopting a vegan, plant based diet and lifestyle.
Sadly, the human race has been programmed and desensitized to the suffering of the most innocent and vulnerable beings on the planet – the animals – who end up on our plates, on our backs and feet, in our cosmetics and so much more. We are born into a system that relies on all of us not asking questions and sticking to the status quo.
But by not questioning what happens to the billions of animals who are slaughtered every year, we are condemning these innocents to a vicious cycle of being bred into a system of immeasurable pain, suffering and death. This MUST change! I truly believe that most people would not choose to eat and use animals if they knew the whole truth!
Truly there is a disconnect in our culture. We are raised as children to love our pets, animals that are deemed acceptable such as dogs and cats, while we are taught that other animals such as cows, pigs, chickens and lambs are made for eating. But seriously, think about this. Each of these animals is exactly like the dogs and cats that we love so much. Each has the same capacity for pain, love, fear, joy, and every other emotion that not only dogs and cats experience but that we as humans experience. There is absolutely no difference between a dog or a cow or a pig or a cat or a chicken or a human in all the ways that truly matter!
If these animals could talk (or put differently, if humans could understand what the animals are saying with their eyes and their cries for help), no thinking, feeling person would condone the violence we bestow on them. The fact is we have become anesthetized towards all the violence and it is easier for most people to remain ignorant towards the plight of the most gentle, innocent beings on the planet….the animals!
It is time we change this awful and outmoded paradigm. It is time we evolve as a species and learn to show respect and compassion to ALL living beings on this planet! The animals of this world should have every right to live on this planet, free from harm, free to exist with their own families. They are simply not ours to use!
Luckily, there are many people today who are working towards creating a kinder, more compassionate world for all beings. These are people from all over the world, from all walks of life, with many different talents and perspectives, who share the common goal of helping to raise consciousness on this planet, who are working towards total animal liberation and universal rights for all animals on this planet!
Which brings me to the annual National Animal Rights Day (NARD). This day of observance for the animals was created in 2011 by the non-profit organization, Our Planet. Theirs Too. It was first held in New York City in 2011 and 2012, and then in 2013, Los Angeles joined with an event on Santa Monica beach. It has grown from here to include many cities around the world, and it continues to grow each year.
This non-profit animal rights and planet conservation organization, Our Planet. Theirs Too "promotes a new vision for planet Earth and all of the species of beings who live on it: human and non-human animals sharing this planet in peace and harmony. We believe that this Earth belongs to ALL who live on it, and they should be able to share its resources equally. The human race, rather than dominating and harming all other species and the planet itself, should take full responsibility and protect them. Because it's our planet, and theirs too!" Excerpted from Our Planet. Theirs Too.

On the National Animal Rights Day, part of the ceremony is dedicated to the reading and signing of The Declaration of Animal Rights. What is the Declaration of Animal Rights? Please read below for more information and for the full declaration –
Animal rights activists in LA signing the Declaration of Animal Rights
Excerpted from declarationofar.org.
"The Declaration of Animal Rights is a project created by the international animal rights and planet conservation group, Our Planet. Theirs Too. This declaration was drafted in May 2011 and publicly read and signed on June 3rd of the same year, on the 1st National Animal Rights Day in the US, in the city of New York.
The Declaration was copied onto a large scroll of paper, which since then has been traveling the world and collecting people's signatures, drawings and notes. It is now 100 meters long, with almost 15,000 signatures. Once it reaches 50,000 signatures, the scroll will be sent to the White House, the UN, The EU Parliament and other world leaders, in order to show them what we, the citizens of this world, think of our fellow animals and their rights. We will do this until The Declaration of Animal Rights is recognized all over the world, and the rights proclaimed in it are protected by global law!
You can read and sign The Declaration of Animal Rights here. Please see below for the full Declaration of Animal Rights"
THE DECLARATION OF ANIMAL RIGHTS –
"SINCE THE DAWN OF HUMANITY, there remains a group so persistently abused and marginalized, that their suffering is ingrained in our everyday lives. If animals could freely talk, their chorus of cries would drown out every other sound in the world. We are all animals. We are all living, breathing beings who share the same Earth. We all feel pain and suffer when we are hurt or deprived of our lives, our families, our freedom. We all have the right to experience kindness, compassion and dignity. We believe in the kinship of all beings, and the possibility for us to coexist in peace and harmony on planet Earth.

CONSIDERING that all living beings on planet Earth came originally from the same source, and follow the same evolutional principles;

CONSIDERING that all living beings on planet Earth inhabit the same lands, seas and air, and therefore share them and their resources to live within, and to live off of, comprising one ecological system;
CONSIDERING that all living beings possess the same basic needs: to survive, to seek happiness and pleasure and avoid pain, to live comfortably, to procreate, create families and other social structures;

CONSIDERING that all living beings, as known to humankind, are sentient beings, and therefore can feel pain, pleasure, sensations, feelings and emotions;

CONSIDERING that the human species is only one of millions of animal species, and comprises a minute minority in number, compared to the billions of animals living on this planet;
WE HEREBY PROCLAIM THAT:
1) We hold these truths to be self-evident, that all beings are created equal, and have a right to Life, Liberty and the pursuit of their Happiness.
2) Therefore, all animals have the same natural right to exist, as any other living being.
3) All animals have the right to be free, to live their lives on their own terms, as intended by nature.
4) All animals have the right to eat, sleep, be physically and psychologically comfortable, be mobile, healthy, safe, and fulfill all their natural and essential needs. As such, all animals are to be free from hunger, thirst, and malnutrition; physical discomfort and exhaustion; confinement against their will, bad treatment, abusive or cruel actions; pain, injury and disease; fear and distress; and free to express their normal patterns of behavior.
5) All animals have the right to reproduce, live with their offspring, families, tribes or communities, and maintain a natural social life. They have the right to live in their natural environment, grow to a rhythm natural to their species, and maintain a life that corresponds to their natural longevity.
6) Animals are not the property or commodity of humans, and are not theirs to use for their benefit or sustenance. Therefore, they are to be free from slavery, exploitation, oppression, victimization, brutality, abuse, and any other treatment that disregards their safety, own free will and dignity. They should not be slaughtered for food, killed for their skins, experimented on, killed for religious purposes, used for forced labor, abused and killed for sport and entertainment, abused for commercial profit, hunted, persecuted or exterminated for human pleasure, need, or other ends.
7) Humans shall do whatever is within their means to protect all animals. Any animal who is dependent on a human, has the right to proper sustenance and care, and shall not be neglected, abandoned, or killed.
8) Animals who have died must be treated with respect and dignity, as humans are.
9) We call for the protection of these rights. They must be recognized and defended by law, as human rights are. Any act which compromises the wellbeing or survival of an animal or species, or jeopardizes, contradicts, or deprives an animal or species of the rights listed above, should be deemed a crime, and should be punished accordingly.
IN WITNESS THEREOF, this Declaration is hereby signed today, Sunday, June 5th 2011, The First National Animal Rights Day, in the City of New York, The United States of America."
(Original text written by Aylam Orian, and edited by Aylam Orian and Zelda Penzel)
"Vegan Club" artist and founder, Constantin Le Fou representing at NARD in LA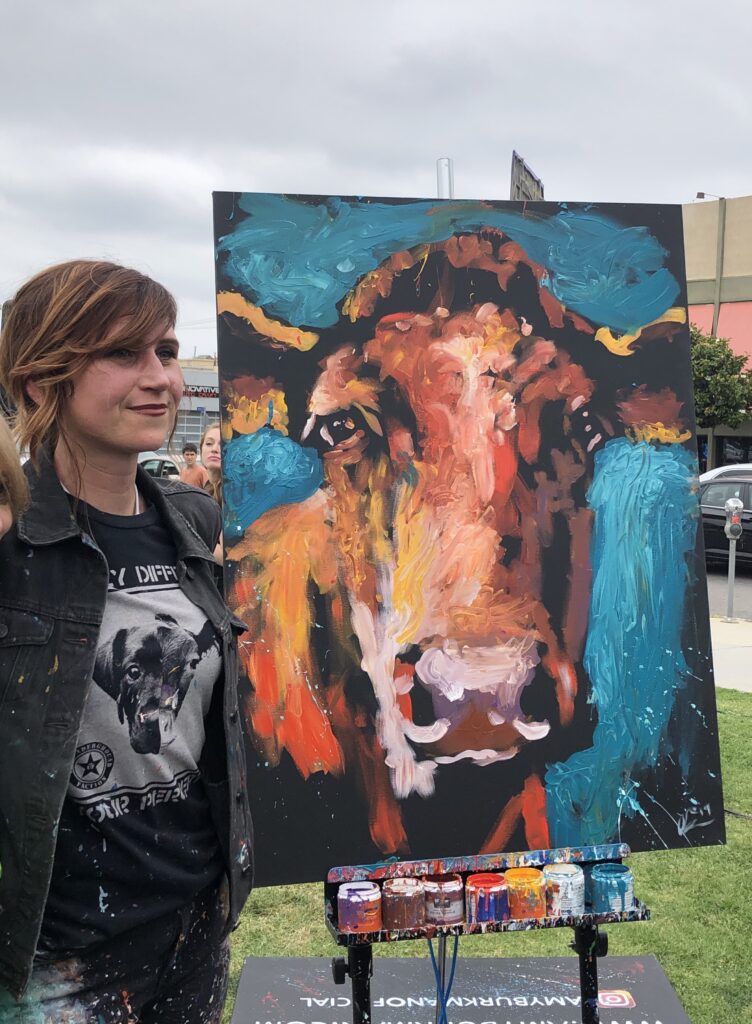 We must keep up the fight….. Until every cage is empty! Until all animals are free and have equal rights to human animals on Planet Earth! Onward…..
"We have to speak up on behalf of those who cannot speak for themselves." ~ Peter Singer, Animal Liberation