10 Questions for a Vegan – Jean Coburn
Latest Q&A with the lovely and enterprising Jean Coburn, owner of Drizzle & Shine, a wonderful vegan eco boutique located in Seattle's Capitol Hill neighborhood. Jean opened her store in 2016 after struggling to find clothing that was vegan, eco-friendly and that used ethical labor practices.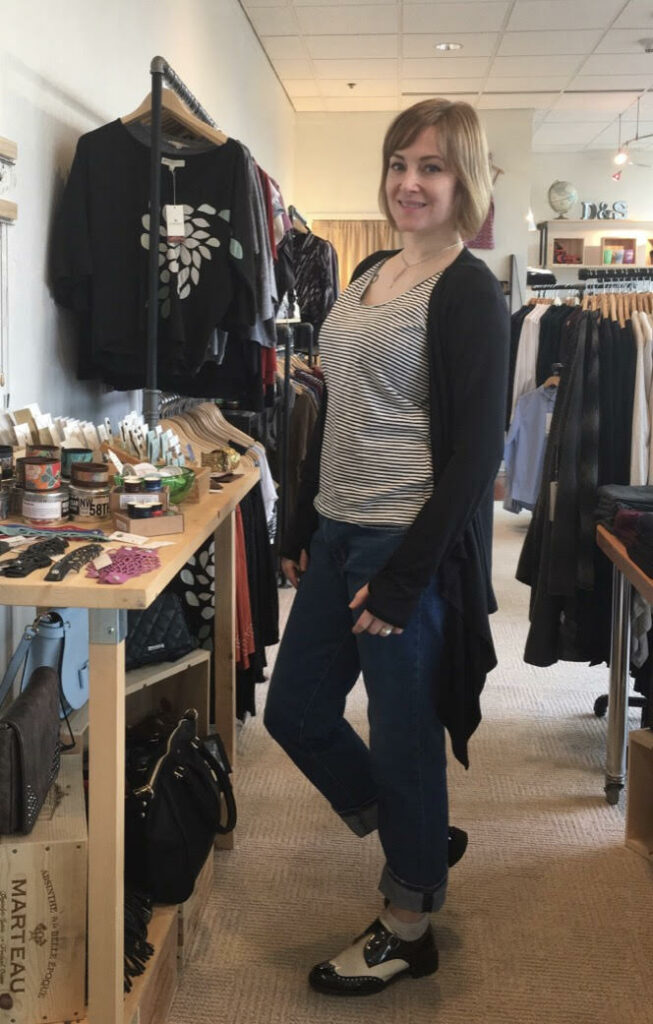 Originally from Toronto, Canada, Jean has been a vegan for 19 years. She has always loved animals and enjoys cats and dogs as much as wildlife and rescued chickens, pigs, and cows. She is mom to three adorable rescue cats.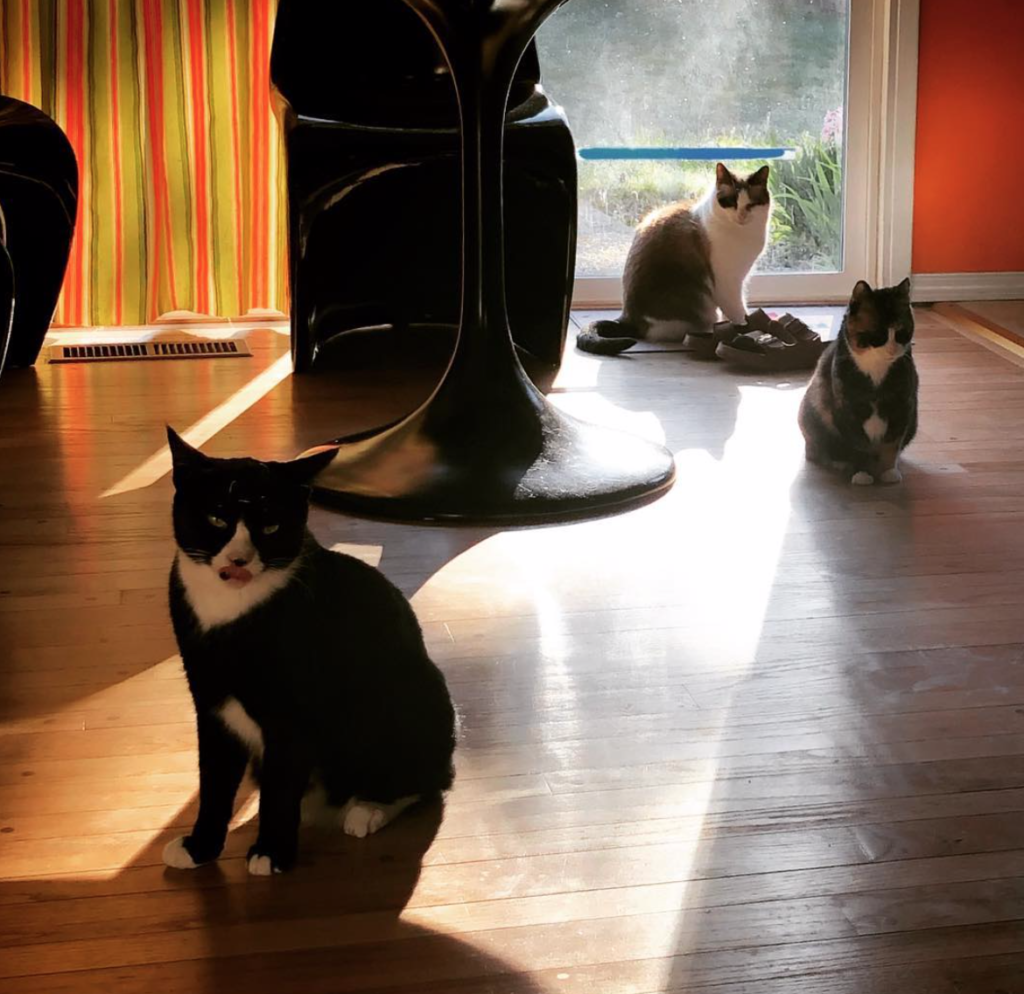 What inspired you to become a Vegan?
I became a vegetarian at age 10, after seeing a pig being slaughtered. I was horrified! I grew up in a city, and meat was something frozen and served from a box. My parents were very accommodating and made me eggs or a cheese sandwich when they ate meat. It wasn't until I was in my late twenties that I learned that the production of eggs and milk is inherently cruel. That's also when I stopped wearing animal products.
A vegan acquaintance loaned me John Robbins' book, Diet for a New America and after reading it, I couldn't continue to support these industries or give them my money any longer. As an added bonus, I've reaped many health benefits and ended up creating a smaller environmental footprint. Oh, and my parents and siblings went vegan eventually too!
How has Veganism impacted your life?
Veganism is an integral part of my life. I've made amazing friends in the animal activism community. I have a core group of compassionate friends who also happen to be the smartest, funniest people around. We fight for serious issues but we also know how to unwind. When I'm around people who aren't (yet) vegan, I lead by example. I'm happy to help anyone on their journey.
Opening Drizzle & Shine came about because I had a desire to shop for vegan, sweatshop-free, eco clothing and had a hard time finding that in Seattle. Being a vegan boutique owner is a life-changing experience that I wouldn't have had if I hadn't started down the vegan path in 2000.
What does a typical day look like – breakfast, lunch, dinner, dessert?
I eat simply. Oatmeal with fruit or a smoothie is breakfast.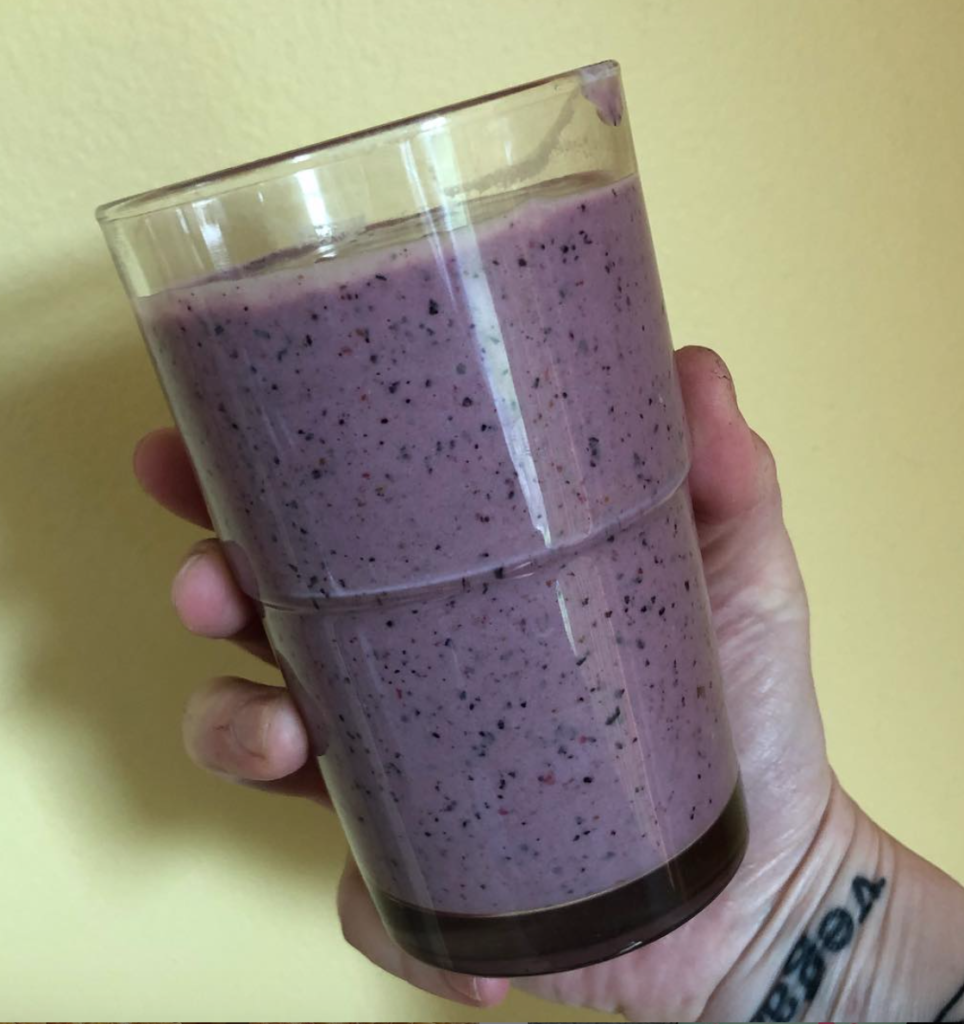 I usually have a hearty salad (with beans, potatoes, garbanzos, nuts, not just veggies) for lunch.
For dinner, I often eat out. Seattle has many great vegan options. When I cook, it's a stir-fry, soup, or pasta.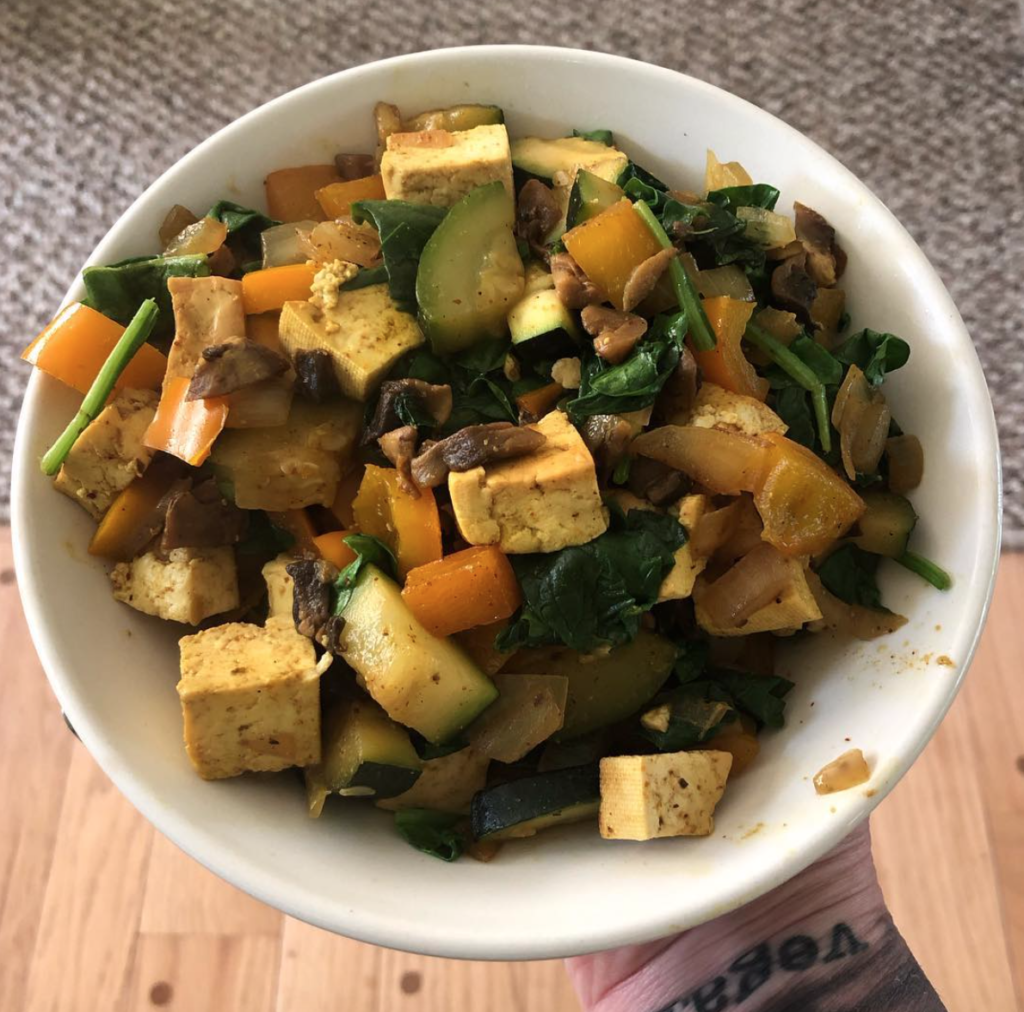 I lost my sweet tooth a few years ago, but I do enjoy wine or a cocktail. If/when I eat sweets, it's vegan ice cream.
What do you typically eat when you're on the go or traveling?
When I'm on the go, I'll take fruit with me, or more likely, a handful of almonds or cashews. When I travel, I pack Luna or Lara bars and almonds in case I can't find anything vegan.
I'm always pleasantly surprised at how many vegan options there are, no matter where I go. I've found vegan restaurants all over the world (I use the Happy Cow app to find them). When there aren't dedicated vegan places, I can usually get a great vegan meal in an omni restaurant–either off the menu or with a few creative substitutions.
Can you recommend any favorite Vegan (food /fashion /beauty) brands?
Where do I start?
For food, I'm a big fan of Miyoko's cheese. I serve it to all my friends and everyone loves it. Upton's Naturals has fantastic products. Their jackfruit is like pulled pork and makes a great sandwich filling. I often buy food and make meals from scratch. I highly recommend Vegan Richa's Everyday Kitchen cookbook.
For shoes: NAE, Bhava Studio, Vegetarian Shoes, and Ethletics are all favorites.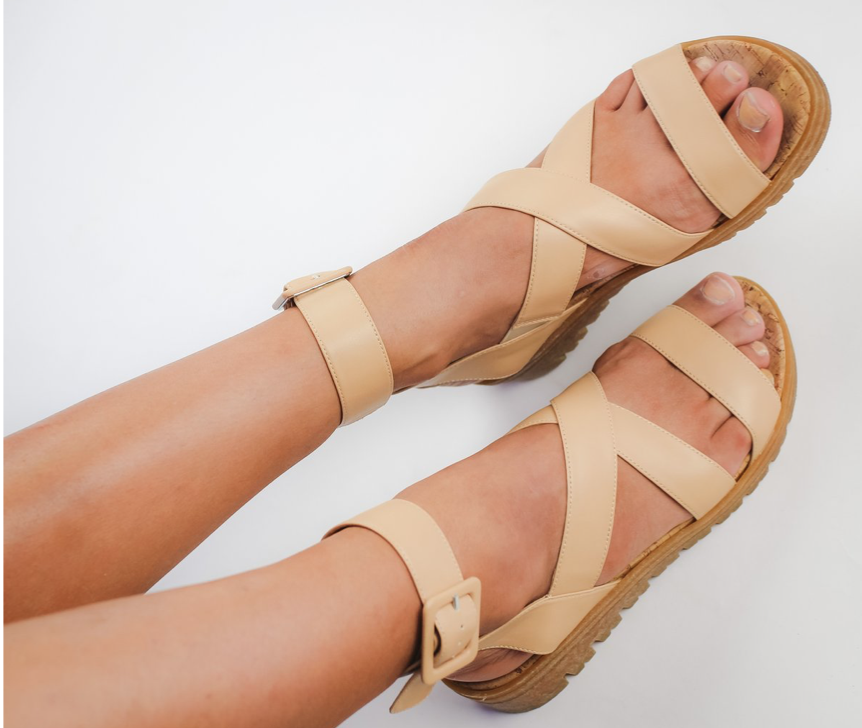 For clothing, Mud Jeans out of Holland is a great vegan company. So is Monkee Genes. I like other eco brands such as Thought Clothing, Nomads Hemp Wear, Synergy, and Armed Angels. They aren't all-vegan so I read labels to make sure I'm not buying anything with leather trim, wool, silk, down, etc.
My beauty routine is simple but ever-changing. I find vegan brands in drugstores or online. Thrive Causmetics and ELF are faves.
Be aware that brands can get acquired by other companies or they change their policies. So I check the Logical Harmony Cruelty Free Brand List before I shop.
Favorite stores to shop Vegan (online / brick & mortar)?
You mean other than my store, Drizzle & Shine? 🙂 I like Herbivore Clothing in Portland. Nice Shoes in Vancouver Canada is also great. I had the best time shopping in Germany. Veganista is a vegan boutique in Munich. Berlin has one called Loveco and another called Dear Goods. Avesu Shoes is there too. They're all vegan.
Do you have a favorite Vegan restaurant?
I can't decide! There are too many to choose from. I end up at Wayward Vegan Cafe a lot because I love vegan comfort food (think pancakes, breakfast platters, burgers). No Bones Beach Club is amazing and has locations in Chicago, Portland, and Seattle. Veggie Grill is another go-to.

What gives you inspiration? (documentaries, books, websites, cookbooks, etc?)
The book Diet for a New America was the catalyst. I tend to watch a lot of documentaries: Eating, Cowspiracy, Forks Over Knives, Speciesism, Live and Let Live, Peaceable Kingdom. Some are health-based, others are about animal injustices. Those ones aren't easy to watch but I believe people need to know. Then they can make an educated decision about what they eat and wear.
If someone can't watch what others do to the animals who end up on our plates, then maybe they shouldn't be putting animals on their plates!
Favorite animal sanctuaries or animal rights / environmental organizations?
Again, there are so many! When I first moved to Seattle, I plugged into the Northwest Animal Rights Network (NARN). They do great work to promote veganism and fight animal cruelty in the Pacific Northwest. I also admire Vegan Outreach and The Humane League.
There are great animal sanctuaries all over the country too. I highly recommend visiting one, donating money, and even participating in a work party. They can use all the help they can get!
Locally, there's Pasado's, Rooster Haus Rescue, Sky's the Limit Sanctuary, Heartwood Haven, and others. The Gentle Barn, Farm Sanctuary, and Animal Place are great national sanctuaries with locations in different parts of the USA.
What is your best advice for those thinking about going Vegan?
Don't delay! The only regret I have is not opening my eyes and doing it sooner. Living in line with my ethics is a wonderful way to be and gives me great peace. I eat a wider variety of foods than I used to, I'm healthy and happy. If you think you can't go all out, baby steps help. Every bit helps.
Swap out dairy for soy, almond, or hemp milk. Use beans instead of meat in tacos and chili. Get some cookbooks and try veganism one meal at a time. Don't be afraid to get out of your comfort zone. Meet other vegans. Put photos of rescued farmed animals on your fridge or in your wallet to remind you of why you're doing this. Ask yourself, "Would I be okay with this if it was a dog or cat?"
The future is vegan!
Drizzle and Shine
102 15th Ave E (b/t John St & Denny Way)
Seattle, WA 98112
drizzleandshine.com
@drizzleandshine

"If someone can't watch what others do to the animals who end up on our plates, then maybe they shouldn't be putting animals on their plates!" ~ Jean Coburn