Vegan Scene Founder Making Fashion Vegan, Ethical & Sustainable With New Collection 'Legends and Vibes'
We all need clothes, and as an appreciator of fashion and someone who has worked in the industry, it is sad to say that the fashion industry is one of the world's leading contributors to global pollution, as well as one of the largest supporters of factory farming. The truth is fashion creates a tremendous burden on the environment by way of carbon emissions, pollution, water waste, chemical runoff and landfill gluts in many parts of the world. And factory farms, where animals are bred and raised in horrific conditions for their fur, skin, feathers, meat and more are one of the leading causes of greenhouse gas emissions and climate change.
The high demand for low cost, disposable clothing, shoes and accessories along with the sheer magnitude of the fashion industry and sheer volume of fabrics that are produced for our apparel are what make the industry so destructive. The textile industry alone can be horribly toxic, with untreated chemicals being dumped into rivers by textile (dyeing) factories that wreak havoc on the environment.
The whole idea of fashion and where our clothes come from needs to be re-examined and completely overhauled. We clearly need to do things differently if we want a viable, more sustainable future!
Other than buying second hand and minimizing our purchases, there are solutions. From the Slow Fashion movement, to creating more innovative, sustainable and cruelty-free fabrics, to locally sourcing and producing garments, to recycling and upcycling pre-worn fabrics, to using deadstock (leftover fabric)…there are many different ways to take a more sustainable approach to fashion.
Which leads me to the talented and passionate Amy Rebecca Wilde, founder of Venice, CA-based Vegan Scene – a 100% vegan, women-run, eco-conscious fashion boutique (online & brick and mortar) that was founded in 2014.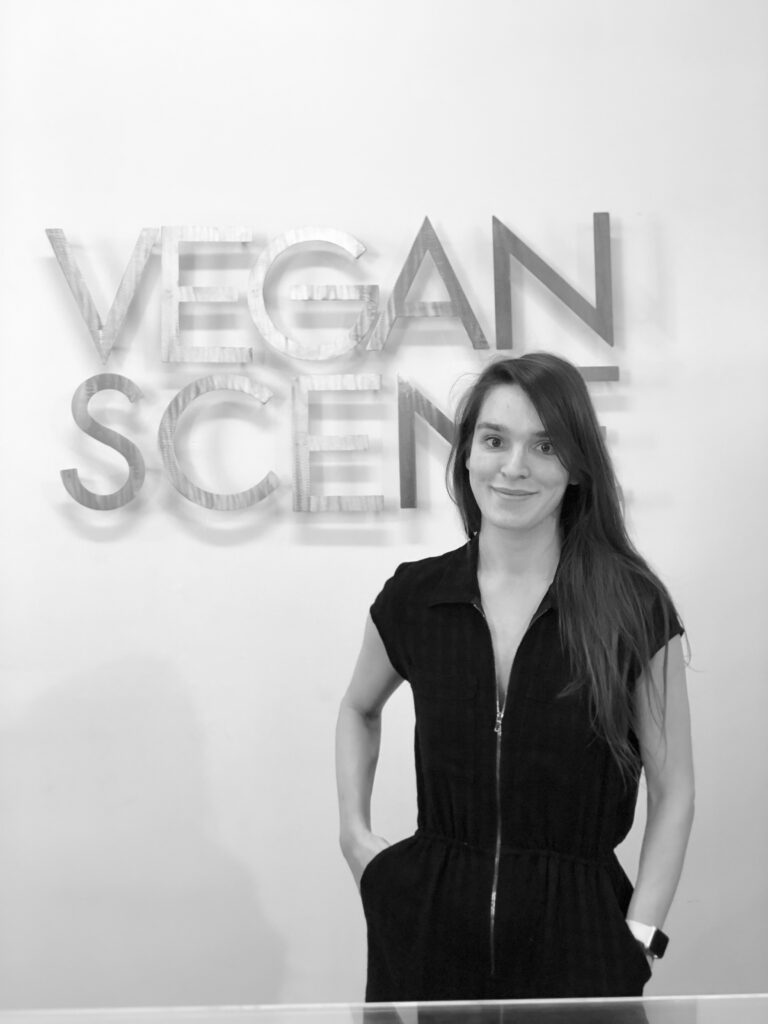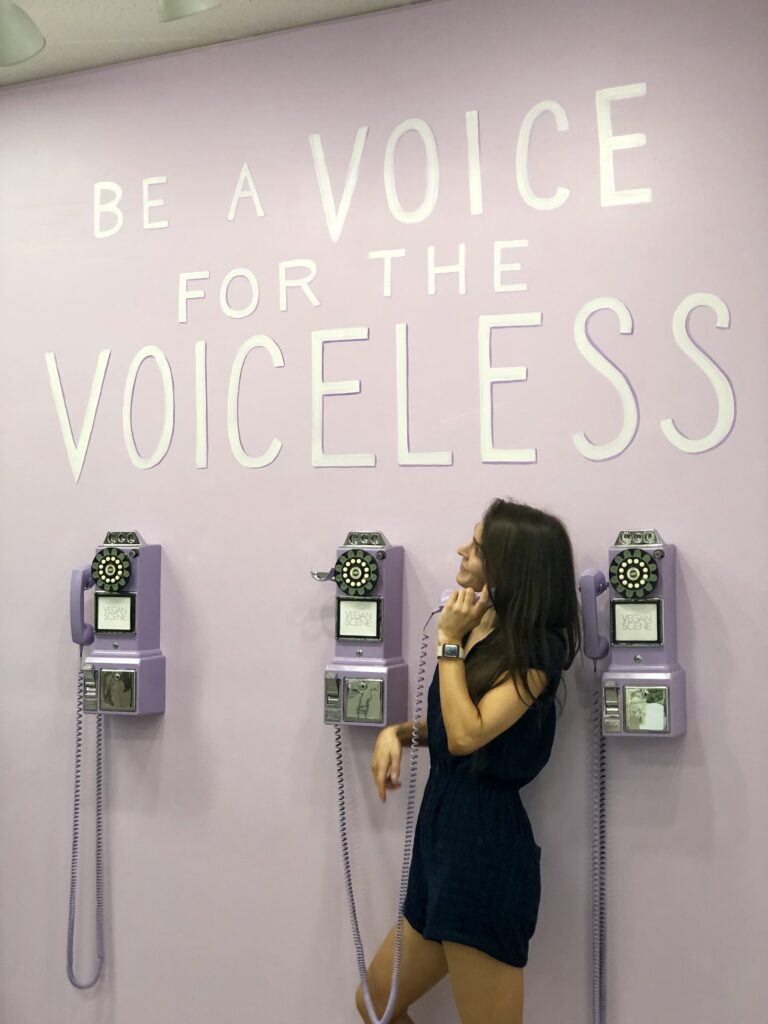 Amy is a long-time vegan (17 years) and an "animal rights activist turned entrepreneur". Her life's mission has always been to be a 'voice for the voiceless', campaigning against fur back in 2012 with her organization 'Fur Free LA' as well as being the face behind the popular Instagram account, @VegansOfIG.
Amy's philosophy is "activism via commerce" and she has dedicated her life to "making veganism exciting, accessible and stylish" while working to advance animal rights, worker's rights and fight climate change.
The idea for Vegan Scene came partly out of Amy's desire to shop a curated selection of stylish, vegan clothing as well as a place where she could promote sustainable, vegan fashion.
Vegan Scene features local vegan designer products that are 100% vegan, eco-friendly and fair trade. Products include women's clothing, activewear, loungewear, jewelry, accessories, handbags, natural skin products and vegan cosmetics with popular brands such as Matt & Nat, Ella+Mila, Kai Fragrance and Gabriel Cosmetics.
Check out Amy's online store for great vegan products at veganscene.com
Vegan Scene is an online store as well as a brick and mortar store. However, please note that while there is currently a Vegan Scene store in Venice, CA, Amy is on the lookout for a new and more ideal store location. So you can still shop her store in the coming days (address below) where you can find some great deals.
Stay tuned for Vegan Scene's new location – tbd.
In addition, Amy has created a cruelty-free and ethically-made collection called Legends and Vibes, which she launched in 2017 and was born out of Amy's mission to make vegan fashion accessible, affordable, sustainable and stylish. She recently had a successful Kickstarter event that will help her take the Legends and Vibes collection to the next level.
Feminine and sophisticated with a SoCal vibe, Legends & Vibes focuses on sustainability, using innovative animal alternatives, combined with vintage, repurposed, recycled and deadstock materials that are locally sourced, with the end goal of minimizing the environmental impact of fashion. And because she is using existing, deadstock fabric that would otherwise go to waste, this means limited runs, keeping each collection unique and one of a kind.
Some pieces from the Legends and Vibes line
Produced in downtown LA, every level of production is overseen by Amy and team to ensure high standards of quality and that her ethics are never compromised. It was very important to Amy that everything she creates is made in the US and that she pays fair wages.
As if a store and one line of clothing isn't enough, Amy has also been working on a second line – REBELIVES, which is just about ready to launch, and made from the excess fabric from the Legends & Vibes line, as well as from discarded clothing that has been reworked and upcycled to breathe new life into them. Where Legends & Vibes is more refined, REBELIVES is a bit edgier with more attitude.
Per Amy, "The elephant in the room is factory farming – I don't see how we can talk about sustainability without addressing factory farms. I think people still associate veganism with the words "synthetic" or "fake," so it's important to me to educate the public that vegan fashion can incorporate sustainable materials."
Amy's noble goal is to "inspire change, lead a movement and make a real impact" with her vegan, sustainably sourced and ethically made fashion brands. She hopes to ultimately open her own factory in Los Angeles where she can produce her own collections, as well as give other vegan lines the opportunity to produce there as well.
Legends and Vibes Ethics below –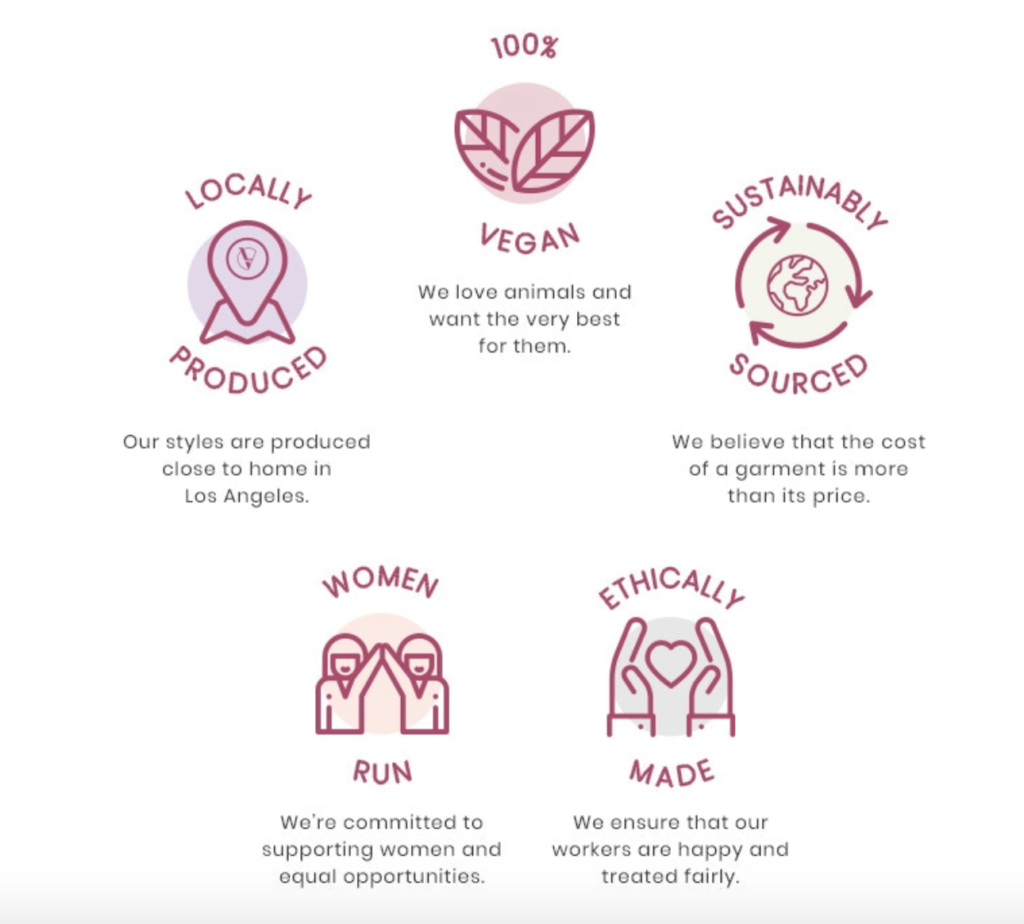 Vegan fashion is the future!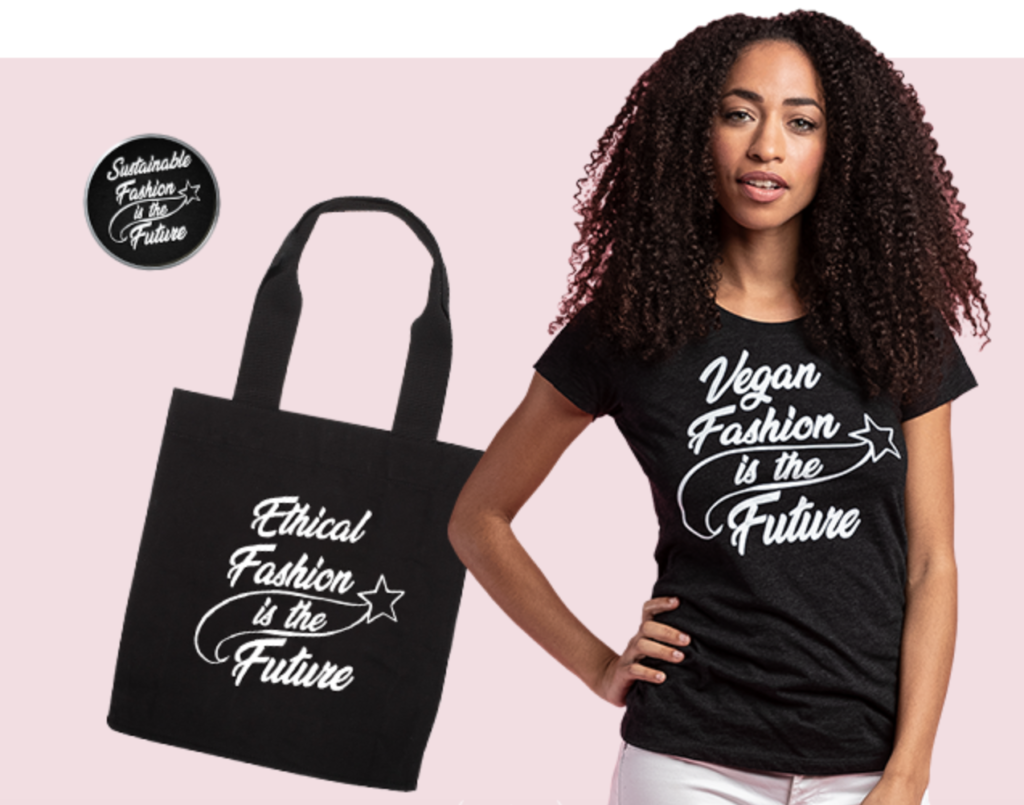 Vegan Scene
4051 Lincoln Blvd *
Venice, CA 90292
veganscene.com

*This location is closing before the end of May 2019
Stay tuned for Vegan Scene's new store location
Instagram –
@veganscene
@LegendsAndVibes
Amy also hosts Vegan Fashion Pop Up Events – For more information about these events, check out her Instagram account – @VeganFashionFridays

"As rebels with a cause, we decided to embrace disruption and fight animal enterprises with commerce. The only true way to take down an industry is to make it obsolete." ~ Amy Rebecca Wilde