10 Questions for a Vegan – Shannon Labbe
I posed 10 questions to the fierce, passionate and tireless Shannon Labbe – mother, wife, vegan, animal activist, preschool teacher, tutor, mentor and lifelong New Englander. She and her husband, Matt went vegan a few years ago and have since been on a mission to be a voice for the voiceless and help protect and advocate for the innocent, whether that's children or animals, particularly farm animals. They have two lovely daughters, Gwenyth and Audrey and three adopted fur babies, Billy, Ted and Biscuit.
Shannon & husband, Matt

Shannon & her rescue pups

Shannon & her lovely daughters
A committed activist, Shannon spends almost every weekend fighting for animal rights with fellow advocates through vegan outreach, protests and volunteering her time to various animal rights organizations such as Anonymous For The Voiceless and The Save Movement. In her spare time, Shannon loves the outdoors, reading and photography and she enjoys volunteering at farm animal sanctuaries with her family. Shannon is also a strong voice on Instagram, vegan._shenanigans_,using social media as a platform to further her vegan advocacy.
Shannon is a committed animal rights activist, whether she is bearing witness to animals on their way to the slaughterhouse, visiting rescued farmed animals at santuaries, or peacefully protesting fur.
Shannon's 12 year old daughter, Audrey, spreads the vegan word at school and is a passionate animal rights activist like her mom.
What inspired you to become a Vegan?
It all started with my husband's health. He had been diagnosed with some pretty serious issues with his heart. Of course I panicked and began researching diets. I had an acquaintance who swore by a vegan diet. With more research, my husband and I decided to give this vegan thing a go. After only a month, we surprisingly saw such an improvement in his health, and he just got healthier week by week – we were blown away! Long story short, he has been able to come off all of his meds and has a clean bill of health still now – 2 years later. He went back and forth between vegan and vegetarian and I went back to eating fish. I was pescatarian for a few short months until more research started to ensue as I was so curious about the benefits we experienced in our own health.
We began watching some documentaries, starting with health films such as, Forks Over Knives which then led to environmental films such as Cowspiracy ….which led us to watching many others including one I will never ever forget, Earthlings. This film goes into all the ways we use and abuse our animal family – our fellow earthlings. It was tragic and I had no idea what was truly happening to the most innocent beings on Earth.
From that time on everything changed. I decided right then and there I would Go Vegan and Stay Vegan. To find out the truth about how my food and clothing choices were harming the animals and the planet, and then to see how it was directly affecting my children's future and contributing to world hunger, it was an easy decision and one of the best decisions of my life. My only regret is that my husband and I didn't go vegan sooner.
How has Veganism impacted your life?
Veganism has changed the way I perceive everything – for the better. I have become more self aware and aware of others more than I have ever been. It's taught me how simple, small changes can cause such a huge ripple effect of compassion towards others and our planet. It feels good knowing that we truly have the power to create change….by simply changing what is on our dinner plate.
In the last two and 1/2 years since going vegan, I have seen so many health benefits emerge as a result. My husband and I are the healthiest we have ever been. We are loving our 40s!
What does a typical day look like – breakfast, lunch, dinner?
Our day to day is a busy, on-the-go lifestyle. Having two growing teenagers and two busy careers, we are a smoothie family when it comes to starting our day.
I try to meal prep on the weekends for our lunches, which can be salads, quinoa salads, hummus and veggies and many times our dinner leftovers.
Dinners are always changing and we have so much fun in the kitchen creating new meals. When it comes down to it, taco night is the family favorite. Being from New England, soups and stews are also on heavy rotation. And anything Italian that has been veganized is a favorite, such as tofu ricotta stuffed shells.
We often keep a variety of non-dairy ice creams in stock for the kids and of course dad and mom have to dip into that once in a while!
Some of Shannon's favorite family meals are pictured below – Curried cauliflower stew, buffalo-style cauliflower and tofu scramble (good anytime)….
What do you typically eat when on the go or traveling?
When busy or traveling, we always have a variety of snacks packed for the road: fruit, veggies, crackers and hummus, nuts or trail mix, plant based granola or energy bars. I also like to make big batches of either pasta or bean salads, something that's easy to scoop into individual containers for the fam. We always make our own fresh and healthy spring rolls which the kids love.
When we stop to go out, we love searching and finding new vegan restaurants. It's always a fun treasure hunt for us! When we are in areas where it is not vegan friendly, we like to pick out favorite Mexican spots such as Moe's or Chipotles or Thai food spots. And if the french fries or onion rings are vegan, they have this whole family's name on it!
Can you recommend any favorite Vegan (food/fashion/beauty) brands?
The list of growing options is endless – very exciting!
For food brands, we love "Beyond Meat" Burgers and Sausages. They are an epic and growing company changing the game for the future of "meat" , and they are so dang good. The children also enjoy "Gardein" faux meats. So many choices!
For non-dairy cheese, we prefer the brands Follow Your Heart, Field Roast, Treeline and Violife but again, more and more brands are coming out and they are spot on!
For fashion, we do a lot of consignment shopping to help reduce and recycle. When I do purchase I like to purchase through the site Etsy and support small businesses who are sustainable. There are so many shops to choose from on this wonderful site.
Some of our favorite (vegan and cruelty free) beauty products are:
Favorite stores to shop online?
I love Etsy ….the shops again are endless.
One of my other favorites is Herbivore Clothing. I buy a lot of my animal rights clothing through them and other brands such as Arm The Animals and Redbubble.
Do you have a favorite Vegan restaurant?
Yes, I have many many favorites but I'd say my favorite spot is a place called G-Zen, located in Branford, CT. It's a mostly farm-to-table, organic, whole foods restaurant with many menu items coming straight from their own family garden. I always feel good after I dine here. The atmosphere is beautiful and whimsical, and the staff are always delightful.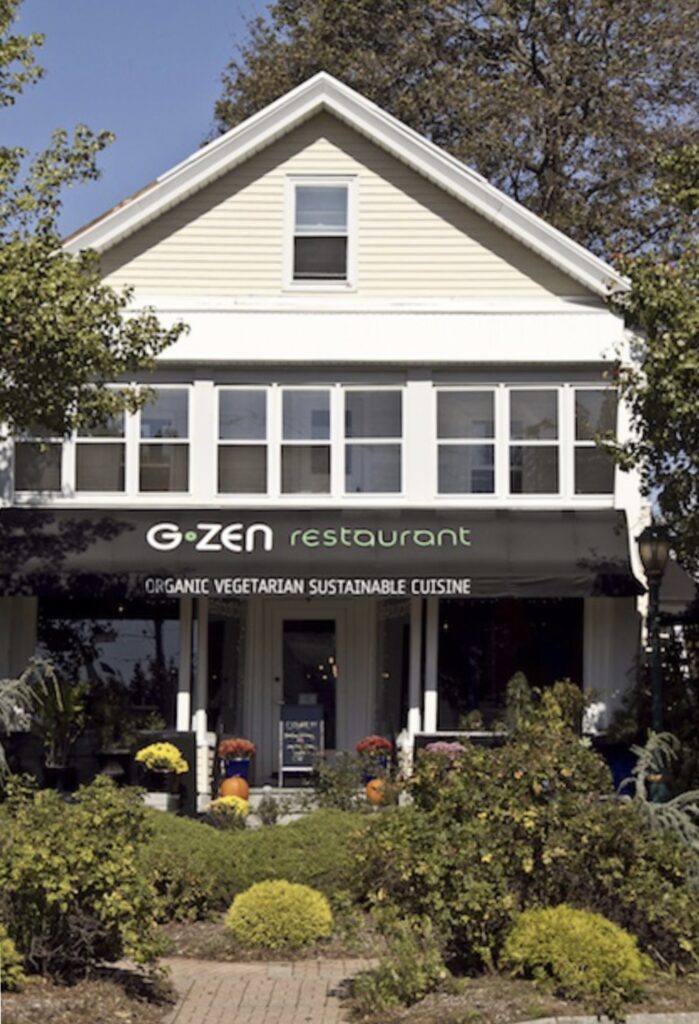 What gives you inspiration? Documentaries, books, websites, cookbooks, etc?
I gain so much inspiration through personal stories and the work of animal or planet advocates that I've come to know and love on Instagram. I am also very inspired by animal rights photographers and undercover investigators. Their job is not easy going into some of the darkest places on earth, but because of their work, they are changing so many hearts and minds. Many have gone onto writing books.
My absolute favorite photo journalist and animal rights activist is Jo-Anne McArthur. Her book "We Animals" captured so many emotions within me, from beginning to end. And her work has inspired me to get back into photography.
I also really love animal rights photographer, Sammantha Fisher. Her work is absolutely stunning, and her heart for the animals has helped so many people move closer to veganism by showcasing the personalities of her subjects, the animals.
These photo journalists and other individuals have inspired me to dedicate my life even further to the animals and to go back to school to pursue photography, a field that I had earlier walked away from. Animal rights photo journalism is something I see myself doing in the future!
Favorite animal sanctuaries and or animal rights/ environmental organizations?
I have a huge list of favorites for farm animal sanctuaries but just to name a few… ok maybe more than a few! Go check out their beautiful work:
My favorite animal-environmental organization, and so proud to be a part of is, "Anonymous For The Voiceless". This AR organization is growing fast and a huge part of the growing vegan movement. I most recently joined "The Save Movement" in both Connecticut and Massachusetts. There are groups in many cities around the world. The work they are doing is incredible. I encourage anyone who wants to be an activist to look into these amazing and growing organizations.
What is your best advice for those thinking about going Vegan?
My best advice would be to research- research- research. I'm still learning every day. Fill up with knowledge through books and reputable sources online. Watch documentaries! For recipes, there are endless vegan sites for inspiration, and I always find Pinterest to be so helpful. The Vegan Challenge 22 is a great online source of information and guidance with recipes, personal mentors and dietitians to help get you started on your vegan journey. Another way is to find and join vegan communities online. Finding others who are on the same path is both encouraging and helpful.
Just know that once you start, you are on your way to an amazing path that will lead you to more and more compassionate choices for the animals, our children, our health and the planet. Going Vegan is truly a win win win for everybody and will make the world a better place for ALL.
In Shannon's words –
"I will forever fight for our children and our animal family, working towards leaving them with a healthier and more compassionate future that they so deserve. They need us to be their voice more than ever and that is my greatest mission going forward in everything I do. Their future on this beautiful planet is literally depending on us." ~ Shannon Labbe