10 Questions for a Vegan – Emmanuelle Rienda

I sat down with the very inspiring Emmanuelle Rienda, visionary and creator of the first ever Vegan Fashion Week (VFW), which was held in Los Angeles this past February. Emmanuelle has received an enormous amount of press and media attention for Vegan Fashion Week, having been featured in a slew of publications such as Vogue, WWD, The New York Times, VegNews, Nylon, Vanity Fair, and many, many more.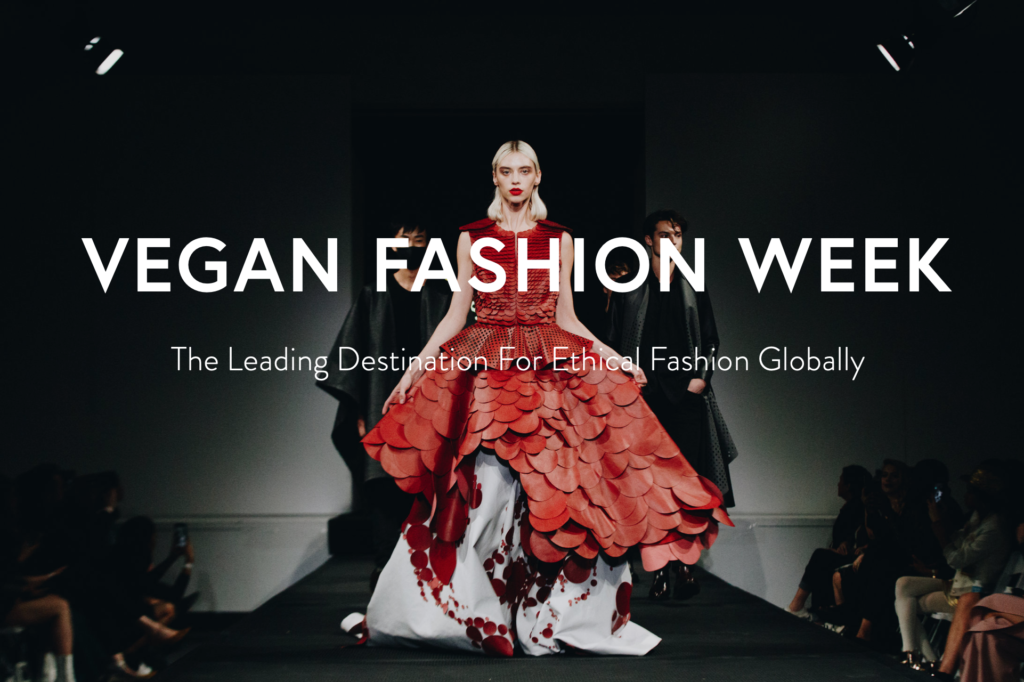 Emmanuelle is a committed vegan and animal rights activist and believes in merging her vegan activism with fashion to appeal to both vegans and non vegans. By engaging an audience through art, fashion and creativity, she is able to appeal to those who may not otherwise consider veganism.
Emmanuelle is on a mission to "inspire positive changes for the new generation through fashion and to help them make compassionate choices with style." Her objective is to ignite conversations and debates within the fashion industry by educating, elevating and drawing connections between our most important values – our respect for human life, animal rights and the environment.
Emmanuelle speaking and marching at this year's NARD event in LA
A little background…..Originally from France, Emmanuelle moved to the US in 2008. Shortly after moving, she opened a showroom in Los Angeles, called Le FrenchLab, to represent French designers looking to expand into the US market.
A longtime vegetarian, she decided to go fully vegan in 2016 after watching some documentaries. It was not until Emmanuelle made these changes to veganism that she began realizing the inherent cruelties towards animals in the fashion industry.
Many of the brands she had been representing used leather, wool, exotic skins, feathers and sometimes fur in their lines. Once the connection was made, she decided to close her showroom and purge her wardrobe of all animal materials.
After rethinking what she was doing, Emmanuelle had the brilliant idea of launching "The Future of Fashion" conference that brought together forward-thinking leaders and advocates of sustainable fashion to discuss vegan, ethical and sustainable alternatives in the textile industry. The conference, held in November 2018, was very successful and sold out, attracting support from Fashion Revolution, PETA and the attention of Kanye West, Calvin Klein, and Disney among others.
Three months later, Emmanuelle launched Vegan Fashion Week (VFW), the first of its kind in the world. Her first event was held this past February and a second one is planned for Oct 2019. The idea behind VFW is to create a platform and marketplace to bring designers, vendors, buyers, press and others in the fashion industry together to show that the 'future of fashion' is here…. and it's vegan, ethical and sustainable!
Images from the first ever Vegan Fashion Week – Feb 2019
What inspired you to become a Vegan?
My reasons for being vegan are 100% about the animals. Even when I became vegetarian years ago, it was for the animals, but I had not yet made the connection about the dairy industry and other industries that are abusive to animals. In 2016, I watched some documentaries such as Cowspiracy. These documentaries helped me see the reality of the dairy industry, which made me connect the dots to other industries, such as the fashion industry and how these industries abuse animals.
I got involved with activism through Anonymous for the Voiceless and attended the Animal Liberation conference organized by DxE. We visited a slaughterhouse where chickens were being slaughtered and this just shook me to the core. We also visited an egg farm that was supposed to be sustainable and organic. The conditions on this farm were horrible, the worst conditions I've ever seen.
That day, 30 of my fellow activists were arrested at the egg farm. Seeing police wearing riot gear and treating these peaceful activists like terrorists, when all they were doing was trying to help innocent animals, really made an impact on me.
People are sadly being taught a lie. These industries, such as the meat, dairy and egg industries, are protected by law and government and keep the public in the dark about the horrors the animals must endure. People owe it to themselves to learn about the atrocities committed towards the vulnerable, innocent animals.
So, it was the horrible treatment of the animals that was my trigger and what inspired me to go vegan.
How has Veganism impacted your life?
For me, it's about the connections I've made. Since going vegan, I've discovered a wonderful community full of people trying to better the world. It's beautiful to see all these amazing souls that are so conscious and aware and willing to push past their comfort zones. I feel as though I'm attracting more and more people into my life who are strong, creative, clever and compassionate.
And since creating Vegan Fashion Week, I continue to meet more and more incredible people. It's wonderful to be part of such an exceptional community.
What does a typical day look like – breakfast, lunch, dinner, dessert?
Breakfast is typically a smoothie with banana, fruit / berries and maca powder. I usually take vitamins in the morning such as D & B12 & a probiotic (important for vegans).
Lunch – When I have time to cook, I like to explore making different kinds of vegan food with my boyfriend. We like getting creative and recreating our favorite French or Indian recipes, only we make them vegan. It's a creative process for us. Lunch is usually the main meal of the day. If I'm alone and have no time to cook, then I'll grab something quick, like a bean taco al fresco with avocado at Taco Bell.
Dinner – I'm very busy right now and don't really have time to do a big dinner. But if I'm hungry, I will usually throw together a bowl with some grains, mushrooms and vegetables that are in the fridge. And maybe add some beans or tofu.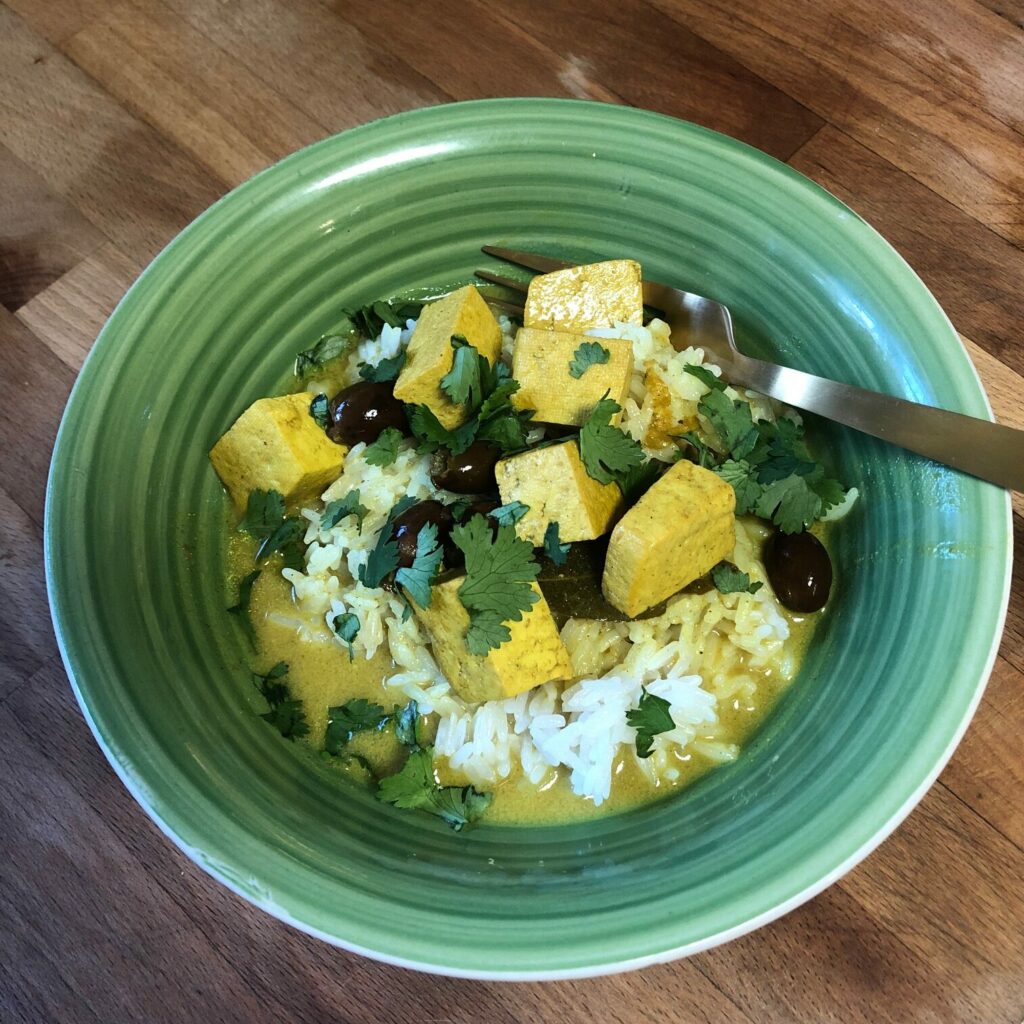 Dessert – I just found an easy way to make a mango mousse that is delicious. I use coconut cream with fresh mango puree. I mix the coconut cream with a little confectioners sugar, which makes it into a whipped cream and then I slowly mix the mango puree. I put the cream in a jar and cover it with the puree. I sometimes add nuts and mint on top. It's a really quick, easy and delicious dessert.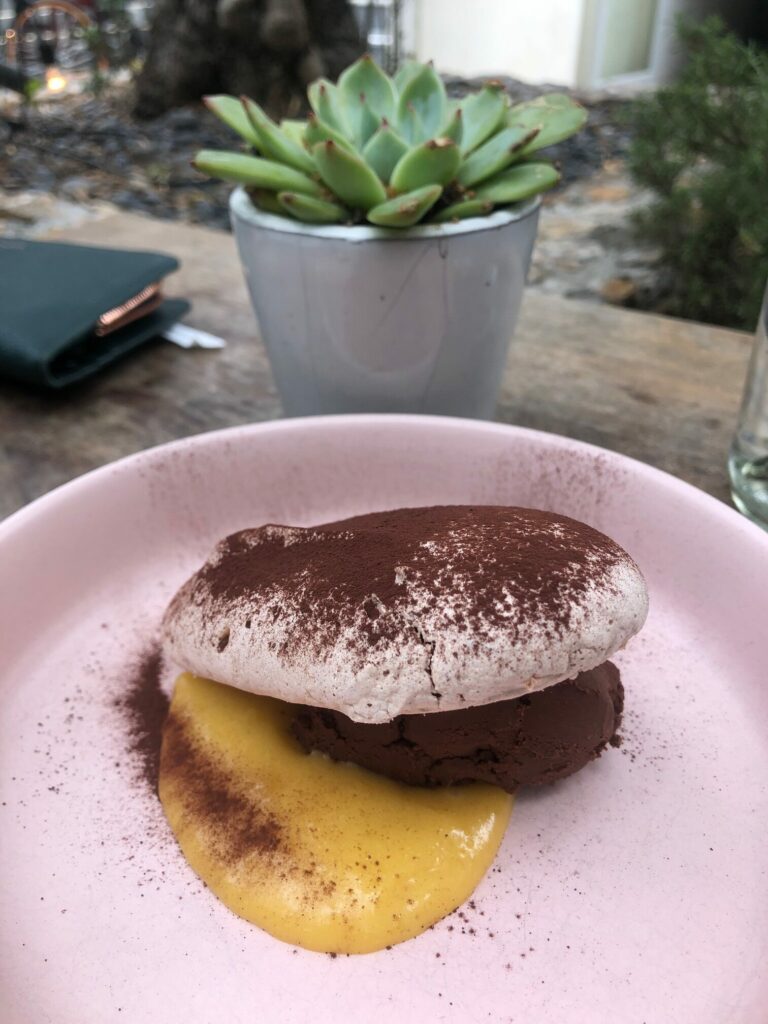 Snacks – I usually will have almonds and berries. Or I will have a coconut based yogurt.
What do you typically eat when you're on the go or traveling?
When traveling, I cannot live without a milk alternative. I used to drink mostly almond milk, but I've switched to oat milk to reduce my carbon footprint. Great to add in coffee. Or I'll grab a kombucha.
I like the Go Macro bars when on the go.
Can you recommend any favorite Vegan (food / fashion / beauty) brands?
Fashion –
Enda – a NY based, 100% vegan fashion brand created by Japanese designer Ran Enda.
Matea Benedetti – Known for sustainability, innovation and luxury, this is a very elevated brand, what I consider vegan 'red carpet' fashion. She uses apple and pineapple leather in her line and is really into not just sustainability but producing ethical fashion as well.
Altiir – a UK-based brand that has a beautiful leather biker jacket made from pineapple, sold in many different colors. Luxurious, vegan and sustainable.
Native shoes – a Canadian brand that came out with the first biodegradable, 100% plant based shoe made from pineapple and eucalyptus. Their sneakers are not just vegan but compostable.
For day to day, I also shop at thrift and vintage stores.
Beauty –
I use many of the Kat Von D beauty products that are cruelty free and not tested on animals.
Generally, I like to find clean and ethical products. There's a new product by Bolt Threads, the company who created leather out of mushroom. They have just launched a beauty line called Eighteen-B, which is infused with a revolutionary vegan silk protein for the skin. Very innovative company.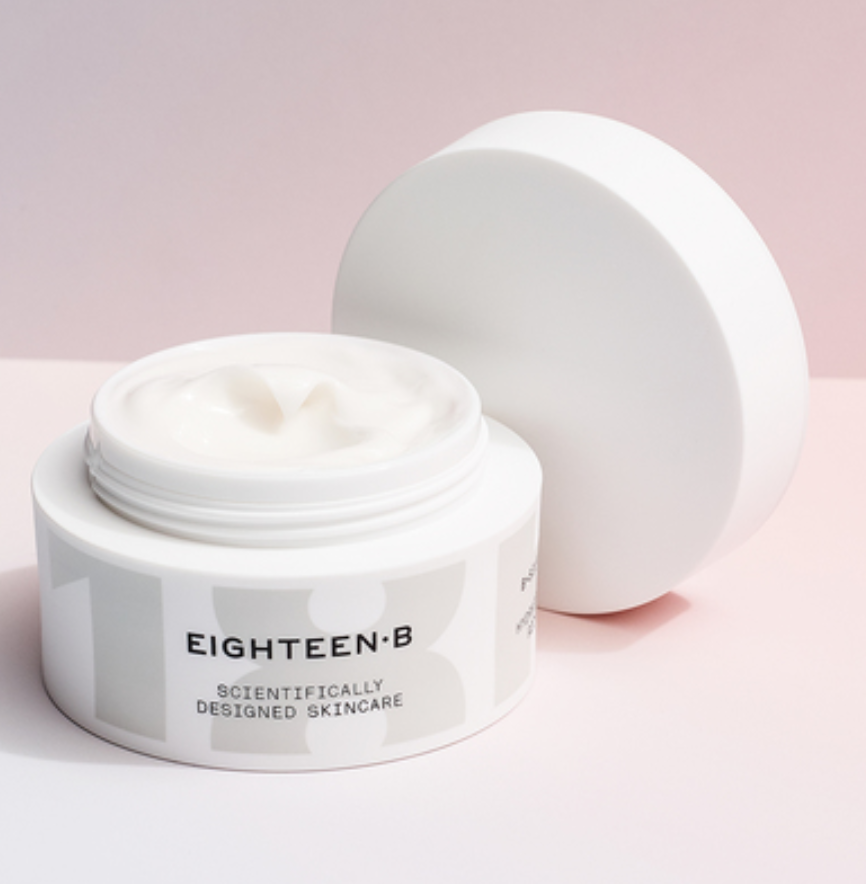 Food –
Being French, I love my cheese. I really like Miyoko's cheese made from cashews. I also really want to try Les Nouveaux Affineurs. It a French vegan cheese but it's not sold in the US yet.
Currently, my favorite go-to snack is GT's CocoYo Living Coconut Yogurt.  I'm in love with the raspberry flavor!
Favorite stores to shop Vegan (online / brick & mortar)?
In Los Angeles –
I love Galerie.LA, a brick and mortar store located at The Row in downtown LA with an online shop. They do a great job, selling sustainable, vegan, ethically made and locally made clothing.
Vegan Scene – I really like the owner's mission. She sells vegan, eco-conscious and ethically made products and is creating her own vegan and sustainable lines.
In Paris, there is a boutique that I love – Manifeste 011, owned by twin sisters. Their product is very elevated and 100% vegan.
Do you have a favorite Vegan restaurant?
In the Los Angeles area –
In Paris –
Le Grenier de Notre Dame – it is one of the oldest vegetarian / vegan restaurants in Paris. They are located near the Notre Dame and serve really good vegan cuisine.
What gives you inspiration? (documentaries, books, websites, cookbooks, etc?)
Documentaries –
Dominion and Earthlings – both documentaries expose the intense suffering endured by animals at the hands of humans. I think they are both important to see (but they are also very hard to watch).
For fashion, I was very inspired by the Arte channel's documentary on the 'anti fashion' movement. This movement began in the 90's when young designers rejected the excess of the 80's and embraced minimalism. This movement was a political stance as much as it was about creativity.
I see the Vegan Fashion Week's mission as the new "anti fashion' movement of our century!
I also follow activists like James Aspey, Earthling Ed, and Gary Yourovsky, who have all inspired me.
And I continue to self educate and do my own online research.
For Cooking –
I often follow Gaz Oakley from Avant Garde Vegan… I think he is amazing.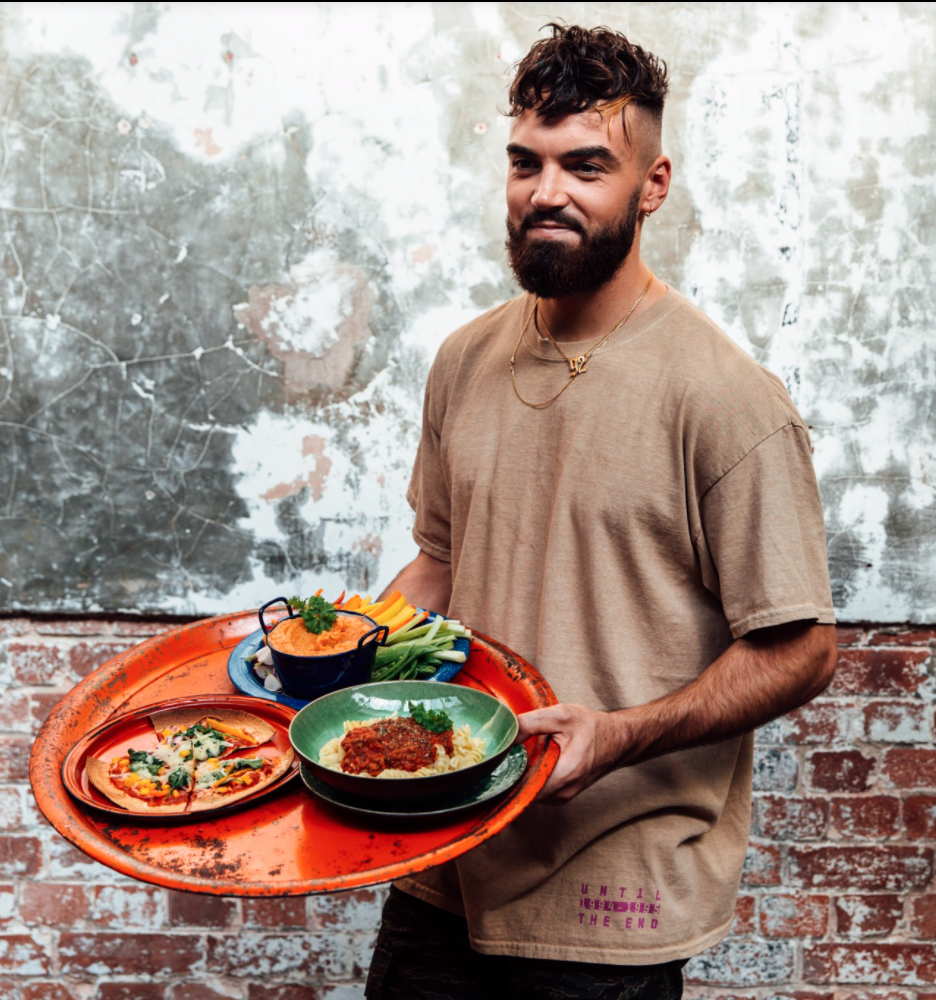 Favorite animal sanctuaries or animal rights / environmental organizations?
For animal sanctuaries, I really love the Gentle Barn. They are kid and family friendly, and they have a very strong mission.
I also like to visit animal shelters in the city. There are so many animals that need love and attention and homes.
For animal rights organizations, I really like Direct Action Everywhere (DxE ). I like their mission and the way they push animal rights on a political level.
What is your best advice for those thinking about going Vegan?
Even though advocating for veganism and animal rights is the least we should do as a society, it can take time to break old habits. And you don't have to do everything overnight. It's a process to make change, and it takes time. If you're interested in going vegan, take baby steps, and educate yourself. There is so much information out there now. Don't be too hard on yourself or compare yourself to anyone. There are no perfect vegans out there. Everybody has to make change when they're ready and do it at their own pace.
The key is to just start….you may begin with changing some of the food you eat, and then it may progress to what you wear and what you put on your skin every day. It's good to take your time and to become more aware of what you're consuming every day. It's a complicated world out there. Just do your best! 🙂
For more information about Emmanuelle and Vegan Fashion Week, you can visit:
Instagram @veganfashionstylist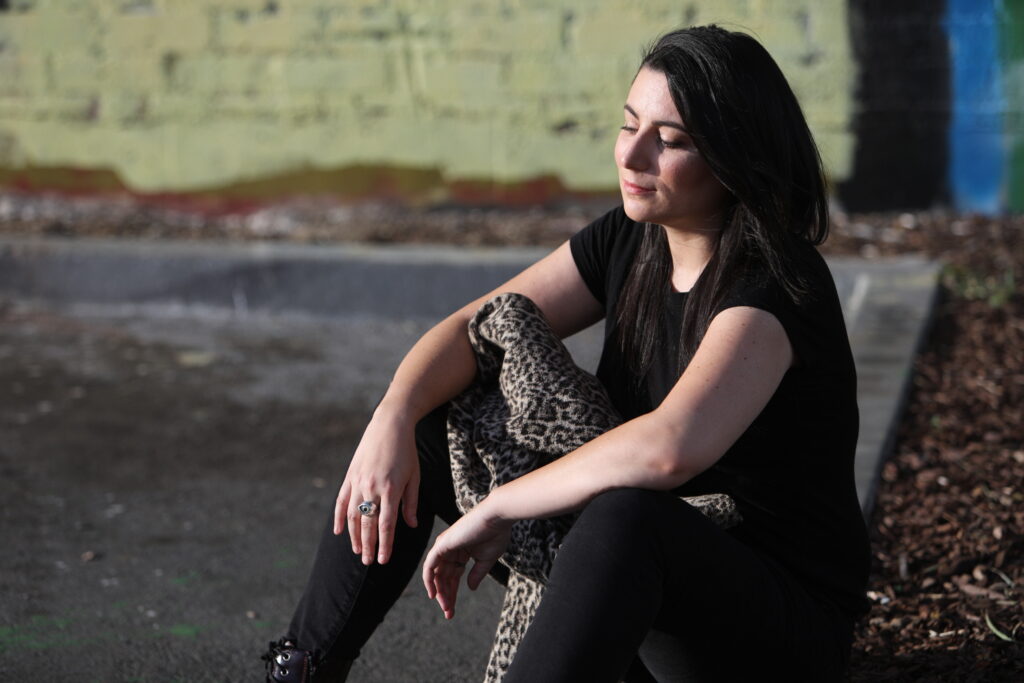 "Veganism is the new social justice movement of the century." ~ Emmanuelle Rienda

3,731 Comments