July 20, 2019
/
/
Comments Off

on 10 Questions for a Vegan – Lindsay Leigh Lewis
10 Questions for a Vegan – Lindsay Leigh Lewis
I posed 10 questions to Lindsay Leigh Lewis, the very inspirational and multitalented artist, known for her watercolor portraits of rescued animals, vegan campaign art and much more. 
Lindsay's "art for the animals" is beautiful and unique, capturing the essence and beauty of the animals she draws, and often with a powerful animal rights message. There is a poignancy to her work, especially her activist artwork and animal portraits.
Lindsay's work can be found on her website at www.lindsayleighart.com. All proceeds from her artwork support animal welfare organizations.
See below for some examples of Lindsay's incredible work.
Besides being an artist, Lindsay is a college math professor and a dedicated activist. Based in Orange County, California, Lindsay enjoys being in the classroom, spending time with her dog, Dexter, drawing and painting, and being active…..whether volunteering with an equine rescue or wildlife center, participating in peaceful activism (for animal rights, environmental, and social justice issues), or public speaking in support of animal liberation.
Lindsay and her dog, Dexter; Volunteering at an equine rescue center; Giving love to a pig headed for slaughter; Speaking at the Animal Rights National Conference
Please read below for what inspired Lindsay to go vegan, her advice and more.
What inspired you to become a Vegan?
I am an ethical vegan for animal rights, though the environmental and health benefits are also wonderful. After being vegetarian for 15 years, I finally one day picked up The Kind Diet and found myself sobbing alone in my room as Alicia Silverstone informed me about animal cruelty in the factory farm industry. Instantly I realized that it was not enough to be vegetarian to help animals – the dairy industry is equally as cruel and horrifying as the meat industry, so dairy had to go. Once I became informed, there wasn't any other choice but to align my actions with my ethics. I have now been vegan for 8 years and it has been one of the very best decisions of my life.
How has Veganism impacted your life?
I feel lighter, happier, and kinder as a vegan. I feel more peaceful walking on this Earth trying to cause the least harm possible. Being vegan has enriched my life in so many fulfilling ways. Meeting and working with rescued animals is so incredibly life-changing. Meeting and working with fellow vegan activists, some of the most compassionate people on this earth, is life-changing. My mother has also become a vegan activist, and spending time helping animals with her has been so incredibly special to me.
What does a typical day look like – breakfast, lunch, dinner, dessert?
I like oatmeal, fruit, smoothies, almonds, etc. for breakfast options.
I am so lucky that my parents (who live ten minutes away from me) are vegan and fabulous cooks. I end up there many times a week for superb vegan home cooking. We make such a variety of awesome dishes – salads, pastas, sandwiches, and more.
We love the vegan recipes in Isa Does It, and Love and Lemons cookbooks.
The consensus between the three of us is that we have never eaten more beautiful and delicious food than now that we are all eating vegan.
What do you typically eat when you're on the go or traveling?
I like raw almonds, and I am a sucker for high quality chocolate, and smoothies. I also feel pretty comfortable "veganizing" something on the menu almost anywhere.
Can you recommend any favorite Vegan (food /fashion /beauty) brands?
Beauty – I love Lush and Kat VonD Beauty.
Food –
Favorite stores to shop Vegan (online / brick & mortar)?
Food Fight! Grocery – a vegan grocery store with two locations in Portland Oregon.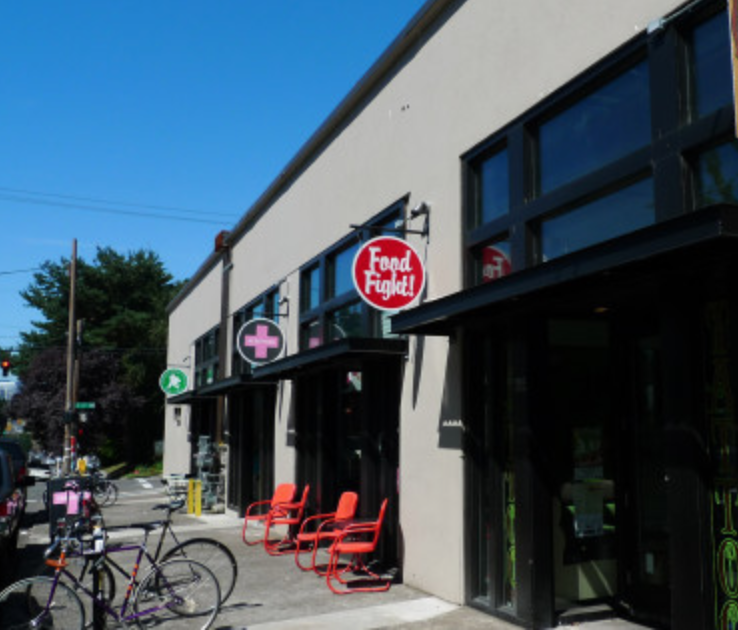 Do you have a favorite Vegan restaurant?
Little Pine! Friend and wonderful human, Moby, owns this exquisite little Silver Lake restaurant. All of the food is absolutely fabulous, the ambiance is uplifting, and all proceeds go to animal welfare organizations.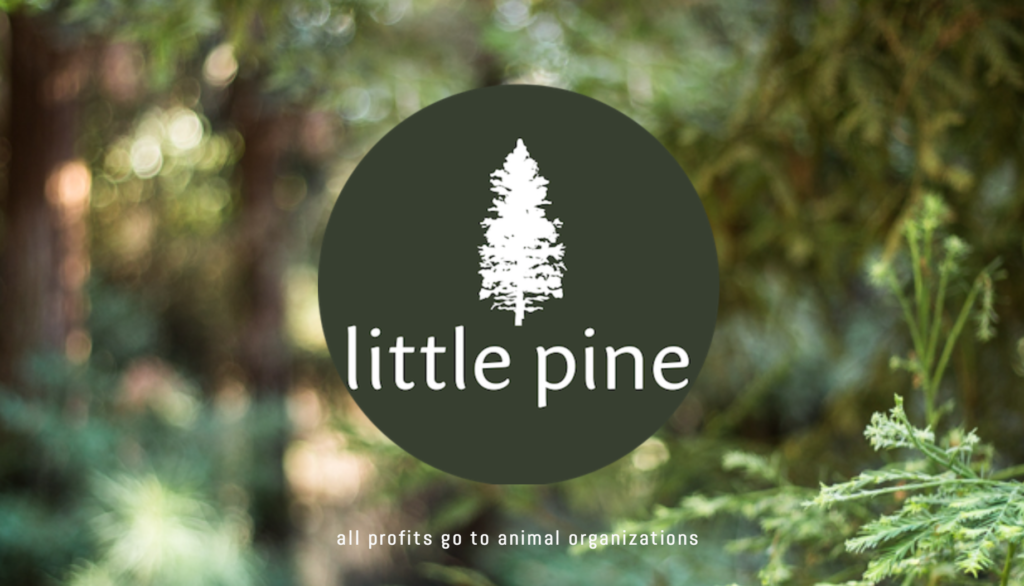 What gives you inspiration?
I am inspired daily by my fellow activists (online and in person at vigils and other animal rights events), and by the animals I am so blessed to work with (equine rescue and wildlife center). I am inspired by my friends and family and coworkers who show an interest in veganism, or ask for help saving an orphaned baby opossum they found in their yard. There is a lot of goodness in people, and complete goodness in animals that inspires me daily.
My beloved Jack Russell Terrier, Dexter, is my biggest inspiration to get up each day and do my very best.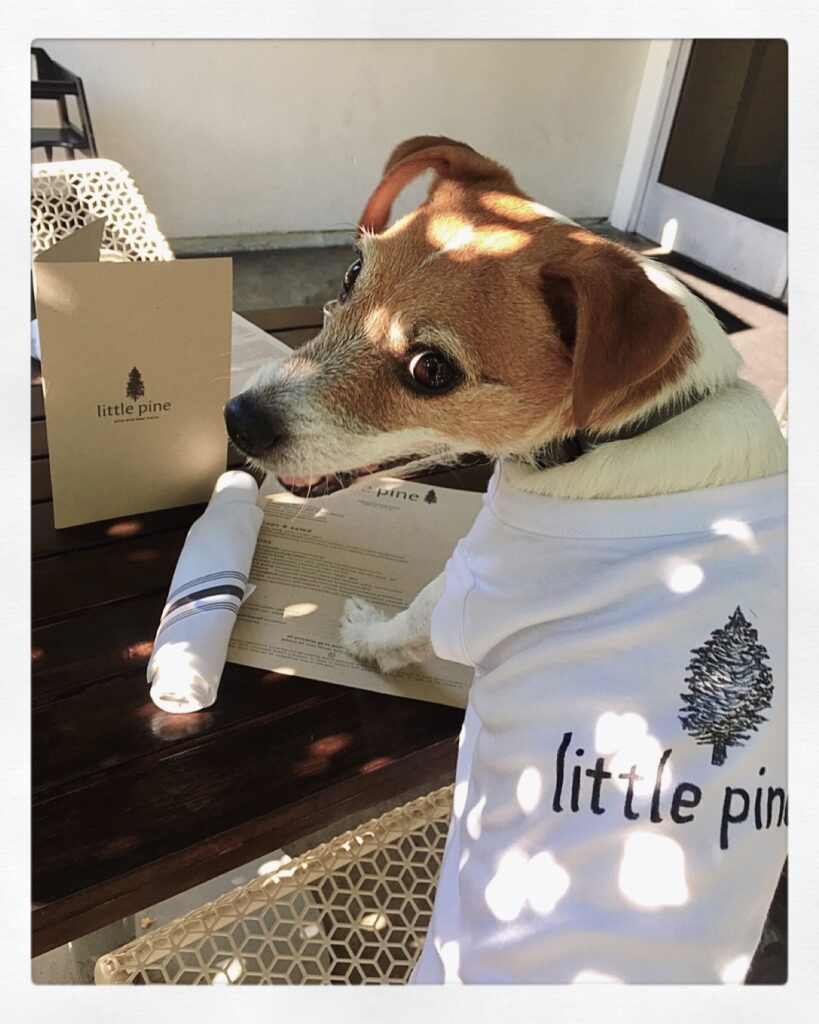 Favorite animal sanctuaries or animal rights / environmental organizations?
Animal Rights organizations –
Animal Sanctuaries –
What is your best advice for those thinking about going Vegan?
Choose to just do it and figure it out as you go. Allow yourself to be imperfect and perhaps not be completely vegan overnight. Let your friends and family know that eating this way just makes you feel better, as they may feel concerned about or judge you because of your new lifestyle.
Being a new vegan can initially feel very isolating. We, as pack animals ourselves, are wired to desire a sense of community and belonging. I resisted joining the social media world until I became the lonely sole vegan that I knew in real life. In the age of Facebook and Instagram, it is just so accessible to become involved and meet like-minded individuals with a ton of great advice. Reach out! We are here and we want to hear from your big, beautiful, animal-loving heart!
Additionally, we often, as animal rights advocates, become overwhelmed that our efforts are simply a drop in the bucket to end animal suffering. It is easy to feel discouraged and alone, especially when your friends and loved ones do not share your values. At the end of the day, though, you are one less person harming animals. You are one more person speaking up for animals. And that is beautiful.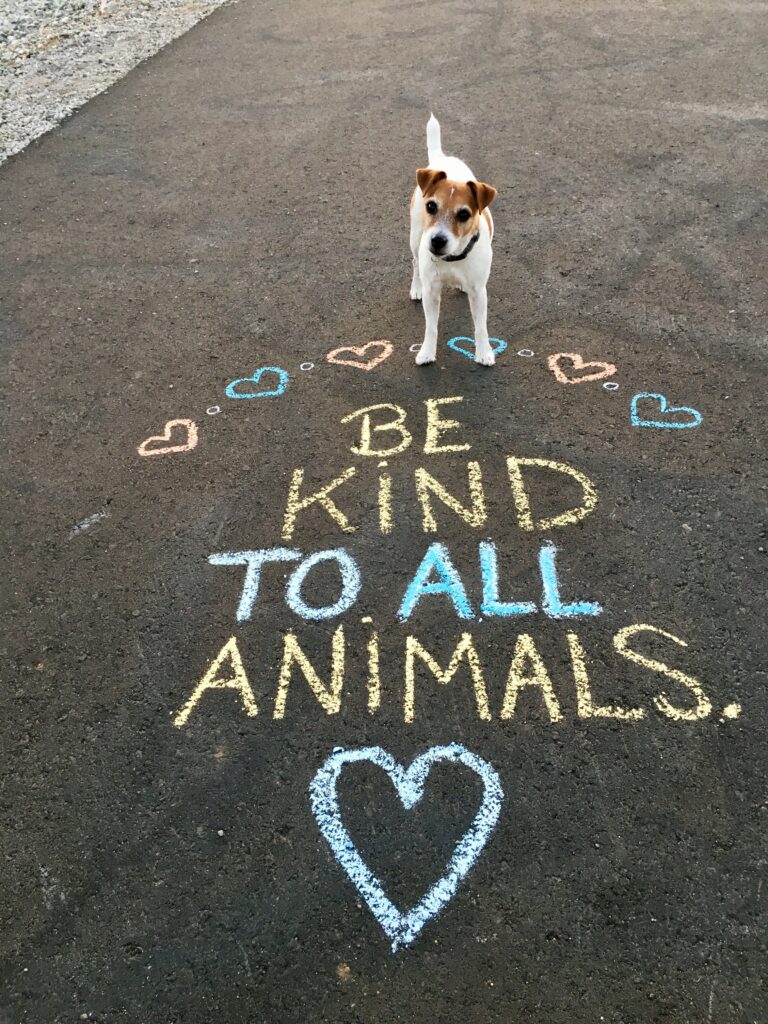 For more information about Lindsay, you can check out her website or follow her on Instagram:
www.lindsayleighart.com
@linzanddex11
@lindsayleighart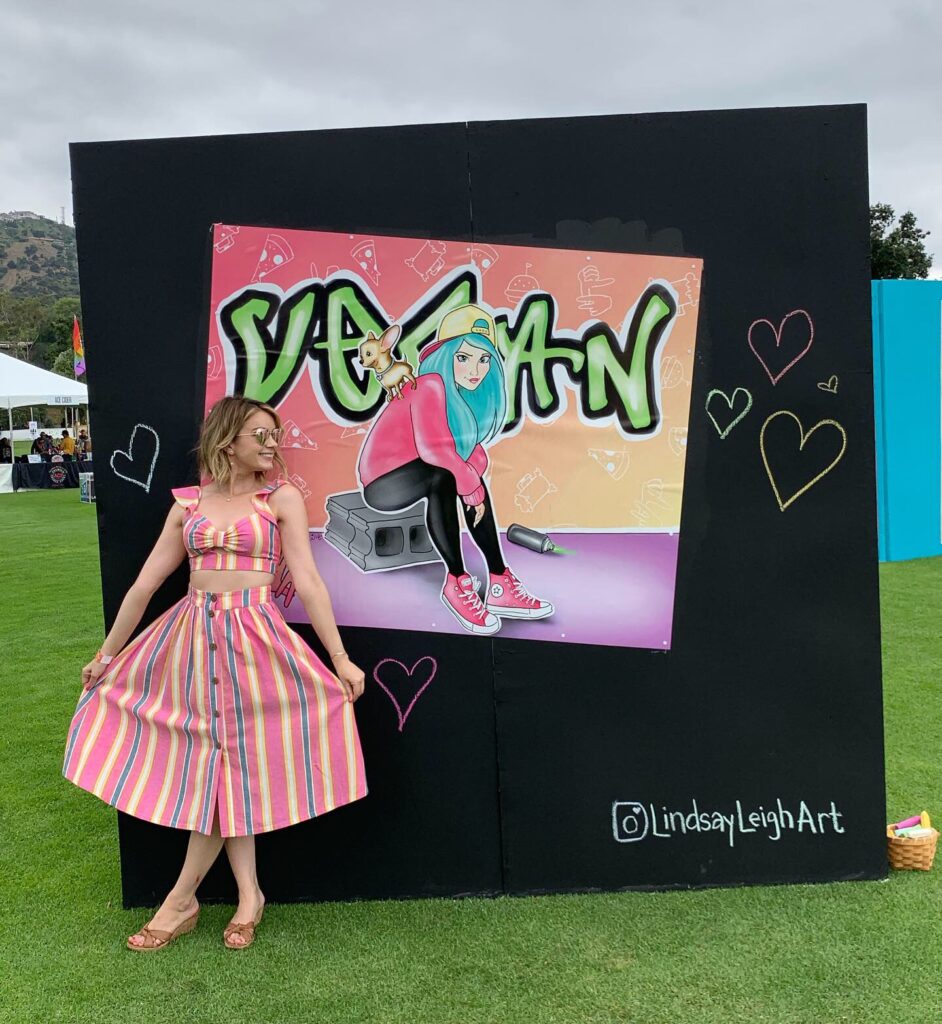 More powerful and original art by Lindsay Leigh Art; Lindsay posing in front of her digital art piece at Eat Drink Vegan