Plant Based Cheese of My Dreams – Five of My Favorites
Why Eat Cheese from a Cow When There are So Many Awesome, Cruelty-Free Nut Based Cheeses?

~ Green Veganista
I love cheese! I always have, and I don't think I'm alone in this sentiment. The thought of giving up cheese when I first went vegan was honestly a difficult one for me. But that thought has completely changed since I've discovered nut based cheeses. I no longer have to get my cheese fix from the milk of a cow or a goat, milk that is meant for their babies. No, I now eat healthier cheeses from natural plant sources such as cashews. almonds and coconut. And frankly, I don't miss dairy cheese at all!
There are now so many amazing companies creating delicious and soul satisfying dairy free cheeses…. companies that have perfected the unique texture, flavor, creaminess and mouth feel of dairy cheese, but without the cruelty. It's hard to pick a favorite, but for me, there are a few that stand out, that are perfect on any cheese platter and just plain addictive.
Please see below for my favorite nut based cheeses.
Award winning vegan celebrity chef, Miyoko Schinner founded California-based Miyoko's, known for their delectable and dairy-free cheese wheels, cream cheese, cultured butter and mozzarella.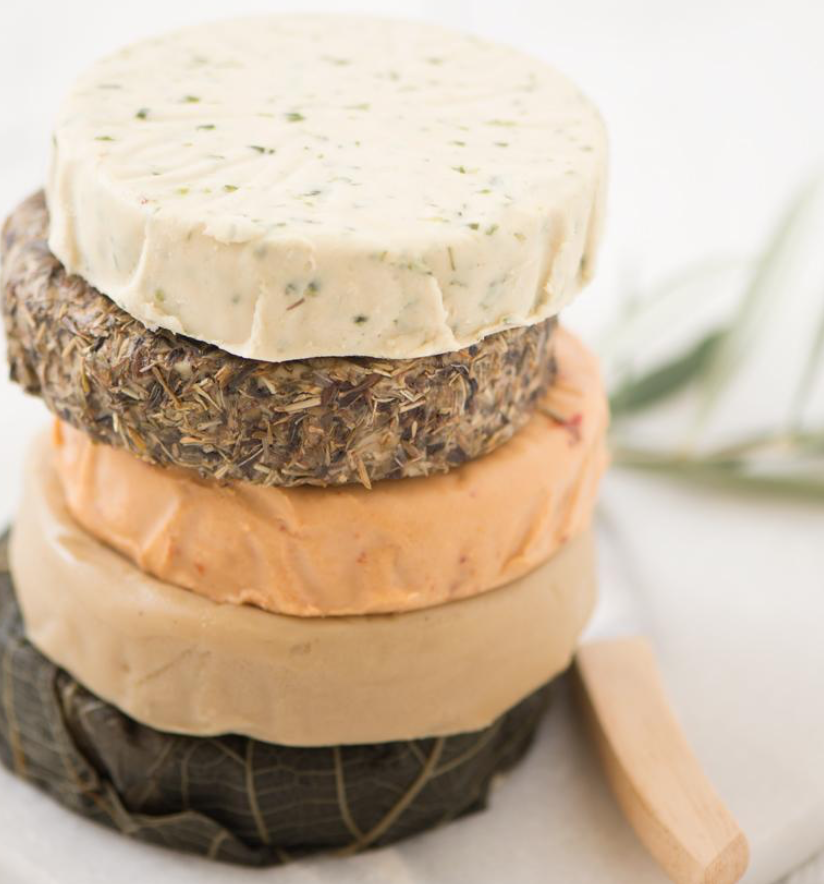 Personally, I am crazy about Miyoko's cheese wheels, in particular their aged flavors such as Smoked English Farmhouse, Herbes de Provence and Black Ash. These are quite literally the most savory cheeses I've ever tasted. I'm totally hooked!
Beside being cruelty-free, all of their products are organic, all natural, gluten free and non-GMO. They use real foods like nuts, legumes and other plant based ingredients. And I love that "compassion for the animals is at the heart of everything they do."
Miyoko's vegan cheeses are available in 10,000+ stores across the U.S. including Whole Foods Market and many well known grocery stores.
I first discovered this brand at the Hollywood Farmer's Market. LA-based founders Doug Meyer and Maxi Mueller, a husband and wife team, have created an absolutely delicious, healthy, organic, cashew-based line of cheeses and yogurts. I am quite literally obsessed with their cheese!
I am a huge fan of all their cheeses, whether it's their aged cheese wheels – Chardonnay Cheddar and Smoky Kale Sriracha are favorites.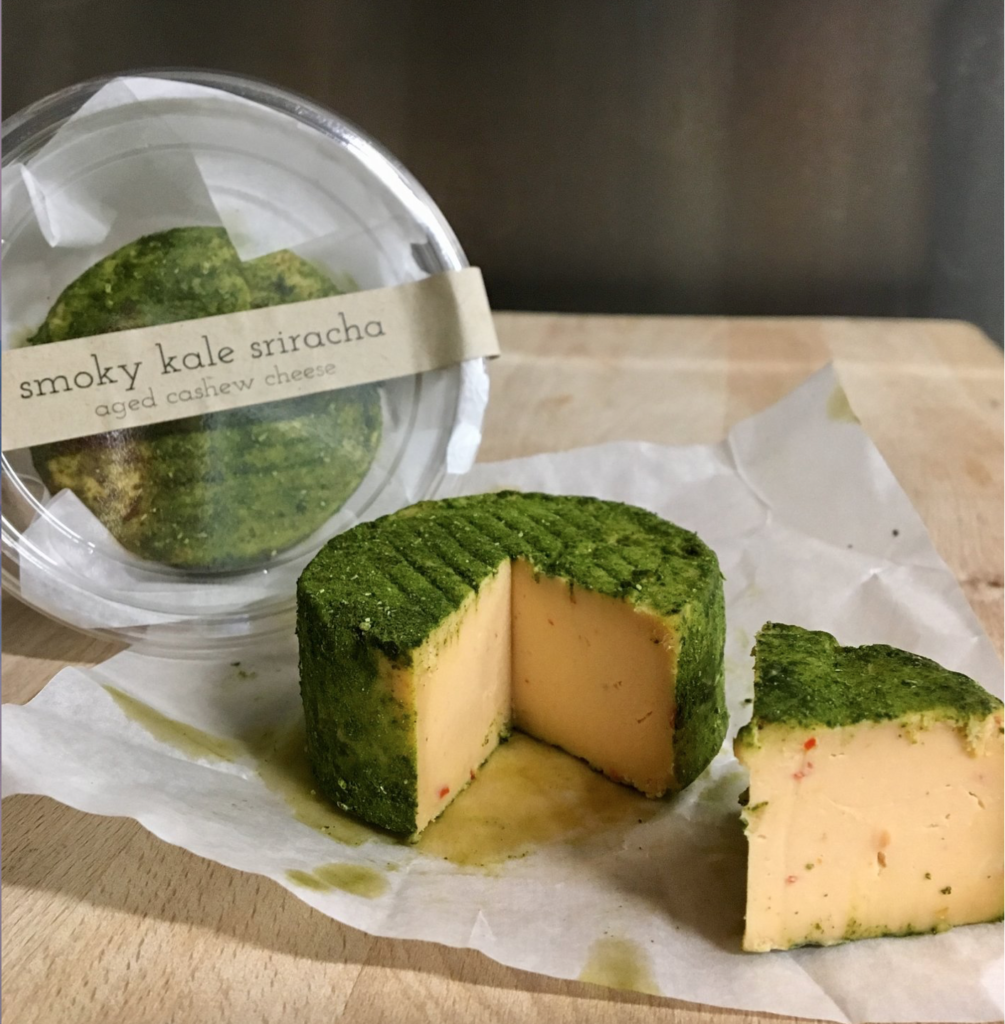 Or their cheese spreads – Truffle Fluff, Okie Smoke and Sir Racha Cheddar are everything. They also carry seasonal cheese such as their Garlic Beet spread, which is ah-mazing!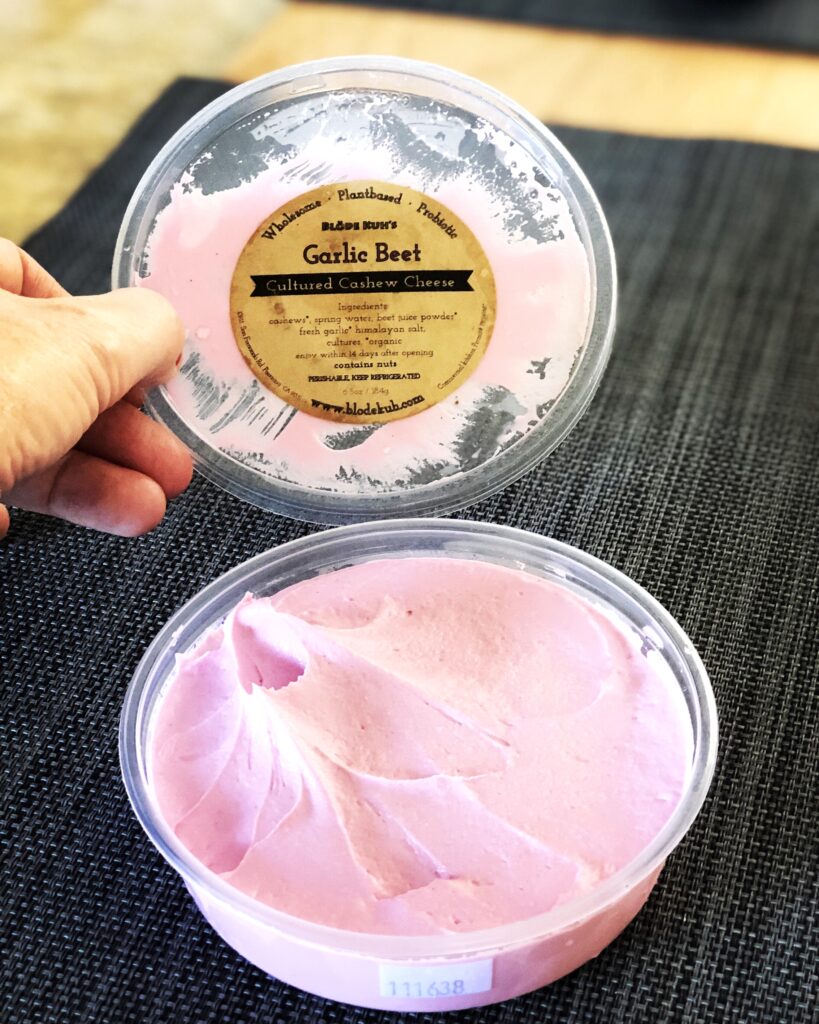 The cheese is very high quality, using all natural ingredients without any stabilizers or preservatives. Because of this, the product is very boutique and locally focused. Blode Kuh is currently available at farmers markets and stores in the Los Angeles area such as Bestie's Vegan Paradise.
I first found this delicious cheese at Bestie's Vegan Paradise, an East Hollywood all vegan market that carries only the best vegan food and snacks. Misha's is a relatively new Los Angeles based company that creates artisan, raw, probiotic tree nut cheese that is insanely tasty.
"Vegan cheese that doesn't suck" is their slogan, as well as be kind to the planet, animals and your body. Chef Ian Martin, also an artist and musician, is the raw vegan / living foods chef behind Misha's.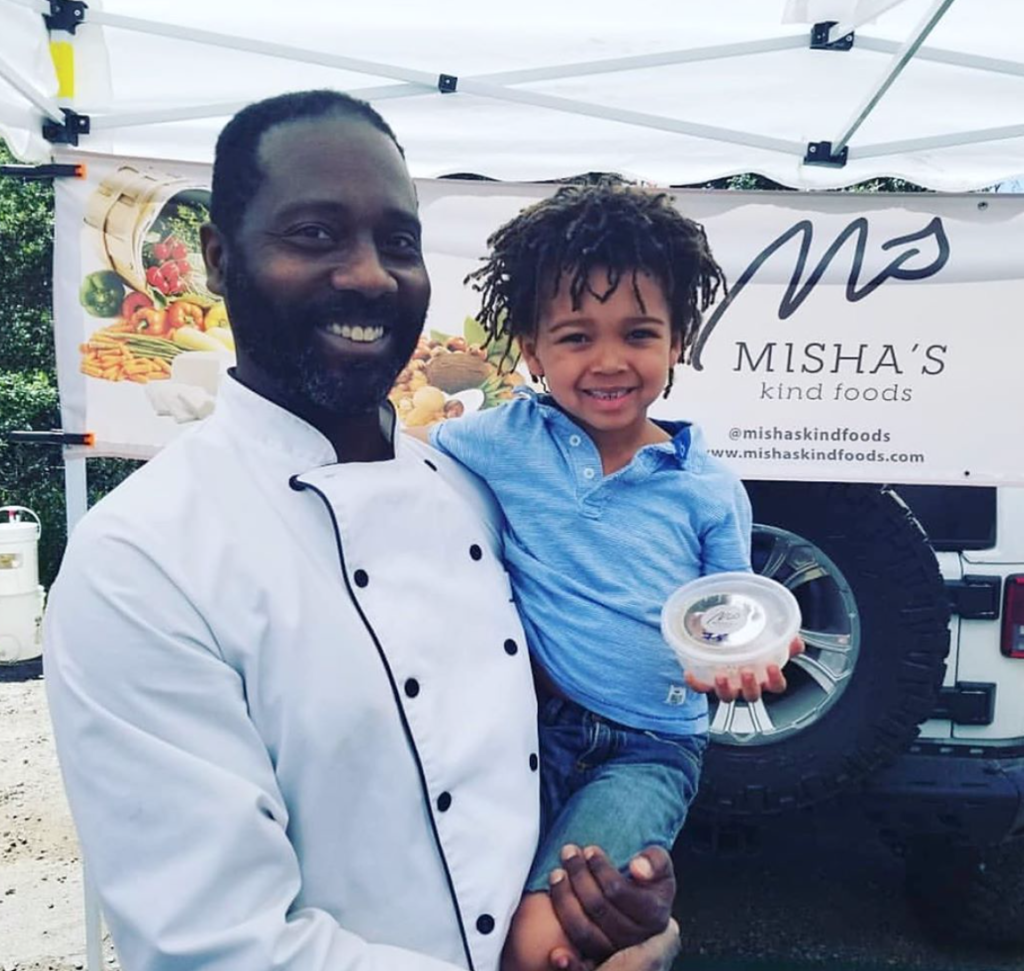 Misha's creates all kinds of delicious cheese, but they're probably best known for the creamy and mouthwatering cheese spreads with flavors such as Sun Dried Tomatoes & Roasted Garlic, Jalapeño Thyme and the Dill, Capers & Carrots, to name a few.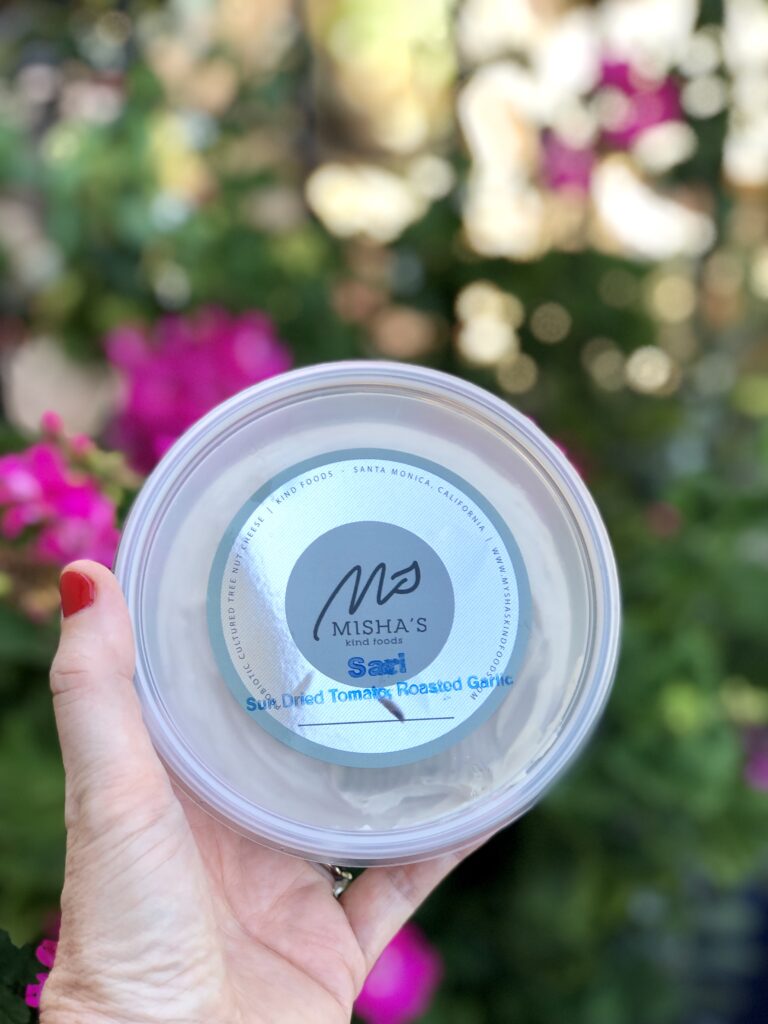 Misha's is available at local farmers markets around Los Angeles as well as sold at Bestie's Vegan Paradise in Hollywood in addition to a few other local stores.
Another relatively new cheese brand that I discovered at Bestie's Vegan Paradise during a demo is Jule's Foods, known for their incredible plant based brie cheese. Founded by married couple Jules Van Dam and Stefen Janke, the brand is dedicated to using traditional cheese-making techniques, including allowing the cheese to age up to three weeks to create complex textures and flavors.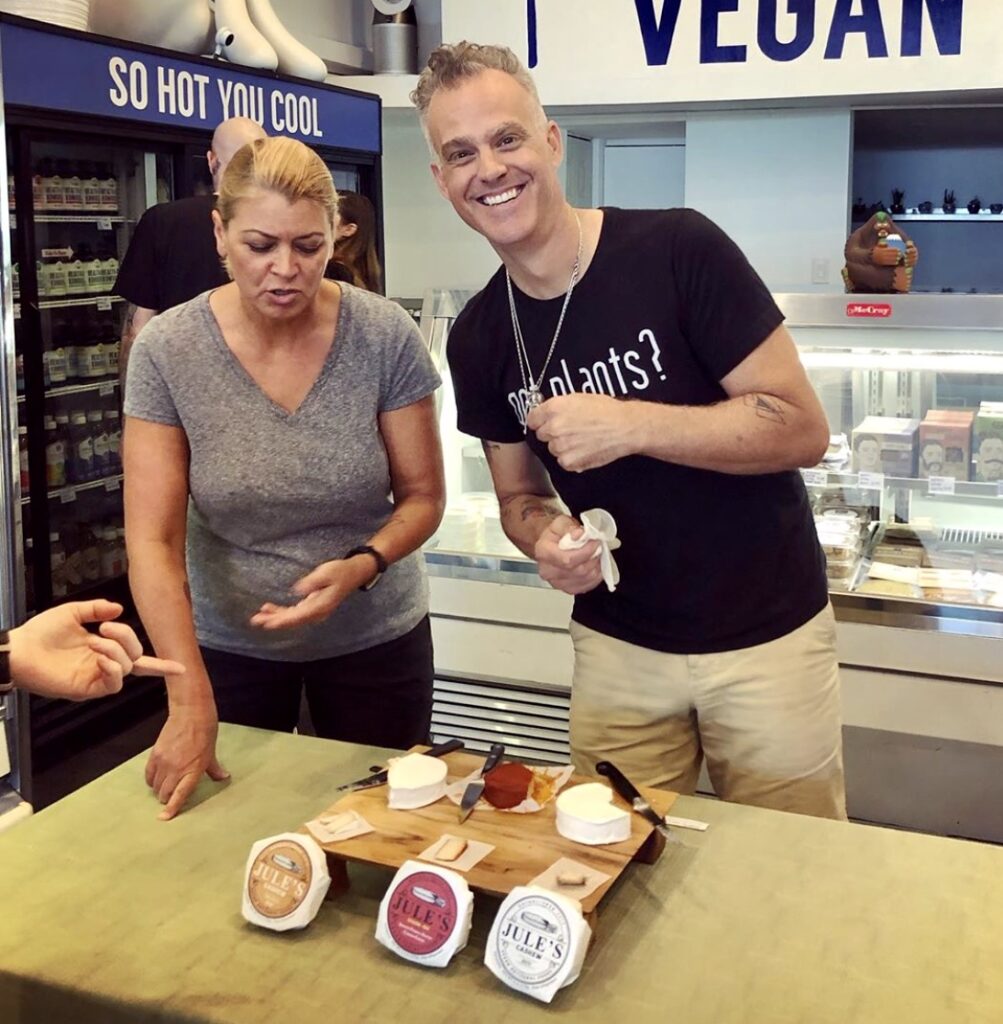 Jule's creates their signature Cashew Brie cheese and Cashew Truffle Brie that is cholesterol free, gluten free, vegan and made using fair trade, organic cashews. Their brie is creamy and smooth and rivals any dairy cheese in taste, texture and mouth feel, but it's healthier and cruelty free.
It was Jule's personal battle with colon cancer that put her on the path of a plant based diet and hence the creation of Jule's Foods. Their cheese can be found online at mylkguys.com and in a few stores across the US, including Bestie's Vegan Paradise in Hollywood.
Treeline was founded by former lawyer and vegan Michael Schwarz who sought to recreate the artisanal cheeses that he loved in France and Italy, but without the dairy. Treeline's aged, artisanal, probiotic cheese is made from Brazilian cashew nuts which are fermented and flavored to produce textures and tastes reminiscent of the finest European cheese.

Made in the Hudson Valley area of New York, Treeline cheese has no added oils, gums, preservatives, or fillers. And it's gluten-free, soy-free, and certified non-GMO and Kosher Parve.
Treeline offers seven varieties of plant-based cheese. They offer a Soft French-Style cashew cheese with flavors such as Herb-Garlic, Scallion, and Chipotle-Serrano.  And they offer two Aged Artisanal cheeses — a Classic and Cracker Pepper (which is my favorite.)
They can be found online as well as in about 3,000 stores across the US, from local health food stores to coops to mega-chains.
"People are the only animals that drink the milk of the mother of another species. All other animals stop drinking milk altogether after weaning. It is unnatural for a dog to nurse from a mother giraffe; it is just as unnatural for a human being to drink the milk of a cow."

~ Michael Klaper, MD