10 Questions for a Vegan – Ryuji Chua (aka @PeacebyVegan)
My latest q&a is with animal rights activist Ryuji Chua (otherwise know as @PeacebyVegan on Instagram), who I had the pleasure of interviewing during Vegan Fashion Week.  Ryuji's passion for the animals and for making a difference in the world comes through loud and clear in person and through his incredibly powerful videos he posts on YouTube and other social media.  He is truly inspiring in his words and actions, and he is full of kernels of wisdom and truth.
Ryuji has been vegan for about four years and he created his Instagram account, @Peacebyvegan about one and a half years ago. He creates very effective content with his thought-provoking and impactful videos. Ryuji is on a mission to educate people about what the animals go through at the hands of humankind, and he is doing an awesome job of spreading awareness and opening people's minds and hearts.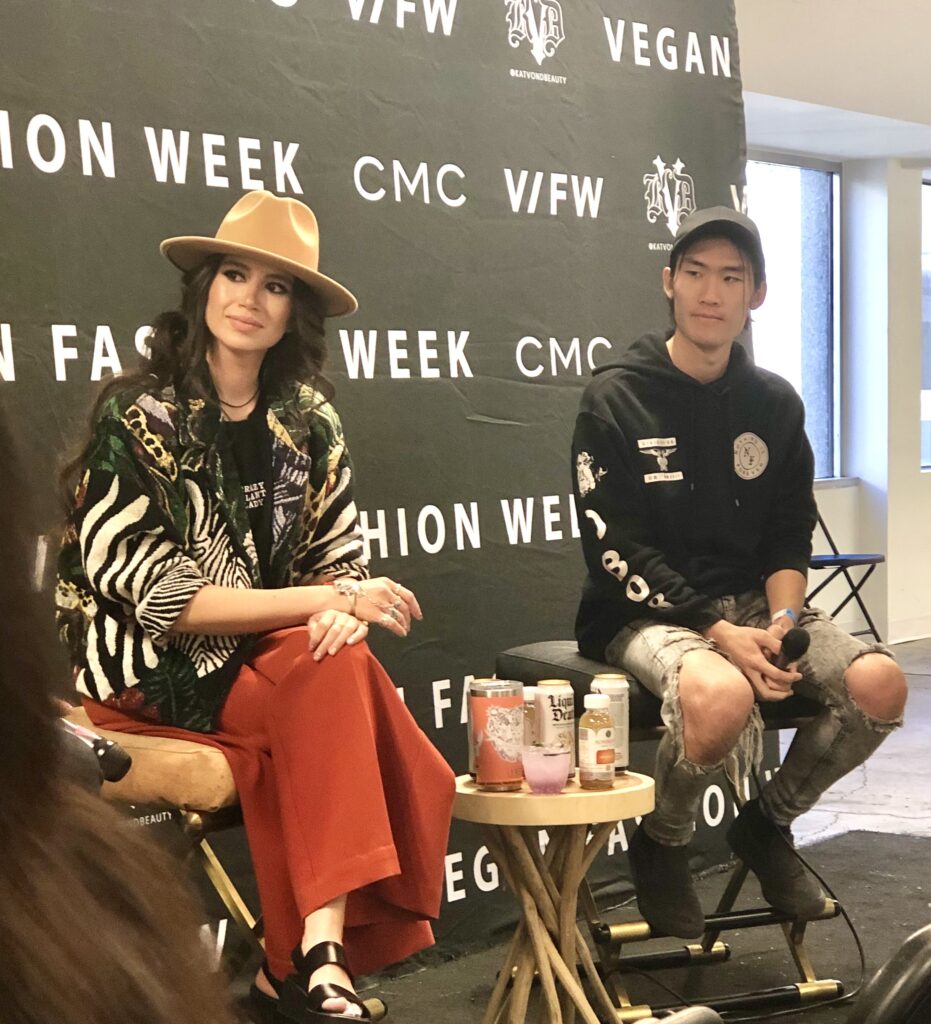 Please read below for my q&a with Ryuji.
What inspired you to become a Vegan?
It was an ethical decision. Once I understood what happens to the animals in slaughterhouses, I could not contribute to that any longer.
Going vegan was something I did as part of my larger journey towards self actualization as a person. When I was younger, I was very introverted. I never smiled and was generally apathetic. In high school, I discovered some people online who I looked up to, who told me that if I want to take control of my life, I can. I realized that I can create anything if I take personal responsibility for my life. This was a very empowering thought for me.
For months and months, I spent hours immersing myself in the world of personal development – reading books, listening to audio books, watching YouTube. This shifted my mindset from being a 'leaf in the wind' to being in control of my life. I realized that I needed to educate myself and be open to being wrong, to becoming a better person, to growing.
I began reading a book that was a huge wake up call for me – "Sapiens A Brief History of Humankind" by Yuval Noah Harari. The book talks about history and makes many great points. The author also brings up the standard practices of the animal agriculture industry, which was shocking to learn what happens to animals. Often, male chicks are killed the first day of their lives while female chicks are mutilated and face terrible lives of misery. Pigs get killed around six months old and on and on.
Before this, I never realized that my daily actions contributed to innocent animals being abused and killed. Having grown up in Paris, France, I ate a lot of meat, dairy and eggs every day. Breakfast for me was always eggs and buttered toast. I loved it. But after facing the truth about what happens to animals, I made a conscious effort to change how I eat. That was four years ago.
I realized just because eating meat, dairy and eggs has been 'normalized' in our society doesn't make it ok. If something is wrong, I'm not going to take part in it. I'm not going to eat food that costs the life of an animal. That is something that is completely outside of my value system.
Being vegan aligns with my values. And I enjoy becoming a better version of myself.
How has Veganism impacted your life?
For me, the best thing is knowing I'm doing the right thing. When I made the switch to veganism, I realized that what I'd been contributing to all my life was really messed up. But I saw this as an opportunity to grow. To stand up against injustice and to the horrors that are normalized in the world.
When I took the opportunity to learn and grow as a person and become vegan, it felt really good because I knew I was doing the right thing and making a kind choice. I wasn't responsible for taking the lives of animals anymore, and that felt so good and empowering. My only regret is not becoming vegan sooner, which I think many vegans can relate to.
People often speak about veganism as an awakening….waking up to the truth of what's wrong with the world. I feel this way….I know that I am now living in alignment with my own values, and that I'm on the correct side of history.
One day, humanity will look back and realize what we did to the animals is unforgivable. The way we currently see sentient animals as property, as mere commodities…. in the future, this will be seen as completely atrocious, unjustifiable, outdated…..similar to how we view slavery or any horrible, repressive regime from the past. Knowing that you're living on the right side of history is an awesome feeling!
What is your ultimate goal with your activism?
"It's about believing in a vision so powerful that we do whatever it takes to get there." ~ Ryuji Chua
The ultimate goal is Animal Liberation! I want to see a world where animals are not exploited, where animals are seen as actual individuals. The biggest problem of speciesism is that animals are seen as commodities, as products. People see a sentient cow as just an object, to be raised and killed for their consumption.
Animals are their own individuals….different but equal. They are sentient beings. Animals should be free. Anything less is depriving animals of what is most precious to them – their freedom and their lives.
Often, people think this is an unattainable goal, but I am committed to ending animal cruelty and exploitation. Animals need our voices. It is not about what is realistic, but about believing in a vision so powerful that we do whatever it takes to get there. There is no other choice. We need to put an end to animal exploitation of any kind.
What does a typical day look like – breakfast, lunch, dinner, dessert?
I typically like simple food.
I see two approaches to eating vegan. The first approach is to seek out vegan replacements, like vegan meat, eggs and cheese. There are lots of replacements now – food that replicates the taste and texture of meat and cheese without the cruelty.
Another approach, which I lean towards, is to eat ethically but also healthier by eating a whole foods, plant based diet. I tend to eat potatoes, lentils, tomatoes, bell peppers, zucchini and avocados…..whole plant foods.
Going vegan is like adopting a new habit… it's something that you develop. It's just like starting a new job, moving to a new city, taking up a new hobby, etc. It takes some time to change. It may seem inconvenient and difficult at first, but it gets easier with time. Our palate adjusts to our new diet, and we don't miss foods that we were previously 'addicted' to.
So what do I typically eat?
Breakfast – I like avocado toast.
Lunch & Dinner – I usually eat lots of veggies – cooked in many ways (steamed, roasted, boiled, etc). I used to eat lots of pasta or potatoes with veggies when living in Japan for school. Now there are so many vegan fast food options at places like Del Taco and Carls Jr. It's easy to eat a wider variety of vegan food now.
What I really love most is my girlfriend's home cooking. My current favorite meal of hers is a Thai coconut curry dish with veggies and rice and maybe a plant based protein….it's really delicious.
Snacks & Dessert – I love eating fruit.
It's a joy eating vegan. It's never a burden.
What do you typically eat when you're on the go or traveling?
It depends what country I'm in, but I tend to eat very simple food while traveling. I have found it really isn't hard to be vegan. Whether in the mountains of Japan or the middle of America, I can find something to eat. It may be a little inconvenient, but it's not hard to eat vegan.
When traveling, I will go to the supermarket or convenience stores and stock up on foods that last. Food like cereals, granola, bread, apple sauce, bananas, apples, nuts….food that doesn't spoil too quickly.
I am not very picky about my food, which makes it easier to be vegan anywhere. Especially while on a road trip, it's easier if you're not picky. There are also plenty of apps – like the HappyCow and abillionVeg – you can find vegan or vegetarian restaurants almost anywhere.
Can you recommend any favorite Vegan (food /fashion /grooming) brands?
I don't really have favorite brands, but I try to buy only from the most ethical places.
For food, I like to shop farmers markets – it's local, cheaper, healthier. And I shop stores that carry things in bulk, like local co-ops or Whole Foods.
For clothing, I still wear stuff from high school. When I do shop, I buy second hand mostly. It's cheaper, more sustainable and more unique. I used to wear white a lot, but now everything I wear is black. White stains and you end up throwing white clothes away much sooner. Black clothes look good and they last longer.
I've been working on adopting a zero waste lifestyle. I began this about a month ago for the same reason I went vegan. As a society, we need to adopt better habits like eliminating packaging and plastic waste.
So for grooming, I try to use brands like Lush that use very little packaging and are vegan. In Japan, there are these shampoos that are in the shape of a bottle, in solid form, with no packaging. Like a shampoo bar. I have friends who make their own toothpaste. I'm always working to become better.
Do you have a favorite Vegan restaurant?
I like supporting restaurants where the owner's intent is the same as my intent. I always think how can I be more ethical and consume more ethically. So, I support places that are local, ethical and vegan….and that are run by ethical vegans.
There's an amazing vegan ramen shop in Japan called T's TanTan – and they've done a great job of embedding themselves in busy places. There's one shop in a busy train station & the other location is at the airport.
In Long Beach, I like The Grain Cafe which serves really good vegan Mexican food. They have other locations in Los Angeles.
I also really like Plant Power Fast Food – they have several locations in Long Beach, San Diego and Redlands – I love this place.
When I'm with non vegan friends – I like to take them to places like Doomies in LA to show them that veganism is not just about eating 'grass'. Places that offer comfort food like Doomies that people don't think is even vegan.
What gives you inspiration?
Fighting for the animals is what gives me inspiration. It's 100% about the animals – they are who I think about, who I fight for, and who I speak for. There is no more powerful motivation than seeing the horrors of what the animals go through at the hands of humankind….whether on video or firsthand. It's unimaginable and it trumps everything. It trumps any judgement or negative comments or people making fun of me…none of that matters.
I am also inspired by other activists. All activists are inspiring to me. Anyone who is dedicating their lives to fighting against evil and oppression is very inspiring to me.
My first time going to a vigil – giving water to thirsty animals right before they're sent to slaughter – was so real and tangible. It's no joke what happens to animals….it's horrifying. We could never imagine what animals endure or ever relate to their utter suffering. The animals must watch as their friends are slaughtered while waiting for their turn….it's just unimaginable.
When I first found out the truth, I went into a deep dark hole full of anger and sadness. But I used these emotions as an opportunity to speak up for the animals and to get active for the animals. We have two options – we're either doing something to help the animals or we're not.
It is a gift to become vegan and to speak up for the animals. If I was in the animal's position, I would want someone to speak up for me. It's very emotional. We can literally change someone's life by being a voice. I think about this often.
Favorite animal sanctuaries or animal rights / environmental organizations?
I have a lot of favorites, but I'm a little biased towards Rowdy Girl Sanctuary in Texas. They were former beef cattle ranchers. The wife, Renee (who didn't grow up as a rancher) became vegan after realizing the cows they were raising were going to be sent to slaughter. She realized they had to stop ranching, and so she and her husband transformed their cattle ranch into a vegan farm animal sanctuary, a forever home for animals bound for slaughter. They've also created a 'rancher advocacy program' to help other ranchers make the transition from cattle ranches to farm animal sanctuaries.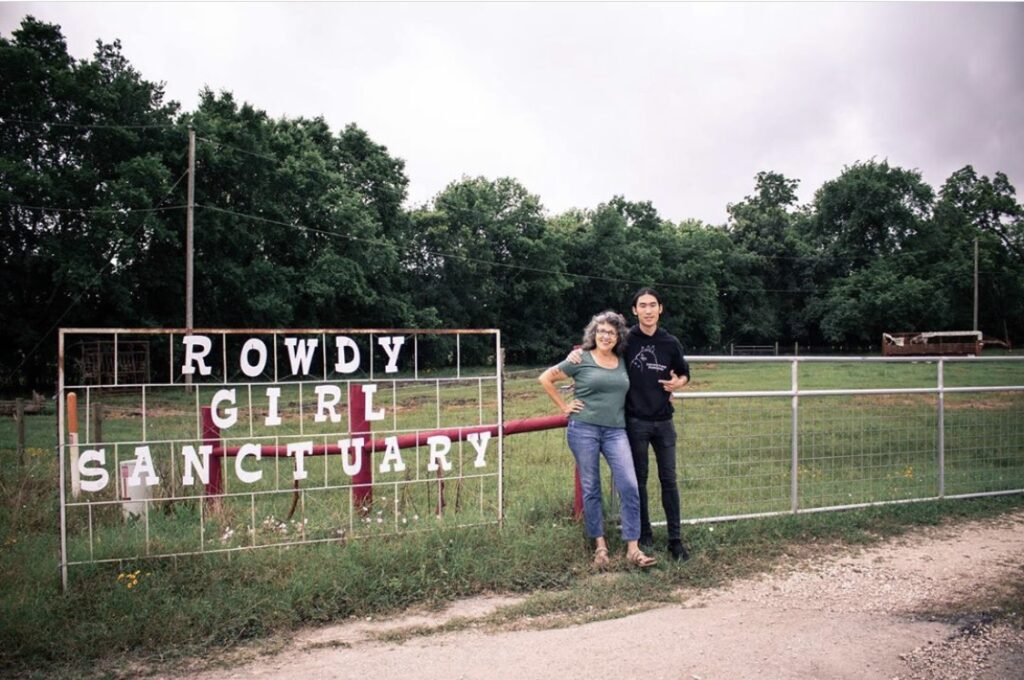 I also really like Kindred Spirits Care Farm located outside Los Angeles. They are an animal sanctuary, a permaculture garden and a care farm that welcomes people, including at risk kids to learn how to bond with animals, grow their own food and heal by participating in farm activities. It's both problem and solution based, and it's just a beautiful, magical place.
Ryuji below visiting with some of the rescue animals at Kindred Spirits Care Farm
What is your best advice for those thinking about going Vegan?
My biggest piece of advice is to become crystal clear about your "why". When you know why you're doing something, the how becomes very easy.
I also encourage everyone to face what is happening to the animals. Once you've faced the truth of what's happening to animals, it becomes very clear. Veganism is a social justice issue. We can no longer ignore with our eyes what animals endure with their bodies.
So I encourage others to do the research – Google and YouTube are great resources. If you haven't seen a documentary or footage of an animal slaughterhouse, then you need to watch. Go watch the documentary Dominion on YouTube. It's very powerful and will shift your perspective.
I recognize that I can't change everyone. My biggest tip for dealing with haters and negativity is to ignore it. Forget about negativity as fast as possible. Just let that stuff go. Getting stuck in negativity doesn't help the animals…it only slows you down. It's not productive. Rise above it.
It is up to each of us to take personal responsibility. if we see something we don't like in the world, it's our responsibility to do something about it….to change it. We should never underestimate the power of an individual – how much an individual can accomplish. If not you, then who? If not now, then when?
You can check out Ryuji's powerful content on the following –
Instagram – @peacebyvegan
Facebook – https://www.facebook.com/peacebyvegan/
YouTube – https://www.youtube.com/channel/UCalf6t4VdIx55Ppqpl83oBg
"Be the change that you wish to see in the world" ~ Mahatma Ghandi