Veganized Waldorf Salad
If you've been overindulging while staying at home, like I have, you may be craving a really good and refreshing salad. This one fits the bill, plus it's super healthy. It's a perfect counterpoint to all that comfort food!
The Waldorf salad is a classic, having first been created in New York City at the Waldorf Astoria. I grew up in New York and remember eating this salad often. The original uses mayonnaise in the dressing, while this recipe instead uses oil, lemon and dijon mustard for a lighter finish. The flavors in this recipe all blend perfectly together, each ingredient really standing out.
This particular recipe is a veggie-centric twist on the original Waldorf salad and was inspired by one of my favorite vegan cookbooks – 'The First Mess Cookbook' by Laura Wright.  I have only slightly modified it.
Prep 25 minutes
Serves 4 – 6
Ingredients:
1/2 head of broccoli, using florets
1/4 head of cabbage
1 medium – large apple, cored and chopped (can keep skin on)
1 cup seedless red grapes, halved 
1 celery stalk, diced
2 – 3 scallions, chopped
1/2 cup walnuts, toasted and chopped
Sprig fresh sage, minced (optional)
2 tablespoons lemon juice 
1/2 teaspoon lemon zest
2 tablespoons olive oil (or your favorite oil)
1/2 teaspoon dijon mustard
salt (I use Maldon salt) & pepper, to taste
Lettuce (I like butter lettuce or baby spinach)
Directions:
Using a food processor, chop the broccoli and cabbage.
Add to large bowl the chopped broccoli and cabbage, chopped apple, halved grapes, chopped celery, scallions, toasted walnuts and sage.
In a separate smaller bowl, mix the lemon juice, lemon zest, olive oil and mustard to make dressing.
Toss salad with dressing, adding salt and pepper to taste.
Serve on its own or over bed of lettuce.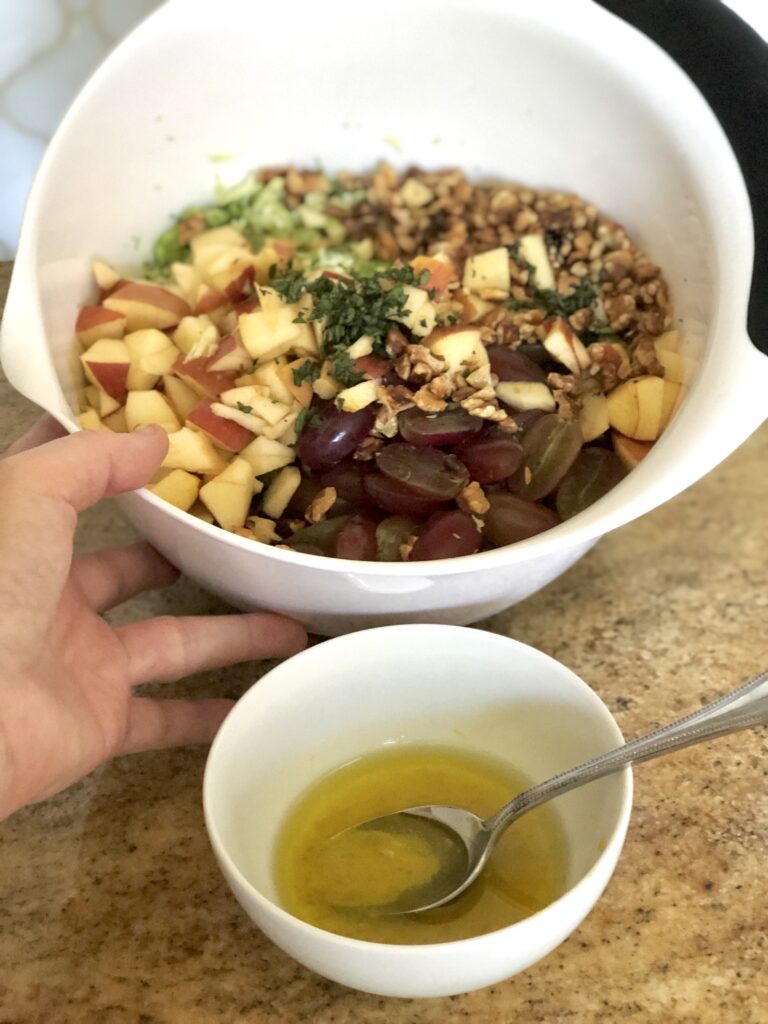 This salad will keep in the fridge in an airtight container for a couple of days.
Enjoy!