July 14, 2020
/
/
Comments Off

on Refreshing Quinoa & Black Bean Salad
Refreshing Quinoa & Black Bean Salad
Quinoa is another one of my favorite go-to foods. This whole grain is referred to as a 'superfood'. It is a complete protein, containing all nine essential amino acids. It's high in fiber, vitamins, minerals and phytonutrients as well as having a low glycemic index. It also happens to be gluten free. Quinoa actually contains more protein than any other grain. One half cup of quinoa packs a punch with 14 grams of protein and 6 grams of fiber.
I love to eat quinoa hot or cold, as a side dish or as a meal. It's very versatile and can be combined with many different ingredients to create all kinds of dishes. I especially love quinoa in salads during the summer months.
This particular quinoa salad, inspired by allrecipes.com, is simple to make and super refreshing with the added lime and cilantro. Plus, it provides plenty of protein with the quinoa and black beans. Please see below for recipe.
Prep: 30 minutes
Serves: 6
Ingredients:
1 cup quinoa
2 cups water
¼ cup extra-virgin olive oil
2 limes, juiced
2 teaspoons ground cumin
1 teaspoon salt
½ teaspoon red pepper flakes, or more to taste
1 ½ cups halved cherry tomatoes
1 (15 ounce) can black beans, drained and rinsed
5 green onions, finely chopped
¼ cup chopped fresh cilantro
1 pinch salt and ground black pepper to taste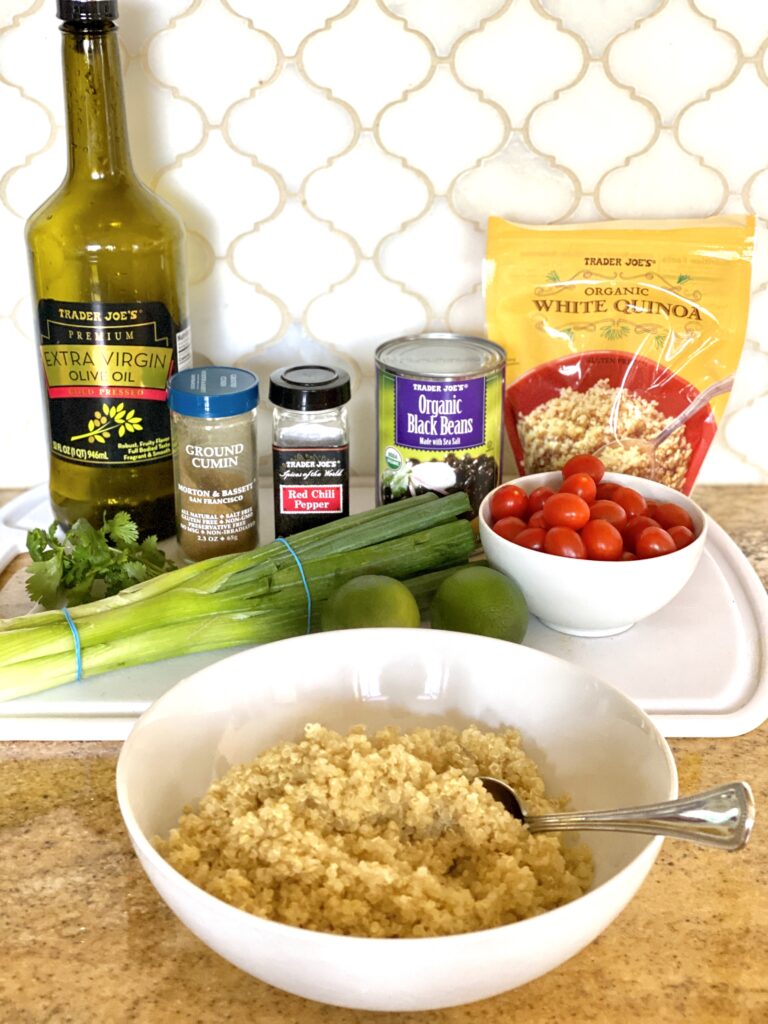 Other add ins: corn, bell pepper, cucumber, jalapeno
Directions:
Bring quinoa and water to a boil in a saucepan.  Reduce heat to medium-low, cover and simmer until quinoa is tender and water has been absorbed.  About 10 – 15 minutes.  Set aside to cool. Note: For a hand's off approach, you can use a rice cooker to cook the quinoa.
Whisk olive oil, lime juice, cumin, 1 teaspoon salt, and red pepper flakes together in a bowl.
Combine cooked quinoa, tomatoes, black beans, and green onions together in a bowl. Pour dressing over quinoa mixture, and toss to coat. 
Stir in cilantro and season with salt and black pepper, to taste.
Ready to serve or can be chilled in fridge.
Great also served with sliced avocado.
This salad should keep well in an airtight container in the fridge for up to 5 days.
Enjoy!