July 29, 2020
/
/
Comments Off

on The Best Vegan Mexican Chocolate Pie Recipe
The Best Vegan Mexican Chocolate Pie Recipe
I first tried this pie at a friend's house pre-Covid. It's like a chocolate mousse or pudding with a bit of a kick, but in pie form. The recipe is originally from the NY Times, and I have to say this one is a keeper. My first bite was pure bliss. The pure chocolatey goodness, the hint of spice, the smooth texture and the deliciousness of the graham cracker crust all combine to make this dessert a real winner.
I just made this pie, and it didn't disappoint.  I wonder to myself, what took me so long to try this? It's fairly simple and straightforward to make, and in normal times, it's the perfect dessert to enjoy with family and friends.  The silken tofu is a revelation.  It creates a really smooth consistency while packing in extra protein, iron, calcium and more.
Note: This pie does have a kick with the added cayenne powder. I recommend using less cayenne if you don't love spice in your chocolate.
Check out recipe below.
Ingredients:
For the crust –
10 whole graham crackers* (approximately 5.5 ounces)
3 tablespoons sugar
4 tablespoons coconut oil, melted
1 tablespoon plain soy milk or almond milk (I used oat milk)
*Check packaging on graham crackers to make sure it's vegan (many contain honey as an ingredient).
For the filling –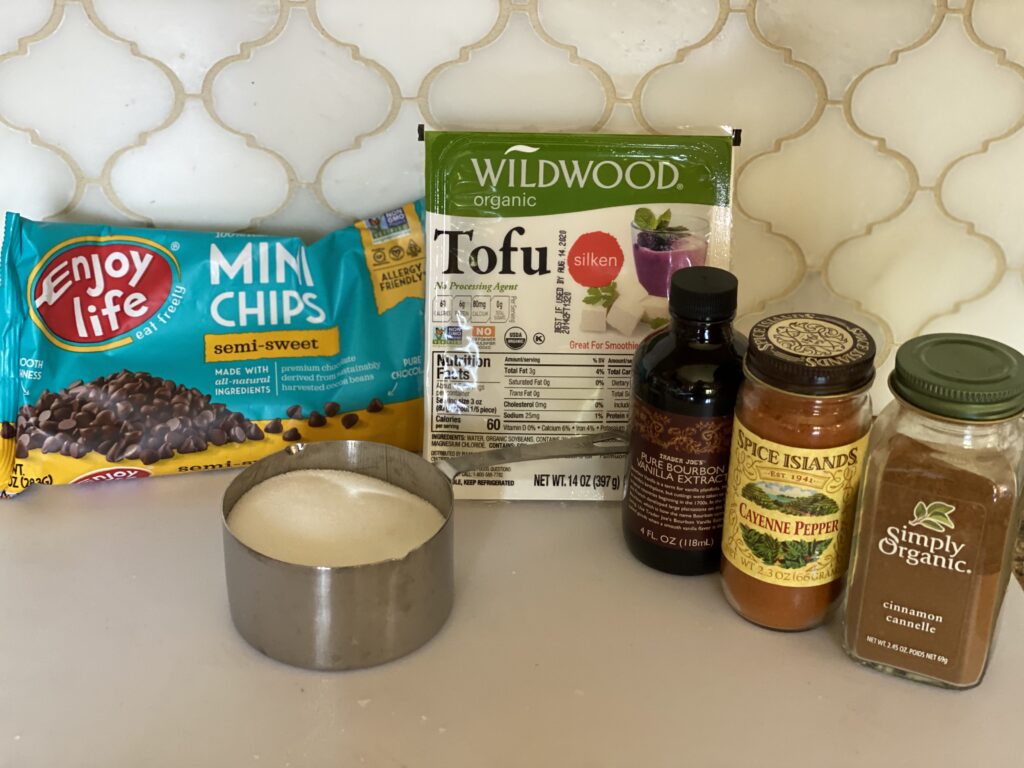 3/4 cup sugar
1 pound silken tofu
8 ounces high-quality bittersweet or semisweet chocolate, melted (at least 60% cacao)
1 teaspoon vanilla extract
1 ½ teaspoons ground cinnamon (or to taste – I went a little less here)
1/8 to 1/4 teaspoon cayenne powder (depending on how much spice you like)
1/8 teaspoon salt
Instructions:
For the crust –
Preheat oven to 350 degrees and lightly butter a 9-inch pie pan (I use Miyoko's butter).
Place the graham crackers in a food processor and pulse until finely ground, about 30 seconds. Add the sugar, the melted coconut oil, and plant based milk of your choice. Pulse until the mixture begins to clump together in food processor.
Pour the crumbs into the greased pie pan. Press crumbs into the sides of the pan first, then work your way down to the bottom. Bake for 8 to 10 minutes until firm and slightly golden. Let the crust cool while you prepare the filling.
A note about the crust. I had to remake the crust as I did not use full-size graham crackers (meaning the full rectangular cracker). So make sure to use 10 full size graham crackers; otherwise, the crust turns out a bit too hard and brittle. You can always buy a pre-made vegan graham cracker crust too.
For the filling –
In a small pot, combine sugar with 3/4 cup water; bring to a boil and cook dow until sugar is dissolved, stirring occasionally. Cool slightly.
Put all ingredients (including the sugar water) in a food processor or a blender and purée until completely smooth, stopping machine to scrape down the sides if necessary.
Pour into the cooled crust, and press a piece of plastic wrap directly to the top of the chocolate pudding. Chill until firm, at least 4 hours and up to overnight.
Optional – garnish with chocolate shavings or berries (or both) before serving.
Keeps in the fridge for a number of days, but it will most likely be gone before then.

Enjoy!