10 Questions for a Vegan – Jessica Salazar
Please meet Jessica Salazar, the face behind All There August, a cruelty-free lifestyle brand and blog empowering individuals to be balanced and great in all areas of life while supporting sustainable living, veganism and women's + animal welfare. Jessica wears many hats as a small business owner, philanthropic event planner, ethical fashion blogger, animal welfare activist, speaker, photographer and athlete.
Jessica is an ex-fashion professor and college coach from Texas State University. She has worked in the fashion industry in the US and Europe alongside major companies and private labels before creating her blog and business. Currently, she is based in Texas, traveling back and forth between South Texas and the Austin area, and collaborating with an array of brands via partnerships and / or philanthropical events.
As a small business owner, Jessica touches on an array of cruelty-free topics. With her background and current work, she coordinates philanthropical events supporting animal shelters and local brands. Jessica hosts vegan-friendly pop-up shops where she sells curated secondhand vegan fashion and upcycled pieces, as well as guides people to transition into veganism and living a healthier life. Additionally, Jessica speaks at events and for organizations about her cruelty-free lifestyle, and is in constant communication with local creatives and entrepreneurs for partnerships and collaborations where she blogs and showcases ethical brands that she truly believes in.
In Jessica's words, "being "All There August" doesn't mean you must follow or live one particular lifestyle. Not everyone's passage is the same and what makes one feel awesome may not make another feel that way. It is more of one's authentic journey through life and what makes someone balanced and great in positive, kind and cruelty-free ways. It's living and using one's talents to the fullest without harming any being along the way and still ROCKING it—now that's ATA."
Jessica has been featured in many publications, worked with many brands and spoken at many events and universities. It was during Vegan Fashion Week in Los Angeles that I first saw Jessica speak on the topic of "Using your Social Media Platform to Advocate for and Promote Vegan and Ethical Fashion."
Please read below for my q&a with Jessica.
What inspired you to become a Vegan?
Veganism affects everything. That one choice you make is a vote towards what you want to see in the future, and as a whole, everything that veganism represents has inspired me. My number one motivation and reason for being vegan though would be the animals. I wasn't always vegan… I was a huge meat eater so I know what it's like to walk in those shoes. I know what it's like to think vegans are crazy or extreme. I have seen it, I've thought it.
For me, as my journey continued, I found my peace in knowing that I was not killing animals or asking someone to do it for me so I may eat them. It felt good deep down in my soul to feed my body positive energy that stems from the earth. I choose every day to be vegan because my love for animals is so grand.
The vegan community is created by all sorts of people from various backgrounds yet we all share that same passion for veganism. We all have our reasons and that's a beautiful thing. My inner peace will look different from others and that's also perfectly fine. For me, I fully believe I was created to give that voice to animals in my unique way and that's why my journey has led me here.
How has Veganism impacted your life?
Transitioning to veganism is the greatest decision I've ever made. It has been life-changing for me. Everyone has their path through veganism and it wasn't easy at first, but I stood by what I believed to be right for me. I've discovered that I find real joy in first, finding vegan food or fashion and then sharing that with others. I used to think that "being vegan" was extreme and that I could never do it, then it all changed. I now find happiness in saying "hey this is a vegan" and showcase how remarkable it is from food to fashion. It is quite something to have a non-vegan try vegan food and their reaction is… "I would have never even known this was vegan." My lifestyle has helped me grow and discover beautiful cruelty-free fashion, food, products and most of all relationships and connections with others. For that, I am forever grateful.
What does a typical day look like – breakfast, lunch, dinner, dessert?
Below is a variety of foods that I eat for each meal:
Breakfast – Smoothie, protein bar, fruit bowl, oatmeal, bagel
Snack – Fruit, bar, vegan yogurt, nuts
Lunch – Salad, veggies quinoa mix, veggie sandwich, veggie pasta, veggie pizza
Snack – Veggies, hummus, bar
Dinner – Sauteed veggie mix, veggie sandwich, salad
What do you typically eat when you're on the go or traveling?
Protein bars and shakes, multivitamins, B12, matcha, and wheatgrass are a must for me when traveling. When I travel, I am usually on the go and hopping around the city seeing anything and everything I can so I need to boost my immune system and keep it healthy.
Can you recommend any favorite Vegan (food /fashion /beauty) brands?
NadaMoo! – For the ice cream lovers
White Rhino Bags – For the bag lovers
Clean Beauty Collective – For conscious, clean fragrance lovers
Favorite stores to shop Vegan (online / brick & mortar)?
Secondhand shops! I am a "Huntress" so I genuinely love to shop at various vintage and thrift stores around town. For instance, when I visit cities repeatedly or for the first time, I look into their vintage/secondhand shops (along with their vegan restaurants of course) and make it a mission to stop by. In all honesty, I've fallen in love with each one along the way.
In my eyes, secondhand shops reveal the history and tell a story about the city. By the same token, these items once belonged to people who lived and thrived there. For me, that's my favorite thing, hunting for these shops and finding vegan-friendly, unique items that are truly the soul of the city.
Do you have a favorite Vegan restaurant?
I am a serial restaurant hopper, if that exists. For me, the best feeling is to try a new vegan restaurant or dish when I travel. I will do my research online before I travel anywhere so I may plan out the food stops for the trip. My "favorite" is more of the feeling I get when I can try something new.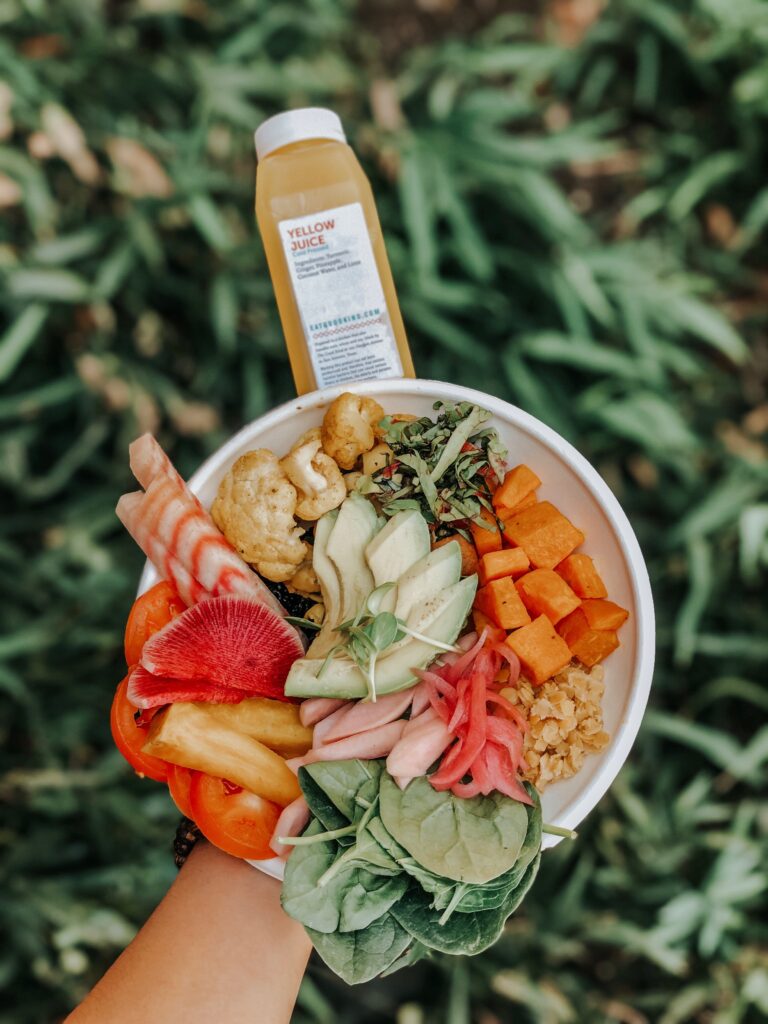 What gives you inspiration?
The people and animals around me inspire me. There's beauty all around us. You just have to be open and clear enough to see it. Sometimes the inspiration that surrounds us is sad, but even then that helps me to do better and strive for a solution. Other times, the inspiration is happy, you know really good things are happening and with that, you must run with it. Being present and allowing what I see right now inspires me to make a positive move for the future.
Favorite animal sanctuaries or animal rights / environmental / women's rights organizations?
World Animal Protection – World Animal Protection and all the life-saving programs they have in the US and abroad. For 55 years they have been protecting animals from needless suffering. From the frontlines of disaster zones to the boardrooms of large corporations, we are fighting to create better lives for all animals.
Sambhali Trust – Sambhali Trusts' primary objective is to promote self-esteem, economic independence, and the development of educational, vocational and social skills for disadvantaged women and girls within Rajasthani society.
What is your best advice for those thinking about going Vegan?
"The universe is in perfect order, always"

~ Jessica Salazar
So I make sure to remind myself all the time that certain things I have the power to control and others I don't. Positive energy (and actions) count! So do great things that make you happy, be strong, be fearless and do it kindly. No, you don't have to be cruel or a mean person to be cool and bold. At the end of the day, being at peace with the way you lived and knowing you used all your talents to the fullest is all that matters. Veganism can be for you and in your reach. What's the worst that can happen? You try veganism for a bit and you hate it? Awesome, move on but, what if you try it and you love it? You will never really know unless you give it a shot. So if your mind, body, and soul want to give it a try, then do that very thing.
To find out more about Jessica or to reach her, please visit:
Website: allthereaugust.com
Instagram: @allthereaugust
Facebook: All There August By Jessica Salazar
Email: jessicasalazar@allthereaugust.com
Jessica's Vegan Smoothie Recipe:
The Beauty Blend – Helps promote healthy skin and body. Blend together the following –
Acai (Natural Juice or Powder)
Matcha
1 Cup of Organic Strawberries
1 Organic Banana
1 Cup Organic Blueberries
1/4 Cup Vegan Yogurt (your brand preference)