10 Questions for a Vegan – Hollan Hamid
Meet Hollan Hamid @hollanhawaii – vegan chef, author, wife, mother, former restaurant owner and creator of new vegan lifestyle cookbook – "Good Food Gratitude".
Hollan is originally from San Francisco but calls Kauai, Hawaii home. When she isn't in the ocean, she is in the kitchen making yummy creations that are healthier for you. Hollan attended culinary school in 2001 and after changing to a vegan diet used all the tricks and tools to make her favorite foods healthier and plant-based. Hollan owned and operated a cafe for seven years on Kauai and sold it to write her cookbook, Good Food Gratitude and her membership site, Good Food Gratitude School. When she isn't sharing her cookbook you can find her coaching and cooking for others, inspiring them to live their best life.
What inspired you to become a Vegan?
I was inspired to change my diet to vegan because of health, although animals, ethics and the environment are the icings on my vegan cake.
How has Veganism impacted your life?
Veganism really is the centerpiece of my life so its impact is so big, but a few are…
1. I lost weight
2. I changed my health around.
3. I learned about so many new ingredients and ways of preparing them.
4. I became more conscious of cause and effect.
5. I am more connected to the environment and animal's welfare.
6. I get to share and inspire others with what I learned.
7. It taught me how to take ownership of my health.
What does a typical day look like – breakfast, lunch, dinner, dessert?
I normally have a smoothie in the morning – see smoothie recipes below, at bottom of this post.
For lunch, I normally eat a salad (pictured is my All Hail this Vegan Caesar).
Dinner – I normally make a fun entree (pictured is my Eggplant no Parm).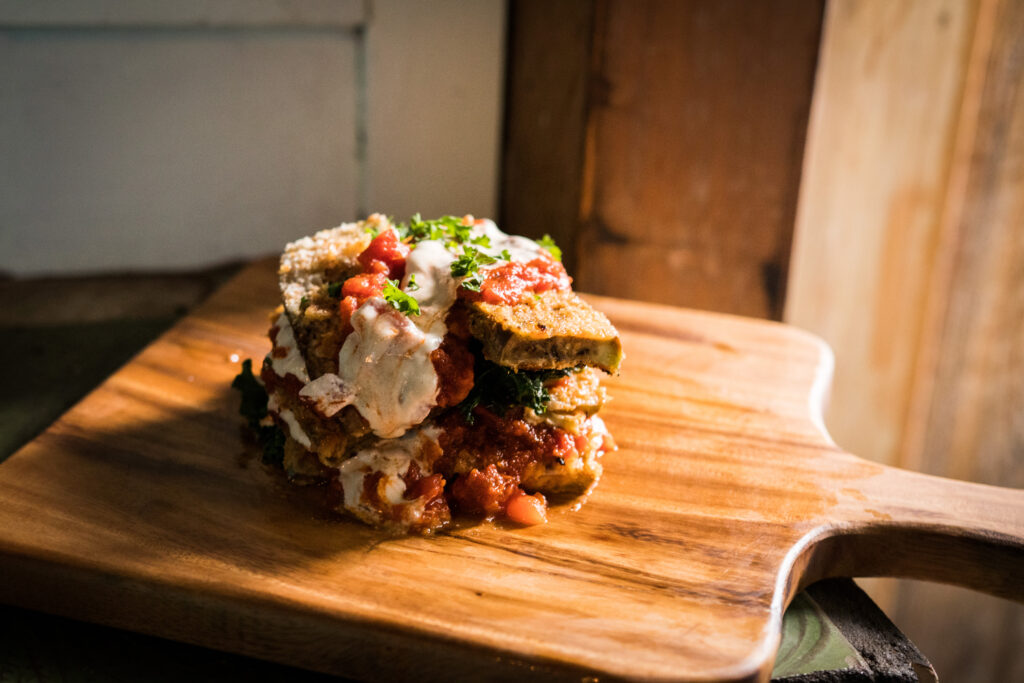 Dessert – Probably chocolate chips…. I always have them in my freezer and I mix them with dried fruit. But if I'm baking, my gluten-free 'G to the FREE' Brownies – pictured below.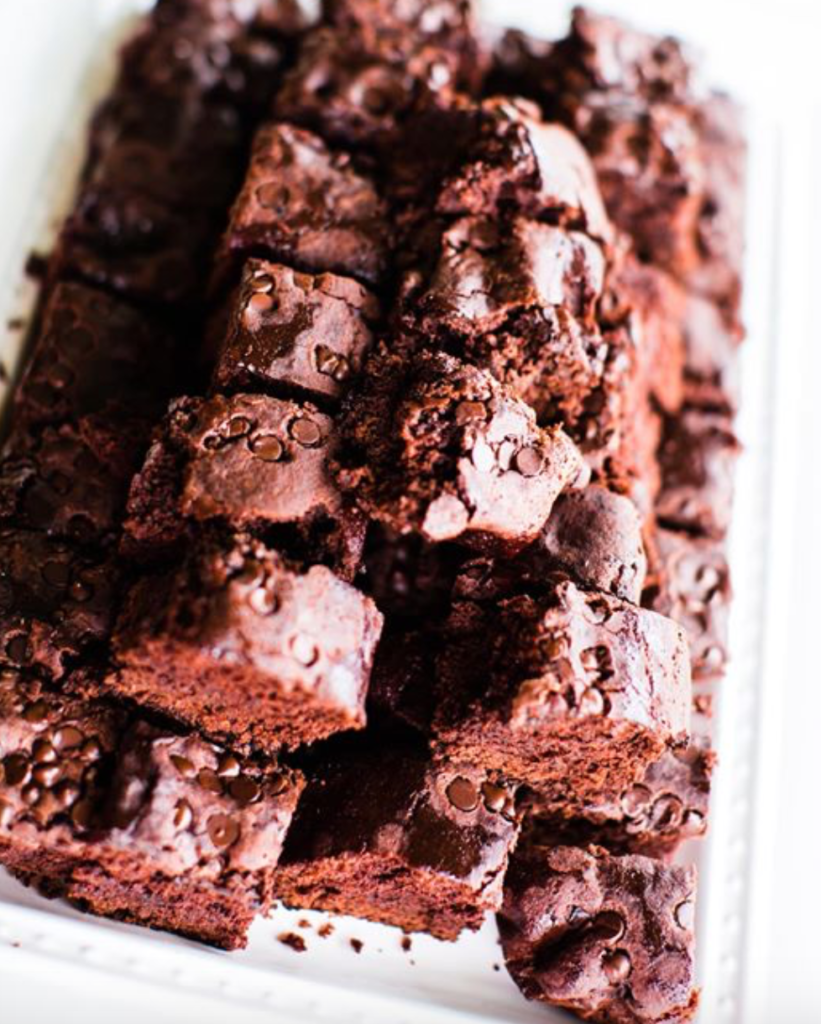 I try to eat as healthy as I can, but I still enjoy all my favorite foods.
What do you typically eat when you're on the go or traveling?
I eat out when I am traveling. I love to try new restaurants and get inspired by other chefs. I'll try so many different things on menus that it's not out of the ordinary for me to order 3 meals in one sitting. I just want to try what everyone is doing.
I also always go and get the same sandwich at Whole Foods anytime I'm traveling – I've had it at over 100 different Whole Foods. It's on a Sourdough Roll, with Vegenaise, Yellow Mustard, Avocado, Tomatoes, Red Onion, Lettuce, and Pickles- I actually have a recipe in the book for it….its called the 'San Francisco Sandy'.
Can you recommend any favorite Vegan brands?
I have so many.
1. Follow Your Heart Vegenaise
2. Kite Hill Cream Cheeses
3. Field Roast Sausages
4. Beyond Meat Beyond Burgers
5. Enjoy Life Chocolate
6. Califia Almond Milk
7. International Harvest Dried Fruits and Nuts
Favorite stores to shop Vegan (online / brick & mortar)?
Ohhhh, any health food store. Here on Kauai, I shop –
Healthy Hut
Papayas Naturals Foods
Hoku Market
Harvest Market
Kauai Juice Company
Do you have a favorite Vegan restaurant?
I have way more than one…
And it depends what I am in the mood for.
For fancy:
I love Crossroads Kitchen in LA
I also love Candle 79 in New York City
For fast casual:
BY Chloe
Veggie Grill
For comfort food, I love:
Champs Diner in Brooklyn
Sage in LA
For sushi:
Shizen In San Francisco
For Thai:
Araya in LA
Now I am hungry.
What gives you inspiration? (documentaries, books, websites, cookbooks, activists, etc?)
I am inspired by eating other chef's foods and seeing what people are coming up with. When I first went vegan, there wasn't a lot of variety so now its so fun.
I love following James Aspey, TheSuperFoodGoddess, and Kathy Freston among others on Insta. I just watched Gamechangers and love that!. So I am inspired by it all. It keeps me educated and motivated.
Favorite animal sanctuaries or animal rights / environmental organizations?
I love Lonely Whale and the fact that they bring awareness about the ocean.
Also Leilani Farm Sanctuary on Maui.
What is your best advice for those thinking about going Vegan?
Find ways to replace your favorite foods with vegan ingredients and you won't be missing anything. Do your best and if you fall off, just get right back on it. I promise you won't regret feeling healthier.
Inspired Living – Hollan shares delicious plant based recipes and lifestyle tips in her new cookbook, 'Good Food Gratitude'
For more information about Hollan, her Good Food Gratitude cookbook and her Good Food Gratitude School, links are below:
Some of Hollan's Smoothie Recipes below –
Mint Chip Smoothie –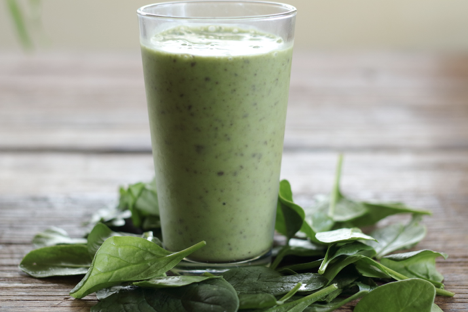 What I love about this smoothie is it's a way to get spinach, fresh mint and bananas in my body and my kids first thing in the morning. Even though it's nutritious it is delish!!
Serves 4 (8 oz) smoothies
GF
2 cups of fresh spinach
6 frozen bananas
1 bunch fresh mint
4 cups almond milk
6 ice cubes
¼ cup chocolate chips or cacao nibs

In a blender add everything except for chocolate chips. Start blending on low and gradually bring it up to high until everything is pulverized. Bring back to low and add in chocolate chips or nibs and blend for 15 seconds until they are smaller pieces.
Pour into cups and enjoy.
I HEART BLUEBERRIES Smoothie –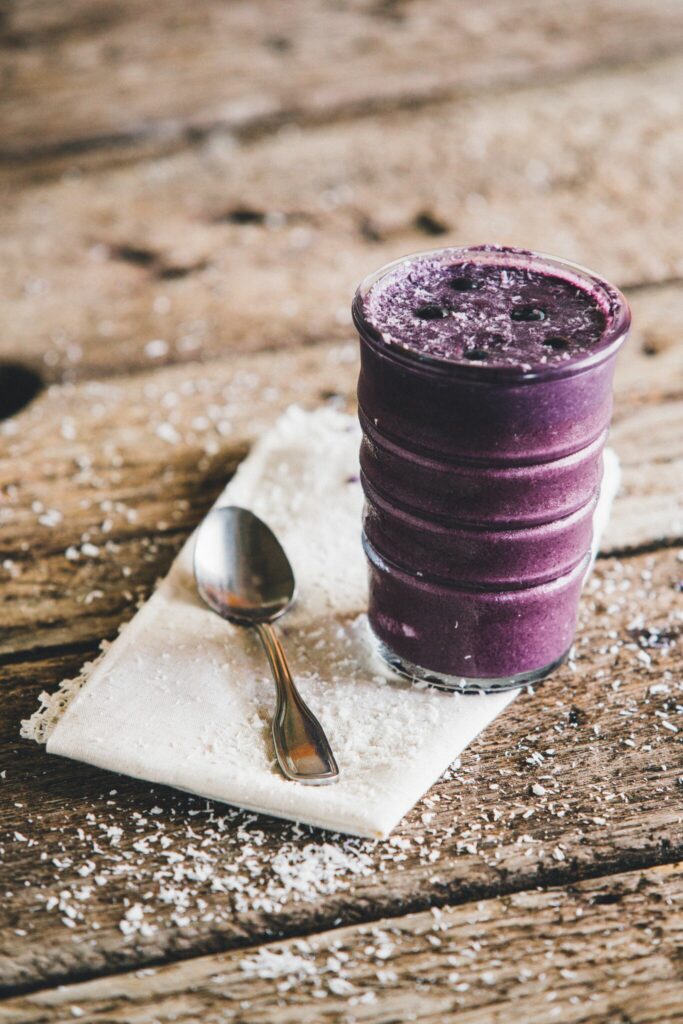 I really do love blueberries. Whether enjoying them fresh or in this delightful smoothie, they are a norm in my life and self care. You see blueberries are full of antioxidants and they give me a burst of energy. Try it for yourself and see. This has become my favorite creamy, banana-less smoothie. It's on the menu at the cafe and we make a bowl with the same base!
In blender –
1 cup blueberries
2 coco cubes (coconut milk frozen in ice tray – can omit)
1 date
1 cup non dairy milk
In a vitamix or blender, add all ingredients and blend for about 45 seconds. Enjoy right away.
Sometimes I remove half of the milk and blend it. We use this as the base for a blueberry bowl and top with fresh bananas and granola.
Monkey Milk –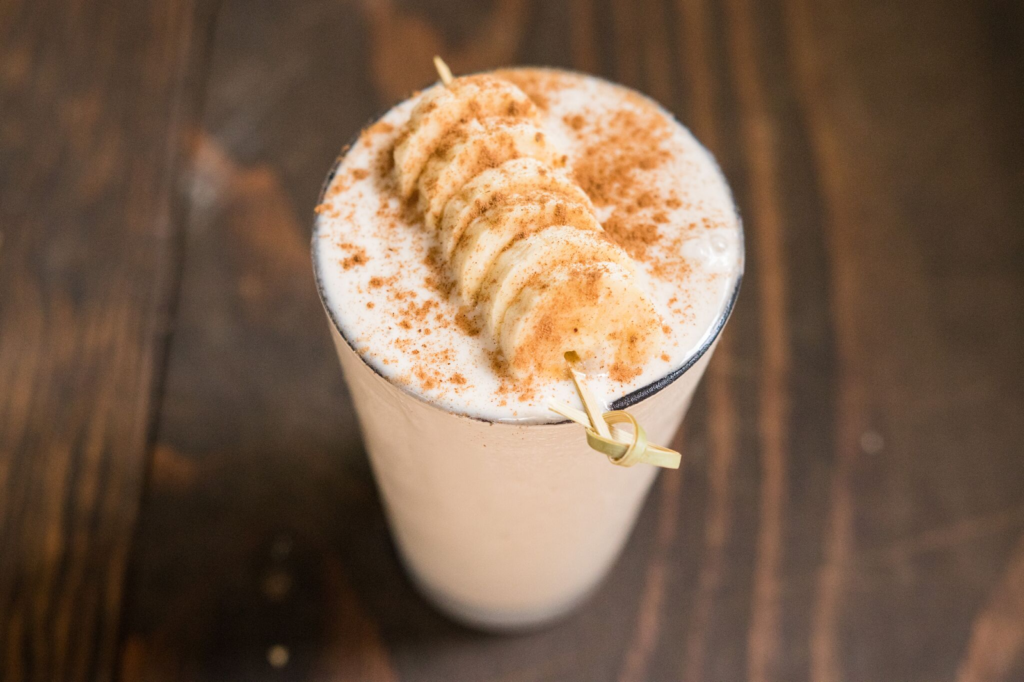 Monkey Milk is just bananas and non dairy milk whipped up in a blender. Its simple yet so delish. The first time I had it was at a little raw cafe in California and I was hooked. Being that we always have bananas in Hawaii, that summer it was a staple at breakfast. It also serves as the base for endless smoothie possibilities.
Sometimes I add kale, other times, berries. I also add cocoa powder to make it chocolatey, and no one has ever been mad at me for adding in peanut butter.
Make 16 oz.
2 minutes total time

1-cup organic sliced frozen bananas
1-cup non dairy milk
In a vitamix or blender mix bananas with milk starting on slow, gradually taking it to high.