10 Questions for a Vegan – Besties Founders Matt Fontana & Asia Rain
Meet Matt Fontana and Asia Rain, founders and owners of BESTIES Vegan Paradise in East Hollywood, CA. I sat down with them to find out a little more about their mission, what inspired them to open their vegan bodega and more. BESTIES – a one stop shop for all kinds of vegan goodies – just celebrated their one year anniversary. I for one am very happy that this place exists. It's become my go-to spot when looking to stock up on tasty vegan treats.
It was long-time vegan Matt who first dreamt up the idea for BESTIES about five years ago. Having grown up in Brooklyn, NY, Matt was inspired by the local bodegas found on just about every street corner in New York. He liked that they served as anchors within the community. He envisioned a vegan bodega, sort of a "vegan 7-Eleven" where someone can find a snack, a carton of plant based milk and other convenience items as well as serving as a community platform for local, vegan, and minority-owned businesses.
Completely self-funded, Matt and Asia first opened BESTIES on January 5, 2019. They are both extremely hardworking and passionate about their mission to change the world by spreading veganism and compassion through their store. They see what they do as an opportunity to educate the consumer and support the local economy. They are both purists and will not sell anything that is from an unethical manufacturer. All products and brands in their store are 100% vegan, ethical (no animal testing), women, LGBT, and/or minority owned and primarily local, California based.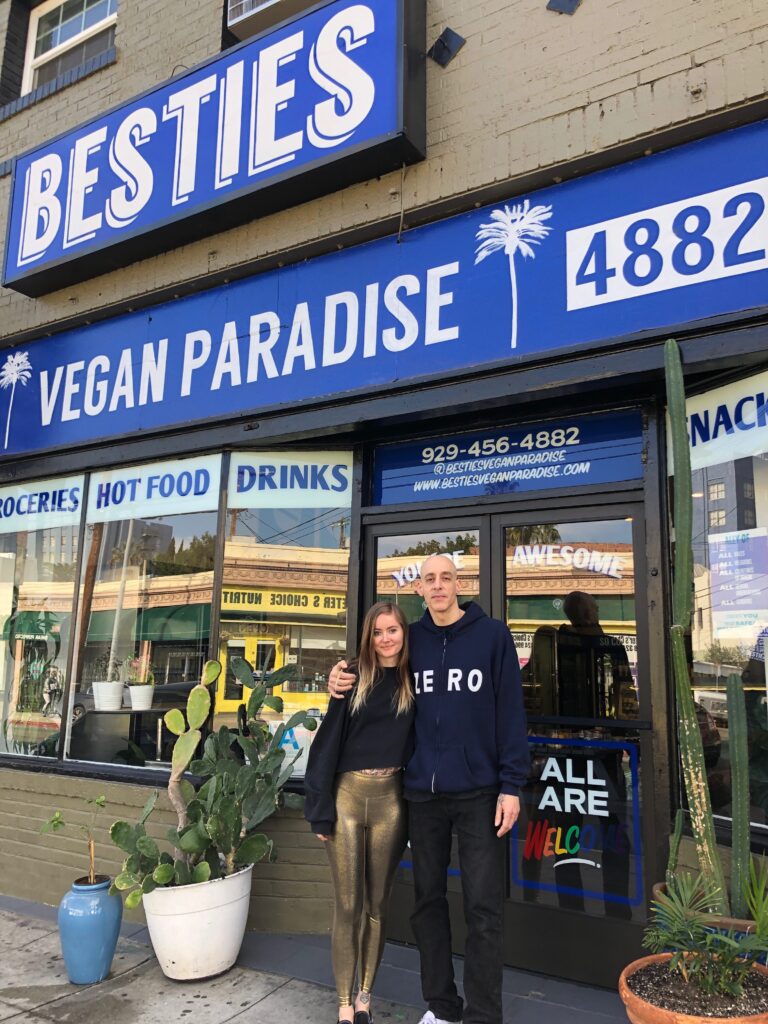 Matt and Asia have hosted over 150 pop-ups in their store, as a way to introduce their customers to new, up and coming food brands. They will always recommend the best products to their customers (I can personally attest to this.) And their prices are reasonable and lower than many local stores in LA. The owners have also forged relationships with local animal rights activists and participate in vigils, marches and other events.
Note: Animal rights activists (those working at organizations such as Mercy For Animals, Peta, Animal Alliance Network, etc) get 10% off food at BESTIES.
What inspired you to become a Vegan?
Choosing to be vegan was 100% an ethical decision based upon the idea that all animals, regardless of species, gender, race, sexual orientation, age, size, strength or appearance have the right to live a life free of oppression, abuse, cruelty, enslavement, or inequality, and that it is wrong to murder, rape, or enslave any animal.
How has Veganism impacted your life?
Veganism has impacted our lives for the better in virtually every way possible – living a life free of oppression, discrimination, cruelty or abuse is good for all parties involved – we are happier, healthier, and more compassionate than we were before being vegan. And in addition to the benefits for the mind, body and soul, we are part of a growing movement of open-minded activists fighting for animal equality, against global warming, and for truth about the things we are conditioned to consume and how they affect every aspect of our lives.
What does a typical or ideal day look like – breakfast, lunch, dinner, dessert?
There is no such thing as breakfast, lunch, dinner or dessert when you spend 12-18 hours a day in a vegan market – there is just 12-18 hours of continuous "sampling," "testing," "comparing" and "quality controlling," aka non-stop eating.
But if we're talking an "ideal" day of meals…..
Breakfast – Avocado toast with some Scramblit (egg replacement from Spero Foods), or some kalamata olives and fruit, with some potatoes and a cup of direct trade, organic, single origin coffee with chocolate Oatly milk.
Lunch – We would probably hit up Bodhi Bowl in downtown LA. The owner, Ali is a professionally trained chef from Australia and has been a huge supporter of ours. She creates all kinds of delicious vegan salads, smoothies and wraps. Favorite dishes at Bodhi Bowl are the chicken salad wrap, the Giving bowl salad and the peanut butter smoothie with dates and bananas.
Dinner – A candelit dinner with an Herbivorous Butcher rib eye steak, Kite Hill almond milk ricotta tortellini with homemade marinara and topped with Follow your Heart grated parmesan or Violife hard parmesan. Maybe some asparagus on the side with Be Leaf egg. And some garlic bread made with Miyoko's cultured Euro butter. Lastly, a salad with fennel and marinated artichoke hearts.
Dessert –Plant Power chocolate cheesecake (we're the only store that carries this cheesecake btw) with soft serve ice cream (from BESTIES).
Snacks –
Solely fruit jerky
Viana Picnicker Veggie Snack Sausage To Go
Rhythm Organic Watermelon Jerky – dried strips of watermelon
Vegan Rob's Crisps (vegan Pringles)
Note: All products mentioned above can be found at BESTIES Vegan Paradise!
What do you typically eat when you're on the go or traveling?
Really depends upon season and location – everything from fruit to frozen burritos, from jerky to bars.
Can you recommend any favorite Vegan (food /fashion /beauty) brands?
Some of our favorite brands at the shop are:
For leather boots, we love Good Guys Don't Wear Leather .
We are fans of Acure 100% vegan facial products, but wish that they would ditch the plastic bottles.
Favorite stores to shop Vegan (online / brick & mortar)?
BESTIES Vegan Paradise (duh)
Do you have a favorite Vegan restaurant?
At the moment it's probably Pura Vita (vegan Italian in West Hollywood).
What gives you inspiration? (documentaries, books, websites, cookbooks, activists, etc?)
Every year another vegan-centric documentary is put out that fuels our motivation to continue fighting to help spread veganism. Most recently we saw the documentary Unity which has been inspiring us.
As for cookbooks, we keep a few that we love in BESTIES for anyone to flip through, 'Mama Tried' probably being the favorite. Instagram is a great source for vegan recipes when inspiration is lacking for what to cook.
Ultimately, what inspires us most is the community of animal activists that we are fortunate to be a part of. We attend weekly Pig Vigils at Farmer John Slaughterhouse in Vernon, and the dedication of the the Animal Alliance Network and all the individuals who show up for the vigils, and marches and other protests is invigorating and we are grateful to be a part of that community.
Favorite animal sanctuaries or animal rights / environmental / women's rights organizations?
Animal Alliance Network and their Wednesday night Pig Vigils at Farmer John's
What is your best advice for those thinking about going Vegan?
JUST DO IT
"None of us are free until all of us are free." ~ BESTIES Motto
BESTIES Hours – 10am – 8pm 7 days/week
Address: 4882 Fountain Ave, Los Angeles, CA 90029
Instagram
Facebook
368 Comments