Favorite Vegan Restaurant – In Praise of Little Pine
It's an exciting time to be vegan. Whether someone is just starting out on their vegan journey or has adopted this lifestyle long ago, there are so many great new places, restaurants, food products and more to choose from. It's sometimes hard keeping up with it all, but I happily try to sample as much as I possibly can, whether it's a vegan restaurant, a new vegan cheese or checking out the latest vegan shoes. So, I will use this blog as a place to highlight some of my favorites vegan things.
Over the past few years, I've discovered many great vegan, plant forward restaurants that I've liked, each offering something unique and different. But there is one restaurant that surpasses the others in my opinion, for many different reasons, and that is Little Pine in Silverlake, CA.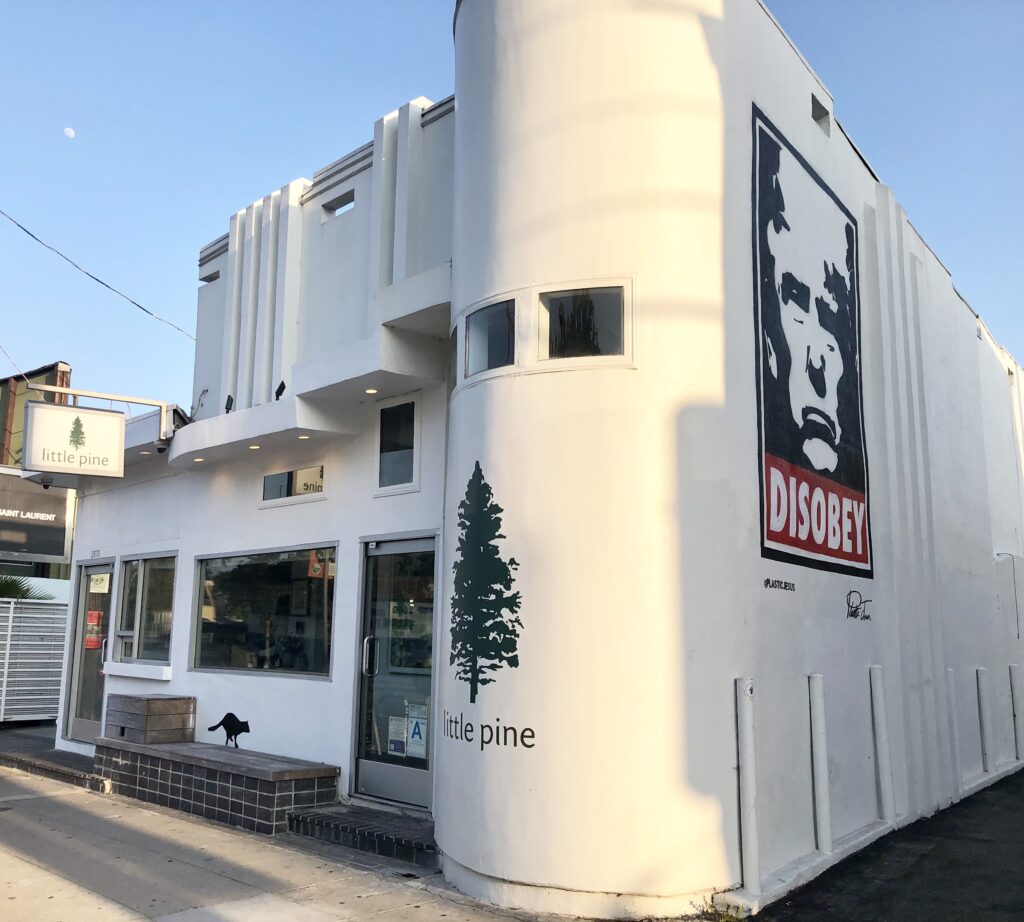 Little Pine, founded and owned by musician and animal rights activist Moby, is a wonderful neighborhood bistro that serves up delicious organic, plant based fare in a space at once intimate and inviting. Good vibes permeate this space, from the sweet shop at the front of the restaurant where all kinds of gifts (think cookbooks, aromatic candles, Little Pine mugs) can be purchased, to the minimalist yet cozy interior, to the back patio where pets are encouraged and pampered with treats.
There's an immediate homey feeling and a sense of community here that you just don't find in most restaurants. Not just the atmosphere but everyone who works at Little Pine is super friendly and enthusiastic, always working to make your experience memorable. And of course there's the food, which is ah-mazing…. a curated menu of savory deliciousness.
I have many favorite dishes, but standouts for me are the Grilled Radicchio Salad, the Mushroom Crostini (probably my favorite), the Panko Crusted Piccata and the Sriracha Glazed Brussel Sprouts….and I have to say the Mac & Cheese is comfort food at its best. All washed down with a lovely glass of wine or a cocktail, vegan of course.
When dining at Little Pine, you have to save room for dessert because it's just too good to pass up. I could literally make a meal of the desserts here. But if I have to choose, the warm Cookies & Milk and the Banana Cream Pie are just beyond divine They're happiness on a plate!
The brunch at Little Pine is also fantastic. The pastries are absolutely superb…. the Croissant served with 'melt in your mouth' house made butter and jam has to be the best thing I've ever tasted. I quite literally could eat this every single day! The Cinnamon Roll is also extraordinary. My non-vegan friends can't stop talking about it. Some of my brunch favorites are the Tofu Scramble, the Lemon Poppyseed Pancakes with Coconut Whip and the very savory Sausage Sliders. And I can't forget the delicious and soul warming Turmeric Ginger Latte with oat milk to finish it all off with.
Okay, now I'm super hungry and in need of a Little Pine fix! 🙂
Lastly, but most importantly, Moby donates 100% of the profits from Little Pine to animal rights organizations, which is just super cool. More reason to check out this neighborhood gem.
Recently, Little Pine created a new online shop – littlepineshop.com – that features their own collection of Little Pine tee shirts, hoodies, hats, water bottles, mugs and more. As with the restaurant, all profits go to animal rights organizations.
Little Pine
2870 Rowena Avenue
Los Angeles, California 90039
littlepinerestaurant.com
littlepineshop.com
@littlepinerestaurant
Hours:
Open every day 5 – 10pm
Weekend brunch – 10am – 3pm
2,252 Comments