The Simplest Broccoli Soup
Broccoli is an amazing superfood, full of fiber and nutrients like vitamins C, K, iron and potassium. It's also one of those vegetables that keeps fresh for a good amount of time in the refrigerator, making it easy to keep on hand. I really love all kinds of soups and find it easier to eat more of this healthy vegetable by turning it into a soul-warming soup or a dip.
This soup recipe is super simple, great when pressed for time and you have a head of broccoli in the fridge that you want to use up. And it's a great way to get in a lot of healthy nutrients all in one sitting.
There are just four ingredients to this recipe.
Ingredients:
Broccoli
Garlic
Olive Oil
Oat Milk (or other plant based milk – optional)
Salt & Pepper, to taste
Makes 2 – 3 servings
Takes about 15 minutes
Directions:
Start with a head of broccoli.  Cut up into smaller pieces.  I use the florets and part of the stem, but you can use the whole stem as well.
Steam the broccoli until tender.  I use a bamboo steamer over a pan with boiling water.
Save the water from the pan.
At the same time, saute about 3 cloves garlic in about 2 tablespoons olive oil.  Be careful not to burn or overly brown garlic.
Add the steamed broccoli with the water from the pan into blender.  Add less water for thicker soup and more water for thinner soup.  Note – you may have to add extra hot water (as the water evaporates when steaming).
Add the heated garlic and oil to blender.
Add about a quarter to half cup of plant based milk (I use Oatly) for a creamier consistency. This is optional but it gives soup a great flavor and thickness.
Blend on highest speed.
Add salt and pepper to taste.
Serve immediately with some French bread and / or garnish with toasted pine nuts.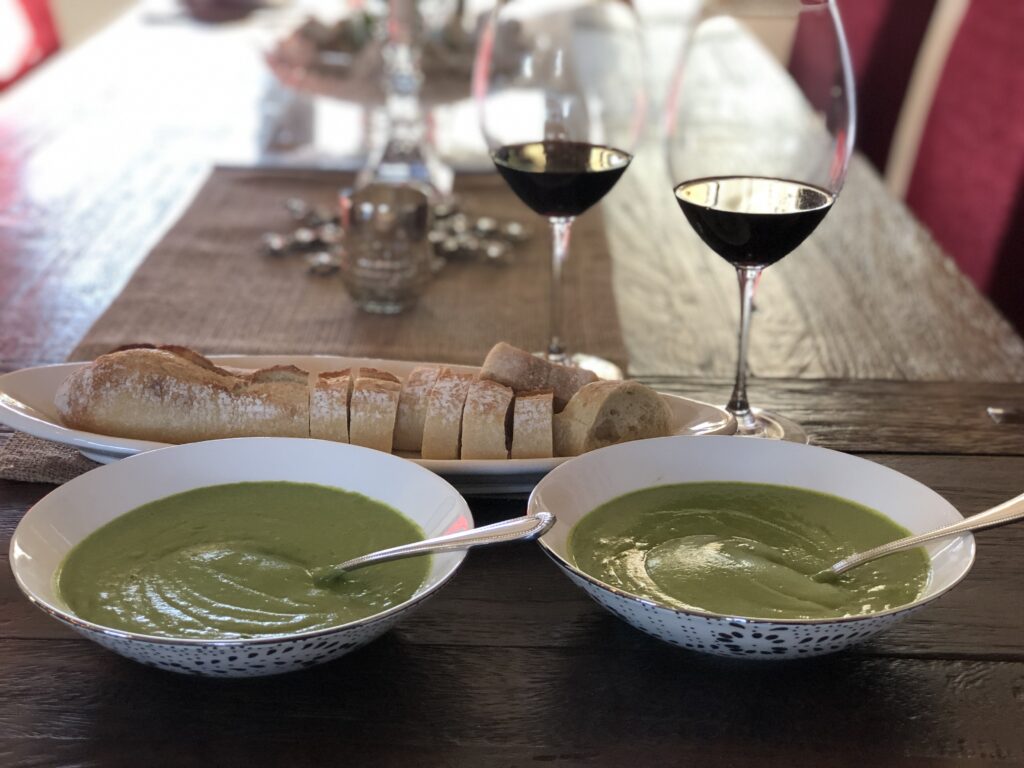 Enjoy!