10 Questions for a Vegan – Taryn Larock
For my latest Q&A with a Vegan, I posed 10 questions to the lovely and inspiring Taryn Larock, founder and designer of the sustainable fashion brand Sage Larock and co-founder of the sustainable activewear line Sana Terra. Taryn founded Sage Larock to offer earth friendly/vegan apparel, and to advance visionary creative solutions for the fashion industry that works to protect key global conservation areas.
Sage Larock produces all apparel out of organic or deadstock fabrics, and all swimwear is made from upcycled fishing nets, in an effort to offset & raise awareness about the global plastic pollution crisis and the estimated 640,000 tons (1.28 billion pounds) of fishing gear left in the ocean each year.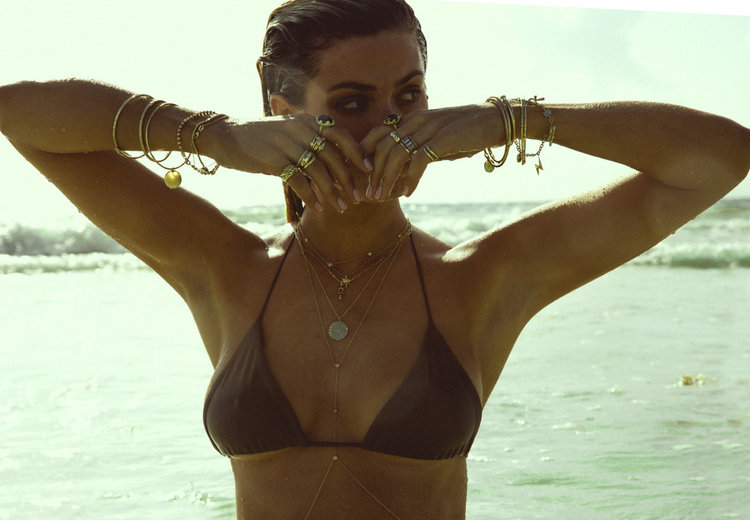 Sage Larock was recently nominated by PETA and awarded by the Los Angeles Business Journal as the Best Made In California Apparel Brand.
Taryn is a committed animal rights activist and environmentalist, and an advocate for marine conservation, sharks, the Leuser ecosystem, and protecting our world's last remaining wild places.
Taryn interviewing Marc Ching, founder of Animal Hope and Wellness Foundation and at the Wolf Connection sanctuary

What inspired you to become a Vegan?
I first became a vegetarian at 13 when I was eating a burger and had a profound realisation that I was eating a conscious being, that was most likely killed in a violent way, and who did not want to die. From that point it took a couple years for me to become a full vegan, so during this time I really worked to become well informed about non-human animal ethics, non-human animal consciousness, health benefits of a vegan diet vs. meat eating diet, and the environmental impacts associated with veganism vs. meat eating, which made the transition easy for me.
Once I noticed I felt much healthier as a vegan, and that I was not paying for animals to be treated in extremely cruel ways for food or clothing, the choice became pretty easy for me. Studying Philosophy, specifically Ethics & Logic as an undergrad, also made it easy to come to terms with this decision too.
I believe you validate what you give your resources (money & attention/energy) to, so veganism was an easy choice as I do not condone violence.
How has Veganism impacted your life?
Veganism has allowed me to have a deeper appreciation and respect for non-human animals, and I must say it has fantastic health benefits too. I am the only person in my family who is vegan, and also the only one who has never had a cavity, and who is almost never sick.
Also – I love knowing that I am out of the whole master-slave paradigm of factory farming, and that my diet & lifestyle is having the least harm possible on the environment and others' lives.
What does a typical day look like – breakfast, lunch, dinner, dessert?
After years of trial and error working to find the right balance of getting healthy plant based vegan sources of omegas, minerals, carbs, protein, calories, etc, I am happy to say I have found a diet that works really well for me.
Unless I am dining out, I like to eat pretty simple and when it's warmer I tend to eat mostly raw, just because I feel like this feels really healthy for me. I like to incorporate as many superfoods and wild harvested foods as possible into my diet and living in LA makes this easy to access – we have lots of wild growing fennel, avocados, and even guava.
For breakfast, I like doing a green juice, or right now I'm also really into mega-dosing large quantities of vitamin C & omegas, so I like to start my day with blood orange and mandarin orange juice with camu camu powder, vegan omega oils & astaxanthin. This does wonders for your skin and energy levels, and I definitely feel like this is a great cold remedy!
Celery & cucumber juice

Blood orange & mandarin juice
Lunch is my largest meal and I typically eat a large salad with veggies and maybe a raw kelp noodle pasta with dulse, pumpkin seed & truffle oil if I have time.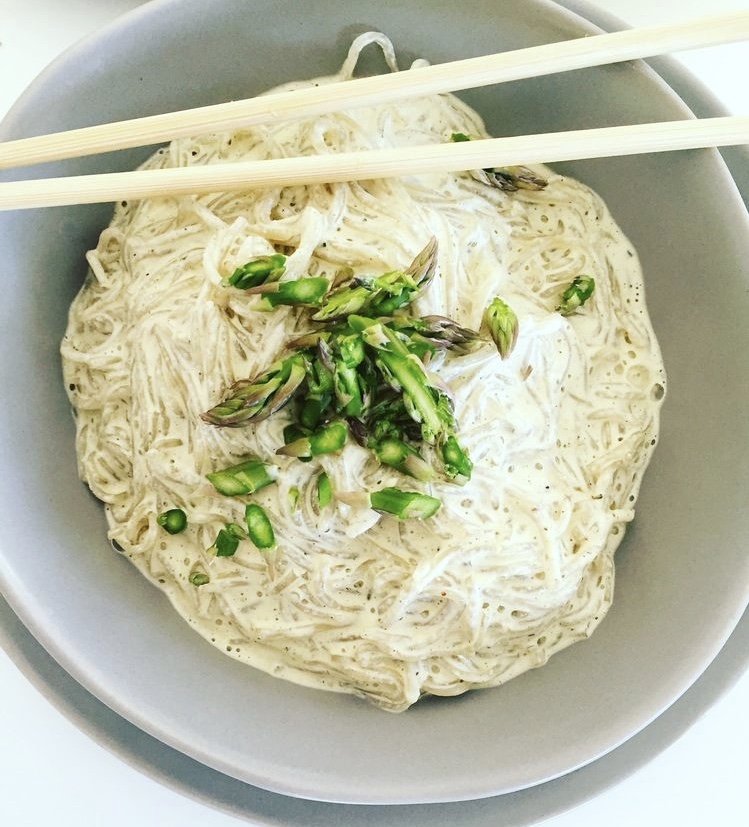 For dinner I eat a lighter salad or cooked veggies/soup with herbal teas or a green juice. I have also perfected a recipe for a raw vegan chocolate superfood cake that I tend to eat at least one of a week – please see Taryn's recipe below!
The teachings of Dr. Sebi & David Wolfe definitely helped me learn how to be a 'healthy' vegan – meaning I am not missing out on healthy fats, minerals, vitamins, or oils in my diet, which in my experience is the best way to ensure success in staying vegan 🙂
What do you typically eat when you're on the go or traveling?
I love trying local foods but I always travel with green powder in case I can't get fresh greens wherever I am, and I am pretty obsessed with Living Teas, so I tend to travel with these as well.
Can you recommend any favorite Vegan (food /fashion /beauty) brands?
I adore Ascended Health's Vegan probiotics – they will seriously change your life for better & nothing else I have tried compares! Also their Marine Phytoplankton is something I won't do without.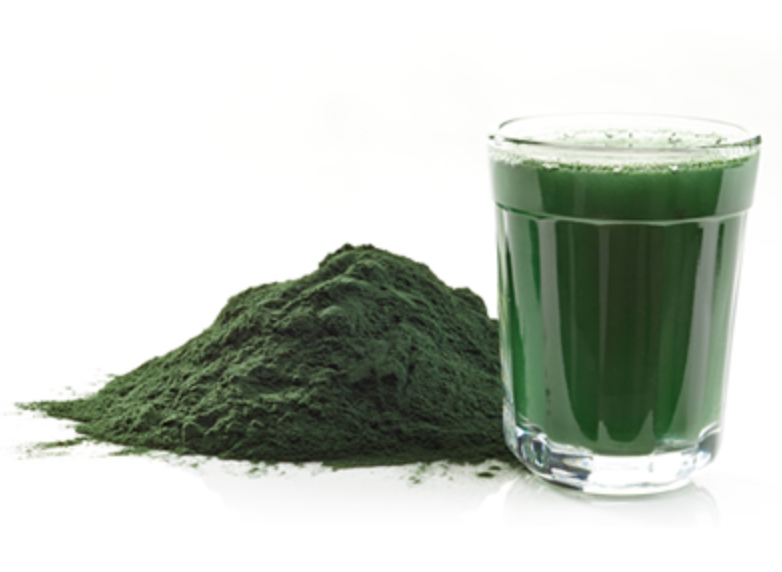 For those of you who are based in California check out Misha's Cheeses @mishaskindfoods at Malibu Farmers Market and Vromage vegan cheese – even my non-vegan friends love these delicious nut based cheeses.
If you are looking for yummy, plant based organic protein powders and high quality superfoods, check out organic Sarvaa Superfood.
I also love the Detox Market for their great selection of vegan/cruelty free beauty brands – and its nice to see that some of their products do not have palm oil in them.
I'm typically a DIY beauty product person, but I am pretty obsessed with Ascended Health's Vegan Skin Regeneration Oil. Love that it is so moisturizing, is free of palm oil, and has Lemurian Quartz in it!
To me, being a vegan means more than not just consuming animal products, it also means making conscious choices & avoiding those that are linked to extreme habitat destruction (palm oil, viscose/rayon fabric clothing), environmental pollution (virgin polyester fabric, anything acrylic) & of course single use plastics. Sadly plastic, virgin polyester and acrylic seems to be in everything from take out containers to sweaters and leggings, and palm oil is sadly in so many things too – so by avoiding these four we can all make a HUGE positive impact for the planet & our own health.
Favorite stores to shop Vegan (online / brick & mortar)?
I tend to buy almost everything I wear 2nd hand if I don't make it myself, so I love charity & vintage shops. More than 15 million tons of clothing is estimated to be thrown away each year in the United States alone, and this number has doubled over the last 20 years. A lot of what we throw away isn't biodegradable or can't be upcycled, so buying 2nd hand or vintage when possible makes a huge positive impact on the planet.
Do you have a favorite Vegan restaurant?
I ADORE Little Pine in LA, not only do they have the very best vegan food but also give all profits to animal rights organizations – it just could not be better! I also love Au Lac for their amazing Asian inspired vegan cuisine. Wild Living Foods in DTLA is pretty fantastic also.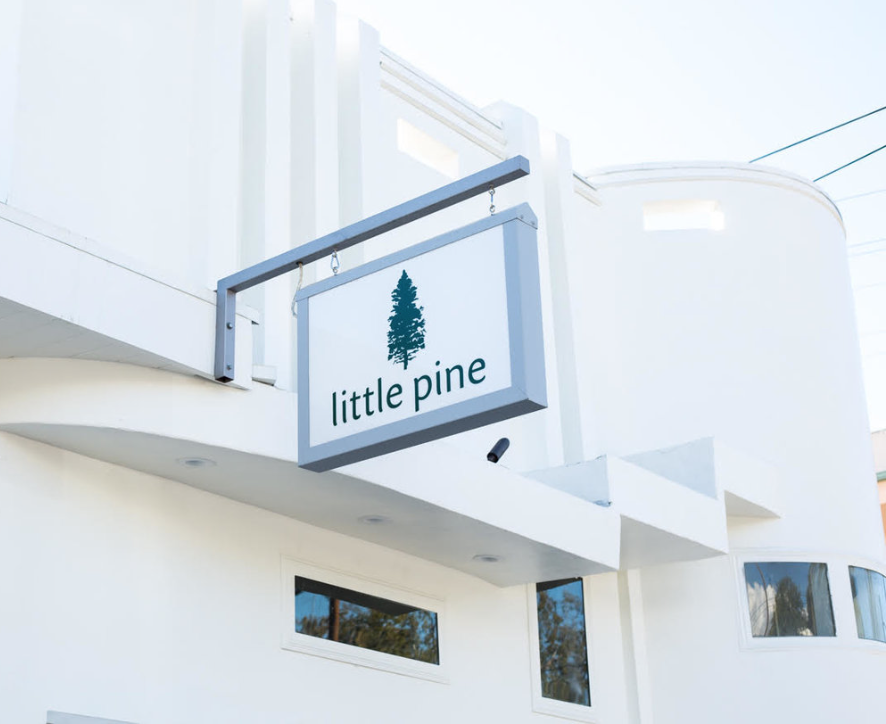 What gives you inspiration? (documentaries, books, websites, cookbooks, etc?)
To be honest, facts and science have been (surprisingly!) very inspiring lately. Reading the Cambridge Declaration of Animal Consciousness , which concludes that non-human animals are conscious and should be treated as such, is pretty groundbreaking coming from the scientific community, as traditionally it has been held that non-human animals, even though they exhibit a wide range of emotions & communication, have not been accepted as having awareness/consciousness.
This totally false assumption has made it all too easy for non-human animals to be abused, violated, experimented on in horrific ways, and exploited for human consumption & entertainment. But scientific communities admitting humans are not the only ones to have consciousness is huge and hopefully will lead to greater compassion and legislative change in favor of facts, rather than convenience. Also the conservative World Health Organization finally admitting meat is carcinogenic was huge.
I recently got to interview (and at the same time learn so much from) Shaun Monson of Earthlings & Dominion (great movies to get inspired by!), Marc Ching of Animal Hope and Wellness, Ryan Tate of Vet Paw, and Zach Skow of Marley's Mutts – each of them is doing such amazing and crucial work. I am so incredibly inspired by them and what their organizations have accomplished.
Favorite animal sanctuaries or animal rights / environmental organizations? Favorite sustainable business?
I am a huge fan of and in deep gratitude for any individual or group that works to make the world a kinder and more compassionate place, so it is hard to narrow down a list 🙂
I specifically love the Save Movement, as they are doing really beautiful, important work for farm animals & raising lots of awareness.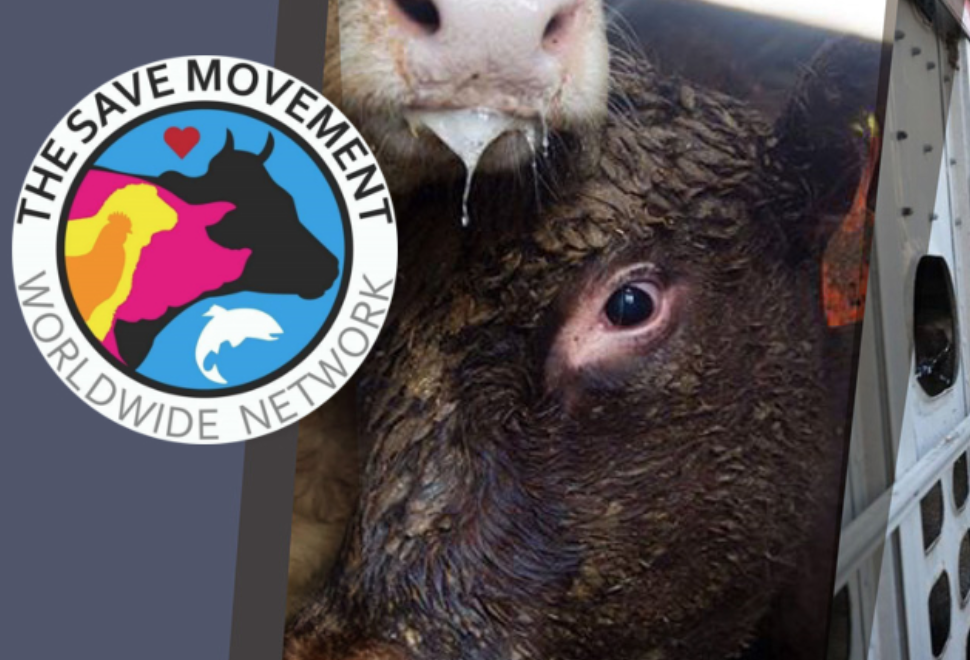 I am currently working on a project with the Sea Shepherd, and the direct-action work they do to protect our oceans and marine animals is so important.
The Non-Human Rights Project, The Wild Animal Sanctuary, and Physicians Committee for Responsible Medicine are also some favorites.
I also love the Auction Horse Rescue for helping horses that are being sold for as little as $1 per pound at slaughter auctions to get a 2nd chance at life.
The Sheldrick Wildlife Trust for helping orphaned wildlife babies, and companion animal rescues like Noah's Ark Rescue, NYBC, Trio, ISWMP, Deity animal rescues, and the amazing Karma Rescue – where I adopted my pitbull pup Evie from – are all doing great work too. Karma Rescue also works to rehabilitate inmates and unwanted animals together, which is very cool.
What is your best advice for those thinking about going Vegan?
Learn as much as you can about the facts – from health benefits to the impacts of eating meat and industrialized animal agriculture – I think this can be really empowering. Also learn how you can substitute your favorite non-vegan foods with vegan ones, and get all the nutrients you need from plant sources, as this will help the transition 🙂
And please don't be hard on yourself – it can be a process.
To check out Sage Larock's beautiful and sustainable line, please visit www.sagelarock.com.
Taryn's Raw Vegan Superfood Chocolate Cake:
Ingredients:
1 cup raw cashews, soaked and rinsed.
1/2 cup cacao butter melted
1 cup raw cacao powder.
1 cup dates, pitted & soaked in ½ cup water (keep water to blend in cake)
1/4 cup maple syrup or raw coconut syrup
3 tbsp coconut oil melted
1 tbsp maca powder
1 tbsp raw hemp seeds
1 tbsp ashwagandha powder
pinch of salt/cinnamon/cayenne/turmeric to taste
Blend all of the above in a VitaMix or food processor & put in 6" cake form or pan. Freeze for 45 minutes for cake to set. Can be served at room temperature.
Some of Sage Larock's sustainable luxury swimwear designs below –
As an ocean lover, Taryn is committed to using sustainable fashion as a platform to raise ocean awareness. SAGE LAROCK's sustainable luxury swimsuit line is made from ECONYL yarn, that is made from upcycled fishing lines and marine plastic debris and is chorine and sunscreen oil resistant as well as having an SPF of 50. A portion from their sales proceeds goes directly towards NGO's HealthySeas.org, Ghost Divers and NGO Canopy.
Some of Sana Terra's sustainable luxury activewear line below –
SÅNA TERRA is a sustainable luxury activewear line, ethically made in Los Angeles from upcycled marine plastic debris and deadly ghost fishing lines to help save our oceans. SÅNA TERRA is a collaboration between Sage Larock founder & designer Taryn Larock and creative facilitator Anna Lundgaard. A percentage of each sale goes to non-profits to help protect our oceans and to empower women.
Sad Fact – It is estimated that ghost nets, transparent plastic (non-biodegradable) fishing nets, often over a mile long, kill millions of marine animals every year as they drift beneath the surface of our oceans drowning seals, whales, sharks, turtles, dolphins and other fish, and wiping out thousands of miles of coral reefs. Each year, at least 640,000 tonnes of nets and other fishing gear goes overboard and never comes back, and if left to drift in our oceans, these nets create mile long death traps.